For a group of 8 and more 10% OFF!!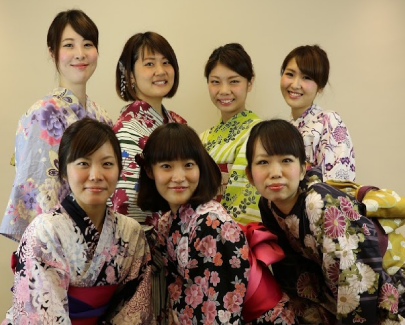 『Save money with the group plan!!』
This is the best plan for a group of travellers!! Groups of 8 and over will get 10% discount for all of the plans. As we need to reserve dressers, hairdresser, makeup artist and dressing place, please book in advance. Certainly, the service will bring you most enjoyable moments in your Kyoto trip.
※This plan can only be applied at Kyoto Station, Gionshijo, Osaka Shinsaibashi and Tokyo Sensoji shop.
Reservation of Plan 8
Please make your reservation as usual. → Reserve here
The system will automatically set 10% off for reservation of group 8 and more.
Please call us in case your desired schedule is full → 075-600-2830
※Prices may be changed according to season
※Please notice that big group discount is not applied in peak season from March 1st – May 7th.
Option
Free Hairdo※Reservation Required
Free for plain hairdo with Kanzashi.
We provide professional hairdo such as braid etc. by 900 yen.
You can select from 6 hair styles. Go to Hair Style List
※10% discount is not applied for charged options like hairdo, photography, etc.