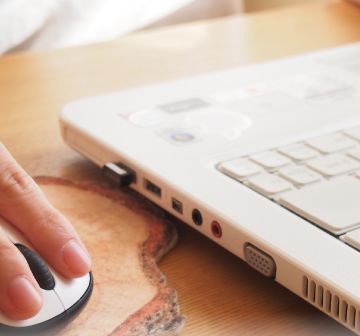 In order to help our customers preparing their trip in Kyoto without any worries.
Kyoto Kimono Rental Wargo accept online reservations in advance.
Simply use our online reservation form or call us! Reserve quickly and easily via our website by choosing your favorite plan, the day of your visit and conclude your payment with your credit card. There is also no problems for last minute reservation if the time slot of your choice is available; you can place a reservation 2 hours before your visit!! Feel free and welcome to visit us if you pass nearby one of our shops!♪
As the sight of sakura flowers in Spring and the view of colorful leaves in Autumn are very popular activities among our customers.
We invite you to reserve especially in advance for those 2 seasons.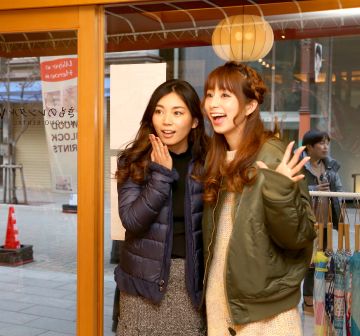 Come visit the shop in which you reserved on the appointed day. Feel free to contact us via phone or email if you are confused about the directions.
Please come few minutes before your appointment to allow us to serve you without any rush.
No preparation is necessary; simply come to us empty-handed and enjoy the transformation!
Finally, we invite you to bring an ID piece such as your passeport or a credit card to confirm your identity.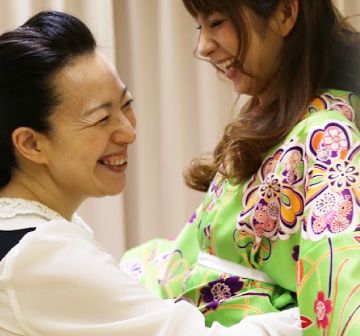 After your passage at the reception and the choice of your kimono completed, we will start to dressing process. We will start by covering you efficiently with the hadagi (kimono underwears) and end up by tying up your obi firmly to avoid any wrinkles during the day.
It takes approximatively 30 minutes to dress one person.
There is no access to the restrooms during the dressing process.
We suggest you to use the restrooms before the beginning of the session.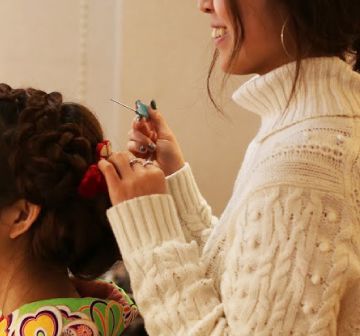 Choose your favorite kanzashi among a wide selection provided by our in-house brand and affiliated store Kanzashiya Wargo. We will decorate your hairdo with it.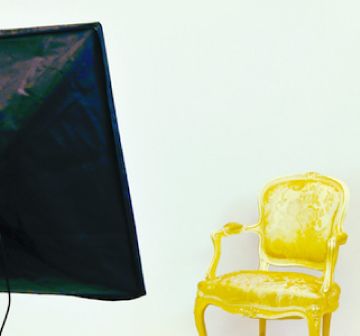 Wouldn't you like to take pictures dressed in your favorite kimono among the retro-modern interior of our shops or outside in front of the sign?
Wargo possess all the material to make this wish a reality.
Make unforgettable memories by ordering our photo option; all the digital data will be sent to your email few days after your visit. If you allow us to post your pictures on our website or SNS accounts the photo session is FREE!! You are also welcome to ask us if you need help to take pictures with your own camera!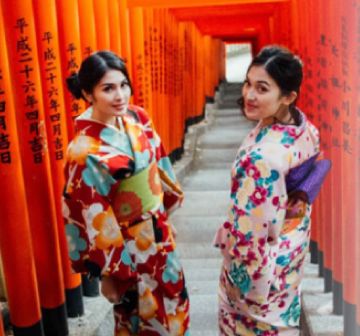 Time to enjoy a walk around town or a delicious dinner when the dressing process is completed! Take a look to Wargo's Touristic Recommendations Articles to support your discovery of the city!
Leave all your luggages except your valuables in the cloak room of our shop!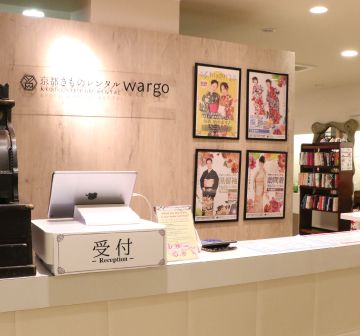 Please return the kimono 30 minutes before the closing time of the shop.
If you return the kimono the same day, please return to the shop where you had your appointment.
If you wish to rent the kimono for a longer period, please order the "Next Day Return" option.
Return your kimono on the next day for additionnal fee off 1,000 yen(+tax)/kimono or to a different shop on the same day for 1,000 yen(+tax)/kimono. Please the kimono before noon if you choose the "Next Day Return" option. Additionnal fee of 1,000 yen(+tax)/kimono will be charged if you return the kimono the next day in the afternoon.
Kimono Return Hours
Kyoto Toweruntil 18:30
Shinjuku Storeuntil 18:30
Formal Kyoto Toweruntil 18:30
Tokyo Asakusauntil 17:30
Gionshijountil 18:30
Tokyo Skytree Solamachiuntil 19:00
Kiyomizuzakauntil 17:30
Kamakura Komachiuntil 17:30
Kiyomizu Chawanzakauntil 17:30
Sapporo Susukino until 17:30
Arashiyamauntil 17:30
Sendai Parco 2until 19:00
Arashiyama Togetsukountil 17:30
Kanazawa Korinbountil 17:30
Osaka Shinsaibashiuntil 19:00
Kurashiki Bikan-chikuuntil 17:30
Ginza storeuntil 18:30
Dazaifu Tenmanguuntil 17:30
About Cancellation
In the case of cancellation, please click cancel button from the link [See detailed plans on website] on point 3 of reservation confirmation email up to two days before the scheduled visit date.
However, please note that the following cancellation fee will be charged.
Cancellation up to 2 days before reservation date : 550 yen (operating costs)
*Amount of payed transaction fees will not be charged
Cancellation of the day before and on the day of reservation date : 100% fee will be charge.
An introduction to casual kimono rental with Wargo
Our Kanazawa Korinbo branch is located on the ground floor of the Korinbo Tokyu Square, next to the famous Kanazawa Kenrokuen Garden! Enjoy reading the blog hold by our skillful dressing professionals and staff of the Kanazawa Korinbo branch! Kanazawa Kenrokuen is one of the widest and most famous garden in Japan. For this reason it is one of the most popular sightseeing spot of the area. Do not miss a chance to visit this beautiful landscape and admire the blooming cherry blossoms, the vivid autumn leaves, the majesty of winter or illuminations. Kanazawa Kenrokuen is a unique chance to watch the charming beauty of all the seasons in one place.