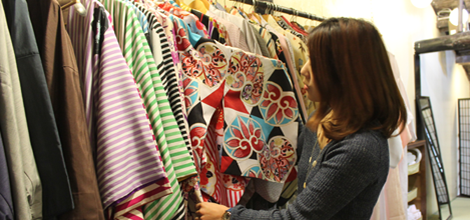 Kimono Rental Steps
The followings are the information and advice regarding the flow of renting a Kimono: from making a reservation, Kimono dressing→going out with the Kimono→returning the Kimono, the time of returning the Kimono and the cancellation policy. You can use our own service with an easy mind by having the information here. Please also inform yourself about our services such as renting a Kanzashi: ornamental hairpin for free, taking a photo (This can be free.) etc.
1Revervations
KYOTO KIMONO RENTAL WARGO suggests you to make reservations in advance in order to make your stroll comfortable. Please let us know the date and the time that you prefer through the online reservation form or by phone. Online reservation allows you to select either a Kimono or a Yukata in the plan that you select and complete the payment by a credit card. "No time like the present." If there are availabilities, you can make a reservation 2 hours before the appointment on the day. Please stop by when you come close to our store!
Click here to make a reservation by phone (075-600-2830). Please note that we accept the phone calls only in Japanese.
Tip
The cherry blossom season in spring and the season for fall foliage is the peak season. We suggest you to make reservations in advance if possible.
2Come to our store
Please come to the store that you select. If you should not know which store that you select, please feel free to call us. We would also like to ask you to come to our store before the appointment time with a little bit time to spare. Bring just yourself on the day as you do not need to bring anything. We ask you to present your identification document such as a passport or a credit-card etc.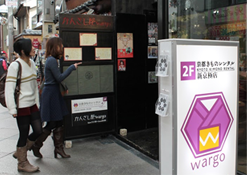 3Kimono dressing
After having signing in at the reception desk, we start dressing you. We have enough space for Kimono dressing at all of our stores. We start from the Hadajyuban: Japanese-style under shirt. The way of our Kimono dressing is not to be too tight and quick. It takes about 30 minutes to complete Kimono dressing per person.
Tip
We suggest you to go to the bathroom before coming to our store as you cannot go there during the Kimono dressing.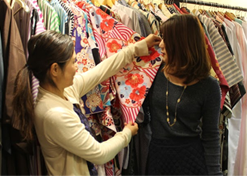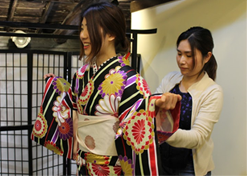 4Select ornamental hairpin
We can set your hair with a Kanzashi that you select at our attached store: KANZASHIYA WARGO during Kimono dressing.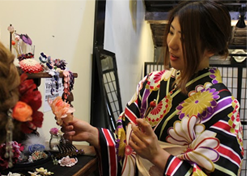 5Photography
How about taking a picture at our vintage store or in front of the store after wearing your preferable Kimono? WARGO has professional equipments for photography. We offer an optional service that we send you high resolution photos by Email on the later day. If you permit us to put your picture on our website, blog or SNS, this option will be free. We take photos with your camera, too. Please feel free to ask us.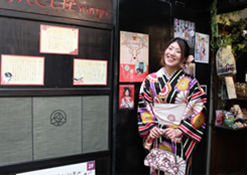 6Now, go out for Kyoto sightseeing!
All done! Now enjoy strolling around Kyoto and have dinner. Please have a glance at sightseeing spots and tourist attractions that KIMONO RENTAL WARGO recommends.
Tip
We take care of your personal belongings except your valuables at the store during your rental session.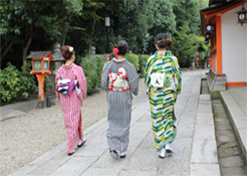 7Return Kimono
Please return the Kimono 30 minutes before the closing time.
The followings are the closing time for reception.
Kyoto Station Kyoto Tower until 18:30
Gionshijo until 18:30
Shinkyogoku until 17:30
Kiyomizuzaka and in Ninenzaka until 17:30
Kinkakuji until 16:30
Osaka Shinsaibashi until 19:00
Tokyo Sensoji until 17:30
Kamakura Komachi until 17:30
Kanazawa Korinbo until 17:30
Arashiyama until 17:30
You can change your clothes at the store for your Kimono dressing. If you cannot return the Kimono before the closing time for reception, please return it on the following day. We offer optional services: returning Kimono on the following day and at another store etc.