What is caricature service?
In order to bring you more unforgettable memories, Wargo proudly introduces its brand-new humorous portrait (caricature) service! The principle of a caricature is to draw an exaggerated version of a person specific features in a humorous way. What an original and unique manner to immortalize your special kimono/yukata day!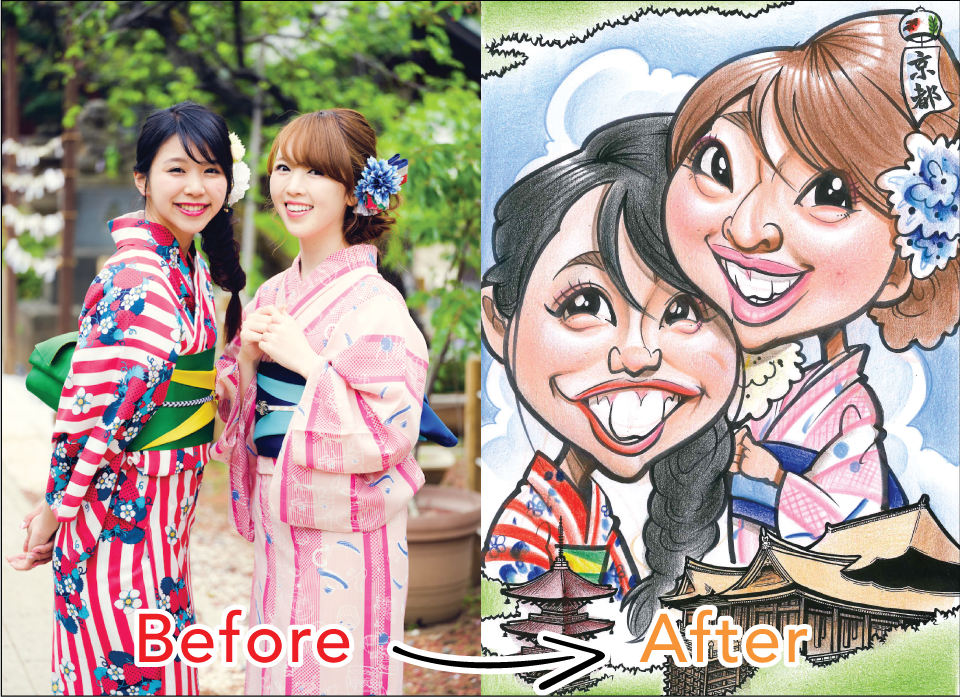 Caricature Japan Ltd.
Access

Tokyo-to, Taito-ku, Asakusa 1-37-6

From 11:00 to 21:00
Caricature Business Hours are from 11:00 to 21:00.
It takes up 5 to 10 minutes to draw one person.

¥500 OFF

on photo frame for those who book a reservation with Wargo!
Terms of Use
1. Cancellation / refund after proceeding to your order confirmation will not be accepted for any reason. Please acknowledge it.
2.Confirmation sketch before coloring is not mandatory for painters.
Please advise if you wish to confirm the sketch outline before the coloring.
3. The copyright of the illustration belongs to Caricature Japan Ltd.
This illustration is protected by the Copyright Act. Any secondary use such as diversion, modification or duplication without permission, regardless of being for profit or non-profit purpose, is a copyright infringement.
If you wish to use this illustration for any specific activity, please advise our company first.