2018/01/15
Wargo offers you the possibility to rent casual kimono, but also formal pieces such as houmongi, tomesode and furisode! Wouldn't you like to reach the next level of style by getting your hair done? Wargo's professionnals hairstylists are more than pleased to use all their expertise to develop a gorgeous and lovely hair style for all their customers! No preparation needed, let us find the best look for you! Looking forward a walk with a friend, a sweet date with your lover, attending a wedding or special ceremony? Pick your favorite kimono and get the best hairdo for your unforgettable day! It will be a pleasure for the Wargo staff to support and give you advice about your choices!
Kimono Hairdo
Choosing the perfect hairstyle might be confusing for those who dress in kimono. The impact of the kimono you choose vary depending the lenght and color of your hair. In order to support your choice, Wargo have established a list of recommended hairstyle for any type of hair! Find below the introduction to all our Hairdo Plan!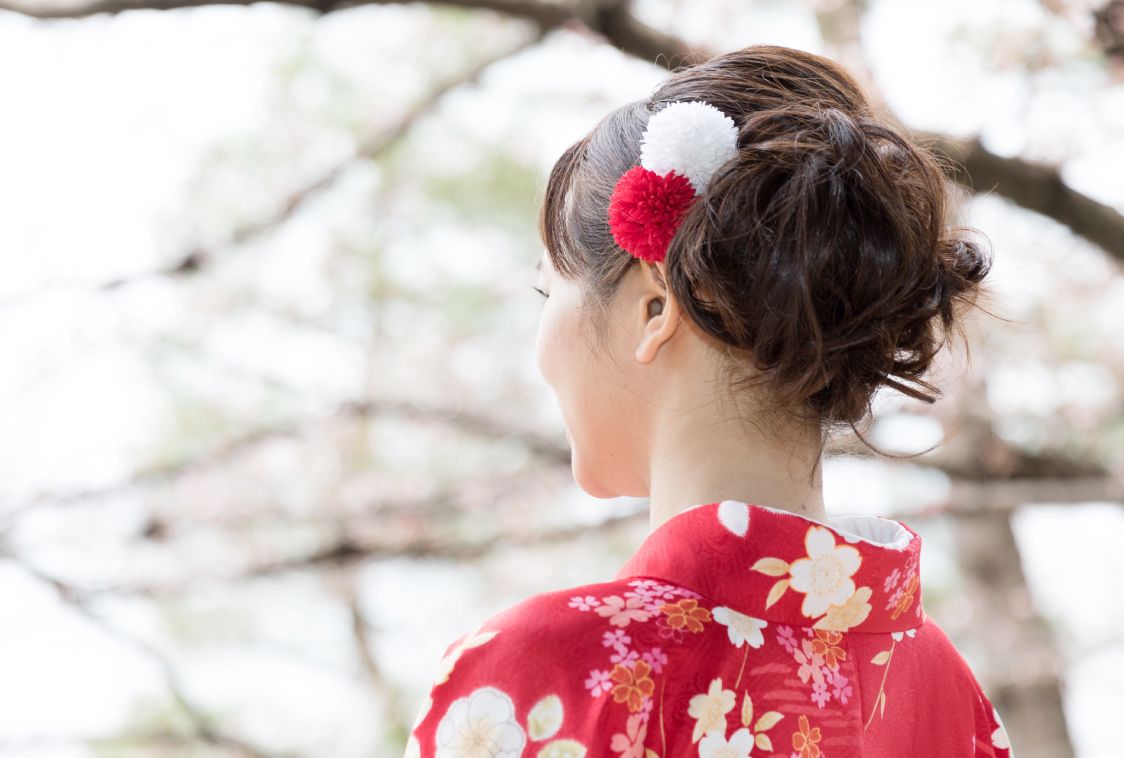 An introduction to popular kimono matching styles…
Long Hair
Nothing is more mature and elegant than long natural hair perfectly arranged to reveal the line of the neck and of the clothes. The neck line is an essential point for anyone dressed in a kimono. Nothing should interfere the view and the beauty of this curve. For this reason the most appropriate kimono hairstyle is without any doubt an elegant updo that reveals the face and the neck.
Rigid updo do not necesserily means boring look. There is a possibility to create lovely puffy shapes on the sides and the back of the head and inject some personality by the addition of beautiful hair accessories. As the kimono speaks by itself, there is no need for extravagant hair either. Small accessories are recommended for those in search of a mature and elegant look. Hairstyles vary depending the celebration you wish to attend or the type of kimono you wear; do not hesitate to ask for advice in case of doubt. Get extravagant for a party and simple for tea ceremony; the art of kimono is fascinating by all the little details available to change the atmosphere surrounding the one that wears it.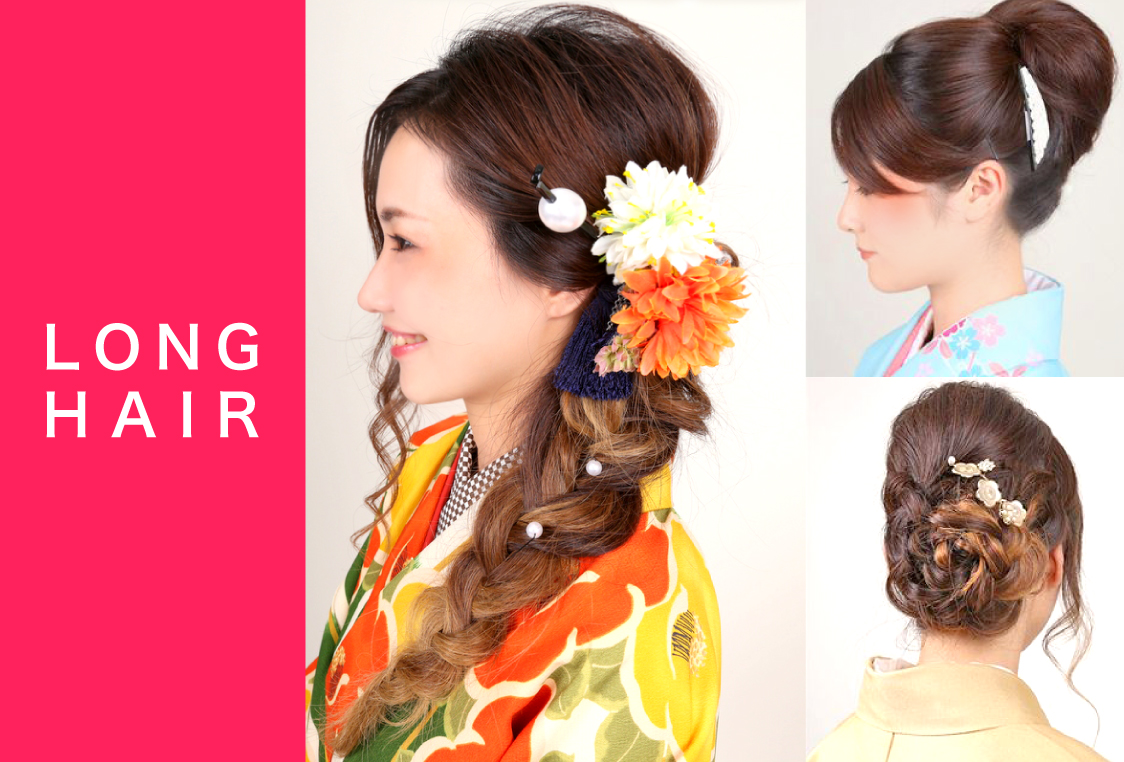 Mid-long Hair
We recommend 'half-up' shapes for the styling of mid-long hair. We found in Japan those styles fitted for the night; floating shapes held enough for an easy and comfortable walk. Those hairdo are considered very feminine and are popular towards younger women in search of a cuter style. As a plus, they reveal the nape and the neck line, making them well-fitted for kimono. Comb-shapes decorations are recommended to make the perfect finition. Selecting accessories to match and personalize a kimono is like a fun treasure hunt!♪ It also helps to complete your half-up and make it more elegant! Those styles match both black and brown hair and might be for this reason our most popular ones!! Half-up are also resistant hairstyles allowing you to attend long events without any fear of collapsing! Mid-long hairdo are an apex of feminity that can match many different types of ladies!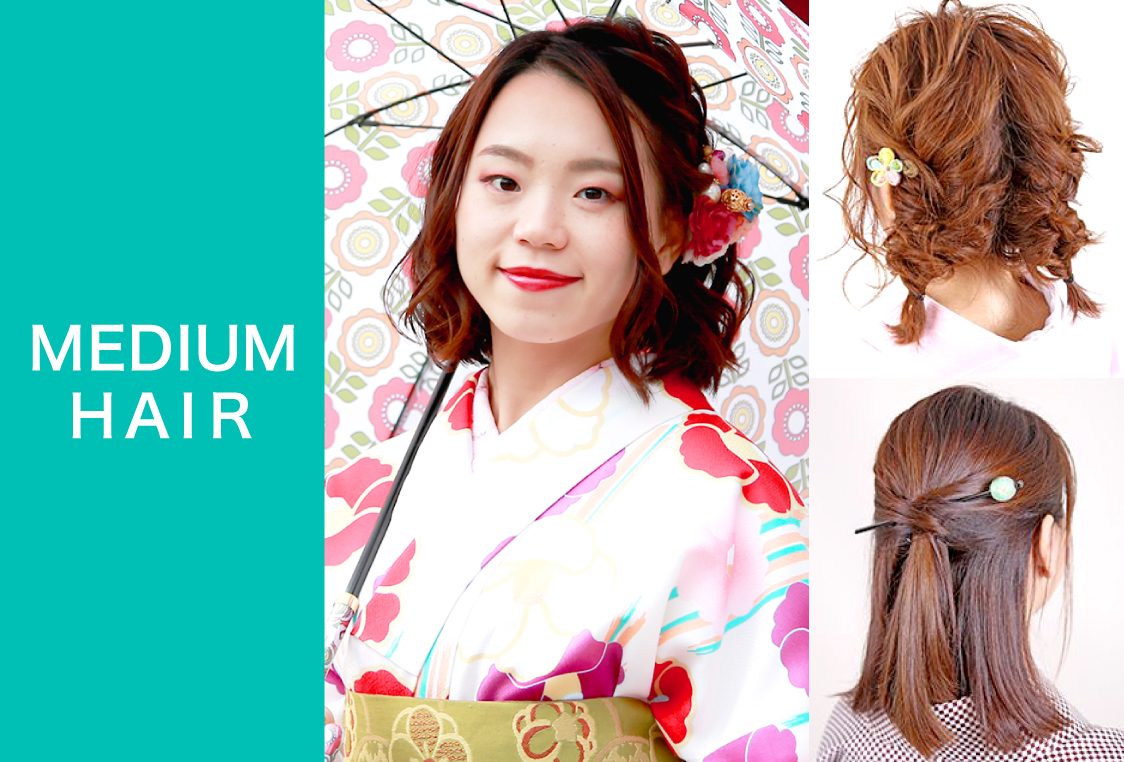 Short Hair
There is no problem to also style short hair! We recommend "side-up" shapes in this case. Short hair are good looking when loose, but rank-up with the add of a little volume. Simple hairdo with discrete accessories are the archetype of the immemorial Japanese women and a must to try to complete a kimono! Some might think that short hair limit the amount of possibilities regarding their kimono choice; but it's actually the opposite! Short hair can match many kimono by their simplicty! Enjoy trying and finding your perfect kimono match!♪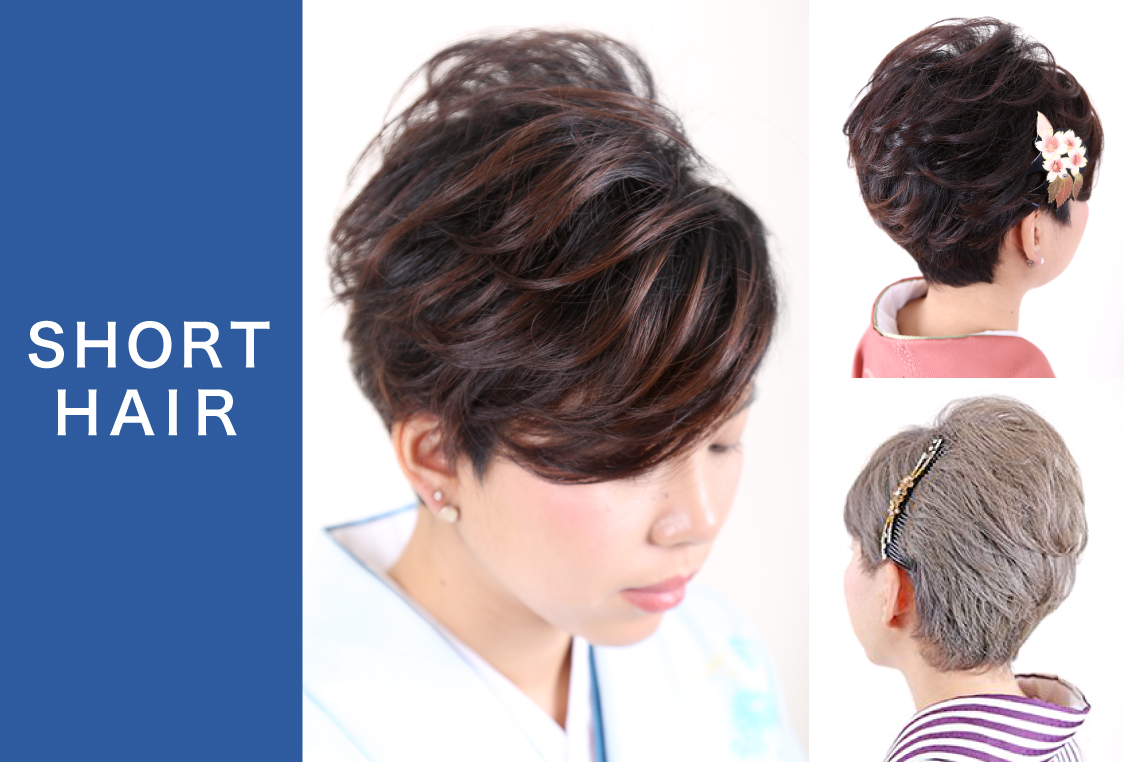 Wargo Hairdo Plans are…
Wargo have prepared various hairdo plan to match any type of kimono and ladies!! Do not hesitate to ask advice to the staff in case of doubt about which hairstyle to choose!
Free Hairdo
Rent one of our in-house brand, Kanzashiya Wargo, accessory for free if you choose this plan!! Enjoy a piece of Japanese culture by choosing your favorite kanzashi to decorate your hair!!

Standard Hairdo (900 yen)
Rank-up your style by choosing this plan! Make it yours by adding your favorite flowers and decorations!♪ (This plan offer braids styles, but no shapes that needs an iron.)

Premium Hairdo (1,900 yen)
This plan offers more elaborated hairstyles and includes the use of an iron for more complex shapes! Celebrate your feminity by ordering this cute and complete plan!

High-End Hairdo (2,900 yen)
The perfect formal hairstyle plan for completing an houmongi or a tomesode; for attending a wedding or a graduation ceremony! This plan includes the use of any type of iron to make the best out of your hair! The High-End Plan was designed for embellishing your special occasions!

Freestyle Hairdo (3,900 yen)
Speak your mind and request anything you like to our pro hairstylists! We suggest to bring pictures of the desired style to our staff to help them seizing without default the image that you want. Our professional hairdressers knows their Japanese hairstyle and will be more than pleased to build the perfect one for you!

Japanese Hairdo (4,900 yen)
The most distinguished choice to make the best out of natural black hair and complete a detailed and special kimono like a furisode. This plan is the ultimate chance of wearing a pure complete Japanese look! Wouldn't you give it a try?

Shichigosan Hairdo (2,900 yen)
Celebrate the passage to adulthood of your children with the Shichigosan Plan! Nothing is better than a cute hairdo to complete a lovely kimono! Create a lifetime mother-child bond by ordering this plan!

In conclusion…
Feel complete by adding your favorite accessories to your hairstyle!! Kimono Rental Wargo have prepared an extensive original selection of hairdo to match any kimono! Become a head-turner by choosing the perfect kimono look!
Kimono Rental Wargo is…
Kimono Rental Wargo offers you the possibility to rent a kimono complete set for only 2,900 yen (1,900 yen for student!) including dressing fee and kanzashi rental from their in-house brand 'Kanzashiya Wargo'. Improve your look by getting your hair done for only 900 yen!! Rent a kimono full set at reasonable price all-around the country with Kimono Rental Wargo! Choose from 19 shops around Japan; Kyoto, Gion, Kiyomizudera, Arashiyama, Asakusa, Kamakura, Kanazawa or Osaka!