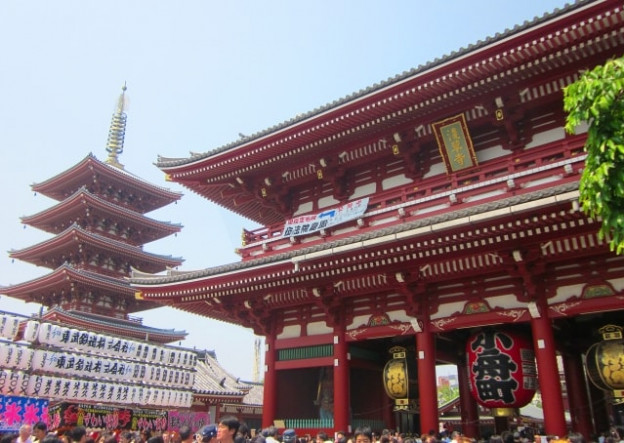 A Recommended Sightseeing Course for a Day When You Rent a Kimono in Asakusa!
Asakusa in Tokyo, is a place that attracts not only Japanese people but also people from overseas. There are many festivals throughout the year, which makes it full of smiles and pleasant feelings. Let's change your casual clothes into kimono and take a walk in Asakusa!

This time, we would like to introduce recommended tourist spots and gourmets to try when visiting Asakusa for sightseeing.

Dress up at Kimono Rental Wargo and head out to the first destination, Sensoji Temple!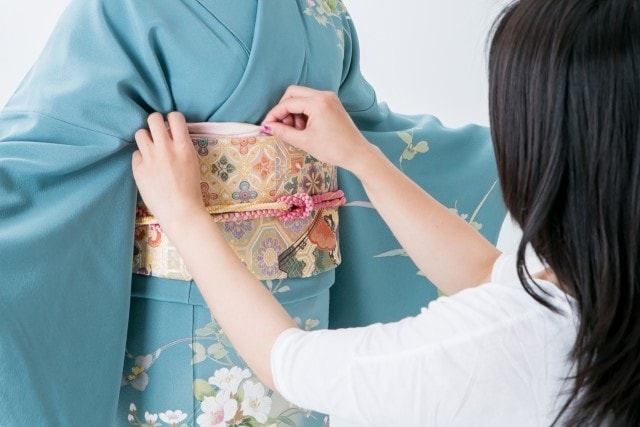 After you dress up in a kimono, let's head to Sensoji Temple! You will be greeted by the gate of Kaminarimon, the face of Sensoji Temple. After you passed through the large lantern, you can see the lively Nakamise street. Nakamise street is one of Japan's oldest shopping streets, and there are various shops lining up on the 250-meter approach.

After you walk through the Nakamise Shopping Street, you can see the big main building of the temple. What is enshrined there is Kannon Buddha, with the statue size of about 5.4 cm. Kannon Buddha is known for being very merciful, removing people's suffering and listen to their wishes. The Kannon Buddha statue enshrined in Sensoji Temple was originally caught by a fisherman's net, approximately in the year of 645.

By the way, do you know about "Asakusa Shrine" located next to "Sensoji Temple"? At Asakusa Shrine, three people are enshrined, including the two fishermen brothers who found the Kannon statue. In other words, the famous "Sanja Festival" (三社祭) is a festival of Asakusa Shrine that celebrates those three people enshrined there.

Sightseeing in Asakusa in Kimono ♪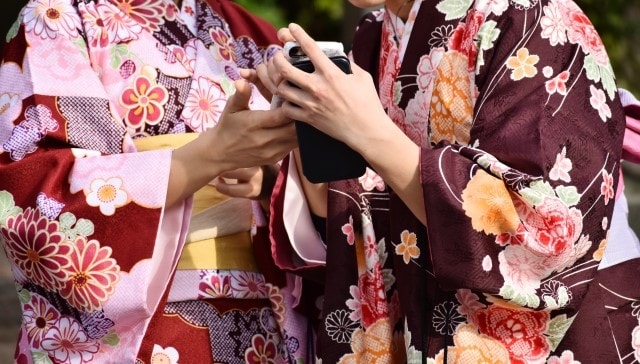 The best place to go for sightseeing in Asakusa is definitely the area around Sensoji Temple. In addition to the majestic main hall building and five-storied pagoda, there is also a beautiful garden in the precinct and it is perfect for kimono!

In addition to the famous Sensoji Temple, we would like to introduce other spots that look good on photos. It is a popular course to go around "Sensoji Temple → Kagetsudo → Hanayashiki → Hoppy Street". Let's go!

Asakusa Kagetsudo
Kagetsudo, located on the western approach, has become a hot topic with 800 windmills placed on all over the wall. There is also "Asakusa Kingyo" where you can enjoy the goldfish scooping when you step into the shopping district.

Hanayashiki
"Hanayashiki," which is known as Japan's oldest amusement park, is also a must-see spot. The park has a retro atmosphere, and there are many shops on the street from Sensoji Temple leading to Hanayashiki amusement park that look great as background on photos.

Hoppy Street
Hoppy Street is a very famous location for drinking and eating Tokyo's izakaya dishes with affordable price! There is a distinc atmosphere that can only be felt here, and the old-style shops will look good combined with kimono. Also, there are many rickshaws service in Asakusa, so you should definitely try to ride one while you're wearing a kimono.

Recommended gourmet spots around Asakusa!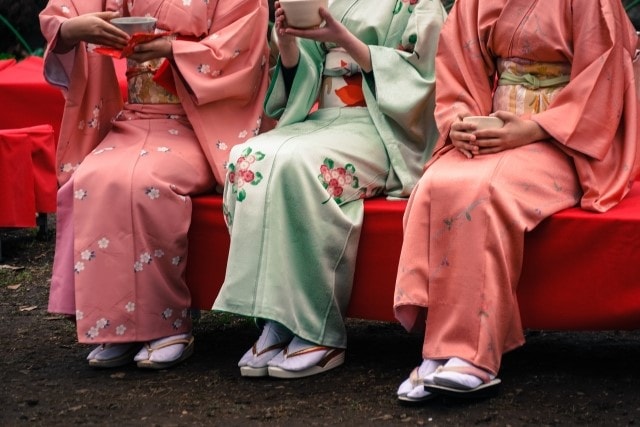 There are many delicious gourmets in Asakusa! We will introduce several shops and restaurants that we recommend you to visit! We will group the shops according to the streets.

Nakamise Street: Azuma's "Asakusa Kibidango", Asakusa Kokonoe's "Agemanju"
Azuma is a shop that reproduces the Kibidango, a dish that was sold on the approach to Sensoji Temple in the Edo period. The dango is sprinkled with plenty of kinako, it's so soft and very delicious. There are many types of manju at Asakusa Kokonoe, one of them is the deep fried manju a.k.a Agemanju, and you can enjoy several types of fillings such as anko, curry and monja flavor.

Dempoin Street: Asakusa Menchi Katsu's "Menchi Katsu" (Ground Meat Cutlet)
The hot freshly fried menchi katsu is the best! When you bite into it, the delicious meat gravy will satisfy your tastebuds.

Sensoji's West Approach: Kagetsudo's "Jumbo Melon Bread"
Kagetsudo is known as the originator of Jumbo Melon bread. Their Jumbo Melon bread is very fluffy and soft, the size is close to the size of a child's face.

Kaminari Street: Funawakafe's "Imo Yokan"
The spacious interior and the sweetness of the dishes will heal your tired body after a long walk. This shop offers various sweets made using sweet potatoes.

Asakusa 6th Ward: Sekine's "Nikuman" (Steamed Pork Buns), "Shumai", Coffee Tengoku's "Hot cake" (Pancake)
Sekine, which has been in business since 1958, is popular for its steamed pork buns and Shumai. You can enjoy their dishes as snacks to accompany your journey, or buy them as souvenirs.

Coffee Tengoku (Coffee Heaven) is a shop where you can enjoy very fluffy pancakes. The store has a calm and nostalgic atmosphere.

Don't forget to get special souvenirs from Asakusa!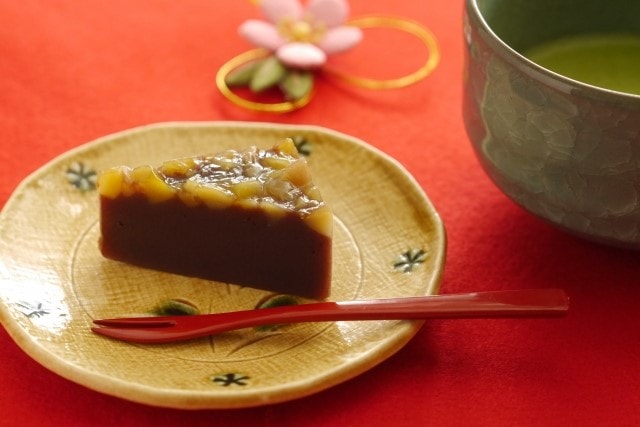 After having fun at Asakusa, it's time to find memorable items and souvenirs! We also tried to summarize the souvenirs from each street.

Nakamise Street: Tokiwado's Kaminari-okoshi, Kimuraya's Ningyo-yaki
Tokiwado's famous sweets since Edo era, "Kaminari-okoshi" is believed to bring good luck. This traditional treat is crunchy and is made of puffed rice grains, there are more flavors available nowadays, one of them being the maple flavor. This store also offers a different kind of okoshi named "Nama-okoshi", meaning raw okoshi, it's definitely a must try since it can't easily be found elsewhere.

The "Ningyo-yaki" Kimuraya store is the oldest store selling Ningyo-yaki. They make and sell four types of Ningyo-yaki with iconic objects from Asakusa, such as the five-story pagoda and the thunder lantern. Ningyo-yaki is very popular for its simple sweetness and can be stored at room temperature for a week.

Shin-Nakamise Street: Yagenbori's Shichimi-tougarashi
Yagenbori's "Shichimi-tougarashi" is a gem that was appreciated as a gift during the period of the Tokugawa Shogunate. You can also mix your favorite spices so you can make your own special Shichimi. The gourd-shaped container is cute, it will definitely look good as souvenirs!

Kannon Street: Izumiya's Neko-senbei (Cat Senbei)
Izumiya is a shop specializing in selling senbei and Edo era confectinary. Among all of their products, the most famous product has to be the cute and eye-catching cat-shaped senbei! The cat rice cracker is decorated with seaweed on the surface. The taste varied from standard flavor to strawberry and monja. Please try the cutely shaped senbei yourself!

Orange Street: Yoroshi Cosmetics's 365 Days Hand Cream
They sell solid perfumes and hand creams, one of the most famous products is the "365 hand cream". In total there are 1,095 different combinations of 3 different scents and 365 designs for each scents. Anyone would definitely be very happy to receive this product as a gift.

Lastly, return the kimono to the store ♪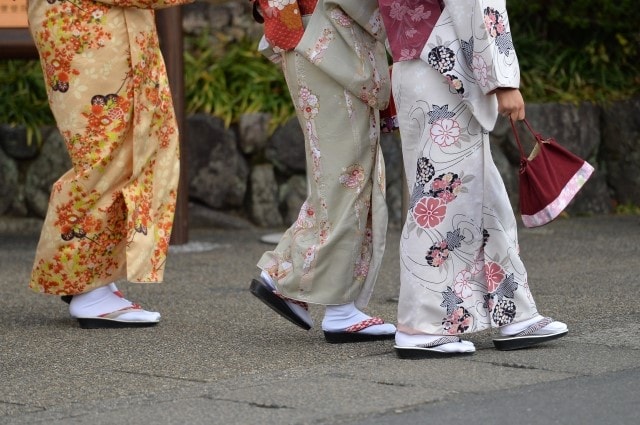 Finally after a long day, let's return the kimono to the store. When the sun sets, Sensoji Temple is lit up with illumination, and the five-storied pagoda shows a fantastic appearance. If you want to fully enjoy the night view, please use "the next day return option", which allows you to return your kimono with plenty of time ♪

Conclusion
This time, we have introduced a route that you may try the next time you visit Asakusa. It was a only a small part of Asakusa, there are many more interesting things to see in Asakusa. It is full of charms that can't be reached in just one day. Please discover new "discoveries" in Asakusa, not only once but for many times. Kimono Rental Wargo Tokyo Asakusa Store is a 3 minute walk from Sensoji Temple, very convenient location! We have a lot of casual kimonos for sightseeing, so please stop by whenever you visit Asakusa ♪

Click here for kimono rental reservation☆↓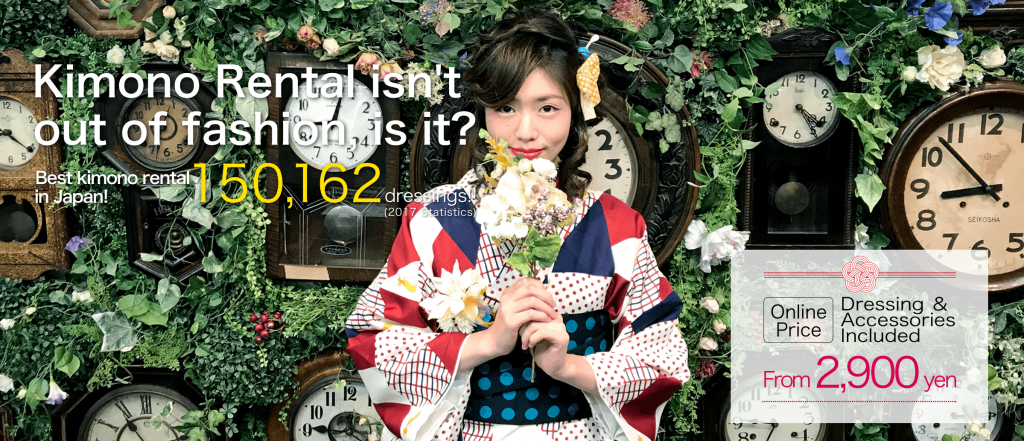 Basic Information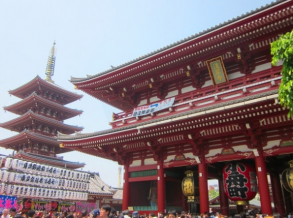 京都府京都市左京区銀閣寺町2

3~11月 8:30~17:00
12~2月 9:00~16:30

0120-42-0505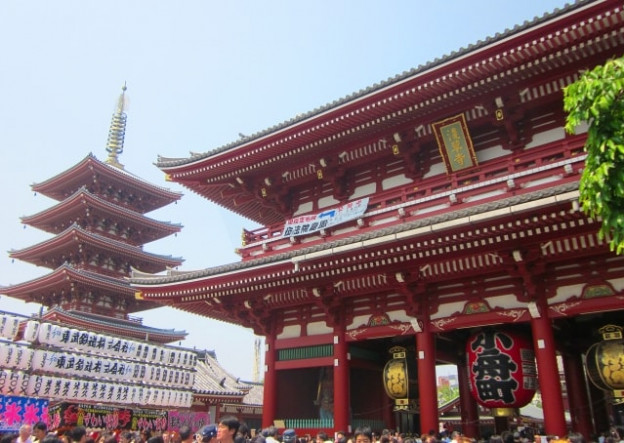 A Recommended Sightseeing Course for a Day When You Rent a Kimono in Asakusa!