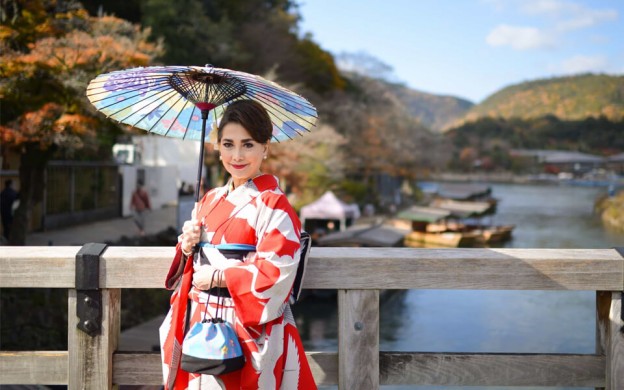 Places to Visit in Kyoto at Night with Kimono
Kyoto is a sightseeing spot everywhere!
There are plenty of places to go around, but… why there are so many shops or sightseeing spots that closed so early?
Wait a moment … I do not know where to go again since I have so many places to visit but the time and accommodation is too complicated!
Stop right here! This article is going to help you to find a way out.
Actually, there are spots that can be enjoyed even at night.
This time we will introduce some of those rare spots that you can enjoy in Kyoto at night
ヽ (o'∀ `o) ノ
Speaking of having a trip to Kyoto at night・・・
【Nijo Castle】
Nijo castle which is registered as world heritage site, gold was abundantly used,
It is overwhelming! History and architecture lovers must be so excited!
In Nijo Castle, 200 cherry blossoms tree that are in full bloom in the castle will be lighted up from late March to mid April.
You can see the different from the daytime, you can experience the beauty of the garden and the castle ♡
Furthermore, when the summer season comes, light up available in the castle including Ninomaru garden,
Projection mapping & sound production, etc are carried out at the National Treasures · Ninomaru Godo.
● Address: Kyoto Prefecture Kyoto City Nakagyo-ku Nijyotori Horikawa Nishi Entou Le Nijo Castle Town
● Access: Get off at JR Kyoto station from JR Kyoto Station
● Light up: season of cherry blossom season from 18 o'clock to 21 o'clock in the summer from 19: 00 to 21: 30
【Hanamikoji Street】
If you ever heard about the small road passing through the atmosphere of the ancient capital Kyoto, it is here, the Hanamikoji dori (street)!
It is famous as a spot where you can meet Maiko and Geisha (☌ ω ☌)
On the alley about 1 km from Sanjo-dori to Kennin-ji Temple, the cobblestone revealed with a lantern creates a fantastic atmosphere.
My preference is night over daytime, you can stroll while feeling old-fashioned Kyoto on your skin!
A somewhat dubious atmosphere is another nice and fascinating spot ♡
If you are lucky you might be able to see Maiko and Geisha!
Let's study the girls' ability of walking and also the splendid expression!
● Address: Kyoto Prefecture Kyoto City Higashiyama Ward Hanami Koji Road
● Access: 5 minutes on foot from Keihan Gion Shijo Station
● Light up: whole year
【Arashiyama Station・Foot's Bath Hot Water】
This foot bath located in the Arashiyama station and somehow unexpectedly not very well-known by many tourist.
Because there is no ticket gate at this station, it is a sightseeing spot that you can feel free to drop in even if you do not use the station.
This service comes with an original towel at 200 yen per person, a friendly cost for your wallet ♡
Designed with the Arashiyama bamboo, Yuzen's rowed pole.
You can taste the fantastic atmosphere from the "light forest".
It is colorful and beautiful in the daytime, but the light up in the evening will be a completely different scenery!
Let's taste the feeling of Kyoto by the light up which feels the Japanese way of healing the tired-walking legs ♪
● Address: Saga Kyoto Ward, Kyoto City Kyoto Tenryu Temple 20-2
● Access: Arashi Den · Arashiyama Main Line inside Arashiyama station
● Opening hours: 9 o'clock – 20 o'clock (until 18 o'clock in winter)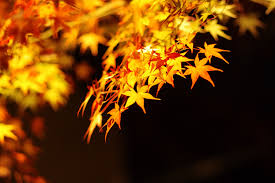 For those who looking for a romantic spots in Kyoto・・・
【Kitano Tenman-gu Shrine】
Kitano Tenman-gu Shrine, famous for the worshiped God of Academy, Sugawara Michimoku.
Approximately 1,500 plums are planted here, and in the spring it is crowded with many tourists.
Actually, in additional about 250 maples trees have been planted, and when the peak time season of autumn is come, the leaves are lighted up!
It is lighting up from mid-November to early December until 20 o'clock.
The lit up maple shines more vividly and look so fantastic ♡
It might made you want to see this scenery while holding hands with your beloved one ~
(* 'v` * wink)
● Address: Maki-machi, Kamigyo-ku, Kyoto-shi, Kyoto
● Access: From JR Kyoto Station City bus 50 · 101 line, get off right in Kitano Tenman-gu stop
● Light up: 9 o'clock – 20 o'clock
【Fushimi Inari Shrine】
This place in recently years have became so popular among foreign tourist!
It is so popular that have become the iconic sightseeing spot of Kyoto, and usually become the first location to visit in many itineraries.
Most people will be visited in the daytime, but Fushimi-Inari Taisha Shrine can be entered for the whole 24 hours every day.
Although the Senbon Torii is a masterpiece even in the daytime, brightly vermilion is staggered in the dark world when it is lit up at night, which giving mysterious vibes.
Fushimi-Inari Taisha Shrine is a mountain called Inari mountain, so there are places where you should drag your feet to climb more stairs to go further.
When you climb while supporting each other, who know's it might makes your bonds stronger? (ᵕ̤ コ) ᵕ̤ૢᴗᵕ̤ૢ)
● Address: Fukusaku-Kuninomachi cho, Fushimi-ku, Kyoto-shi, Kyoto
● Access: 5 minutes on foot from Inari station
● Light up: after sunset
【Shogunzuka Seiryu-den Hall】

A popular Shogunzuka Seiryu  (blue dragon) as a night view scenery in Kyoto.
Why is it popular … because you can see the night view of Kyoto.
You can see the lighted up Kyoto Tower too! It is luxurious, isn't it? ('♡ ω ♡ `)
The site itself is also doing the night light up only during the period of cherry blossoms and autumn leaves.
It is lighting up throughout the precincts, with 1,000 large and small lighting fixtures
Indeed a very artistic landscape!
● Address: Kyoto Prefecture Kyoto City Yamashina-ku Kisuko Fukaoka Town 28
● Access: Kyoto Municipal Bus 5, 46, 100 Series Get off at Jingu way, 3 minutes on foot
● Light up: 18: 00 ~ 22: 00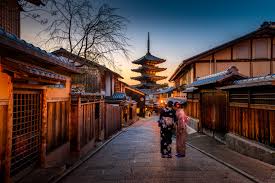 Summary
What did you think?
There are plenty of places to enjoy in Kyoto in the evening!
The trip of Kyoto is still lively as in daytime even when the sunset come.
If you are planning to wear kimono and spend the evening or night, we provide "Returning Kimono on the Next Day Option" special for you. Please kindly use this service to enjoy Kyoto to the fullest in kimono ~
Reservation from the banner below ♪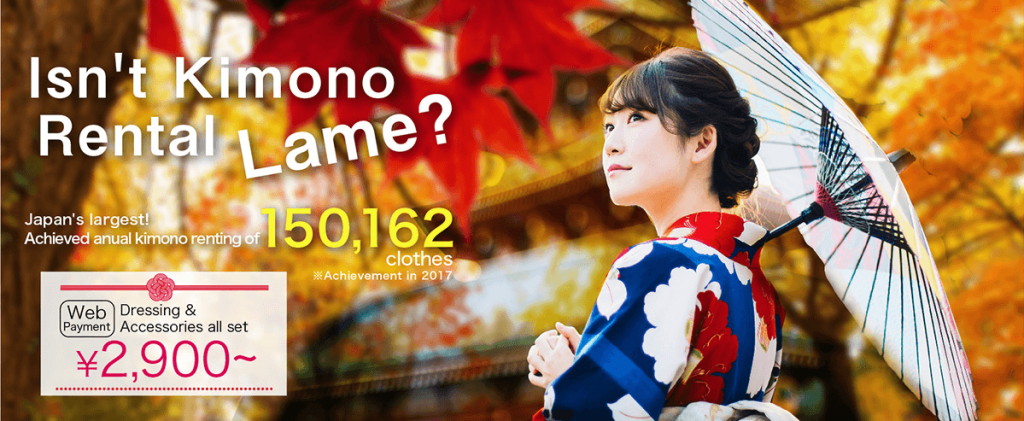 "Kyoto Kimono Rental Wargo" has 7 stores in Kyoto, and 16 stores in total all over Japan!
One of the biggest  in Kyoto city, and we are renting out start from 2,900 yen for a kimono dress-up experience.
All accessories necessary for THE dressing are also ALL INCLUDED!
You can come by empty hand and return home without any hassle, so feel free to use it.
Make a reservation easily from the following link.
We will be waiting for your visit to Kyoto!
Basic Information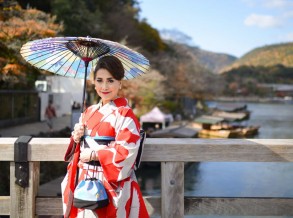 京都府京都市左京区銀閣寺町2

3~11月 8:30~17:00
12~2月 9:00~16:30

075-771-5725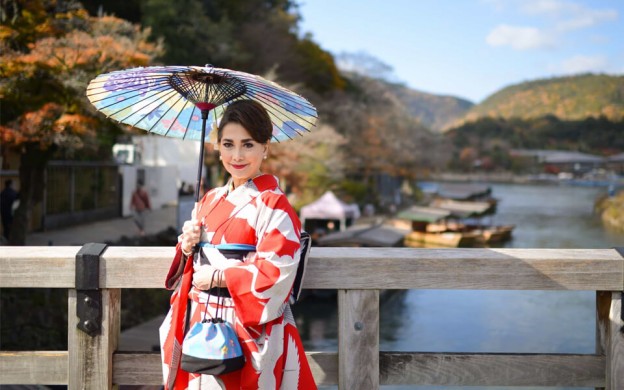 Places to Visit in Kyoto at Night with Kimono