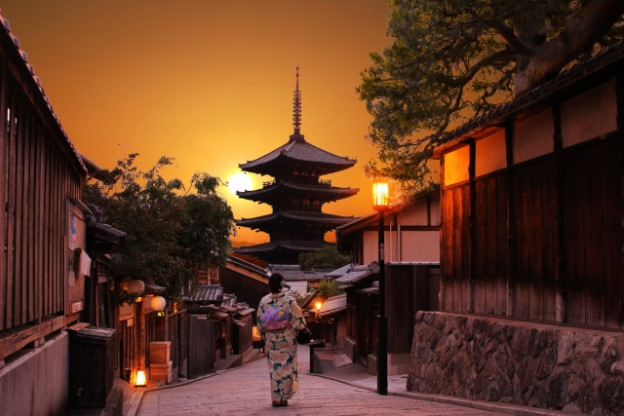 Local Hidden Spots in Kyoto That You Should Visit in a Kimono
Hello everyone! 
It is Kimono Rental Wargo here!
This time, we would like to introduce some local spots in Kyoto that you should visit in a kimono.
Did you know that there are still many underrated spots in Kyoto only known for not so many tourists?
This column is perfect for those who want to see a different side of Kyoto ♪
Otagi Nenbutsu-ji Temple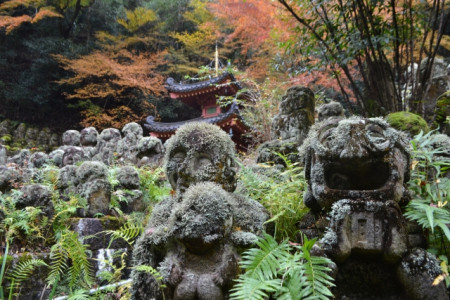 Otagi Nenbutsu-ji Temple is one of the hidden gems of Kyoto, and because of its remote location, it doesn't get crowded.
This temple has appeared in live-action movies and anime.
You can enjoy the quiet and ancient vibe of Kyoto here!
The principal object of worship in this temple, Senju Kannon made in the Kamakura period, along with the main hall of this temple complex are important cultural properties of the country.
The biggest highlight of Otagi Nenbutsu-ji Temple that attracts visitors is their Rakan statues collection.
It is known as Yuru-kyara Jizo, and none of them has the same face, none of them looks the same!
Many people participated to make their own Jizo statues under the guidance of the former priest, he was known for his desire to "fill the grounds with Rakan statues."
For this reason, every Jizo shows unique expressions and the warm feelings of the participating citizens.
One statue opened its mouth widely, another one was laughing happily, another one was smiling gently, another one was holding a cat on its hands, and there was one jizo holding a rice bag in both hands.
Because of its collection of the 1200 Rakan statues, this temple is also known as "The Temple of 1200 Rakan."
Heal your daily fatigue and relax your mind at this temple!
Otagi Nenbutsu-ji Temple
Address: 2-5 Sagatoriimoto Fukatanicho, Ukyo-ku, Kyoto
Nearest Transport:
Otagi Dera Mae Bus Stop, Kyoto Bus 64, 74, 84, 94 (headed for Kiyotaki) from Kyoto Station
Tanukidani Fudo-in Temple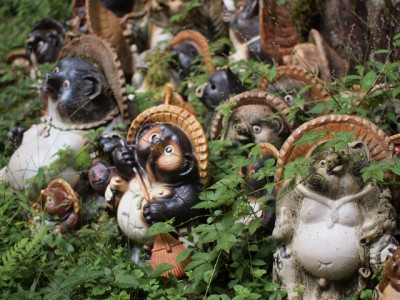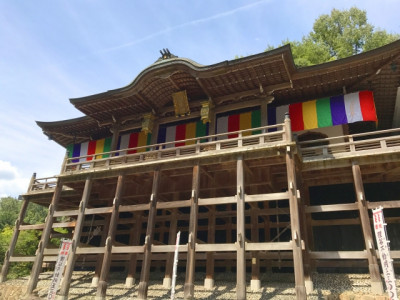 Located in the hills of Higashiyama Kyoto, this temple is known for its "Car blessing ceremony", also for its ceremonies for good health.
So many locals come to this temple to get charms to protect themselves from diseases and evil spirits.
Also, as the name suggests, there are many figurines of raccoon dogs on the grounds, it is an attractive scenery that can not be seen elsewhere ♪
One of the charms of Tanukidani Fudo-in Temple is that the main shrine looks exactly like the famous Kiyomizu butai (Kiyomizu stage) at Kiyomizudera temple.
Apparently, the main hall of Tanukidani Fudo-in Temple was built using the same architectural style as the Kiyomizu butai.
Please visit this shrine with your family, friends, or your partner.
Tanukidani Fudo-in Temple
Address: 6 Matsuhara-cho, Ichijoji, Sakyo-ku
Kyoto
Access by bus: take a number #5 bus from Kyoto Station and get off at the Ichijoji-sagarimatsu-cho bus stop.
Ichijo Yokai Street (Kyoto's Monster Street)
The next spot is Ichijo Yokai Street (Kyoto's Monster Street), a unique shopping street like no other.
Locals and Kyoto people call the Taishogun Shopping Street that lines for about 400 meters from Nishioji street, with the name of "Ichijo Yokai Street".
The reason why it is called Yokai Street is because of "Hyakki Yagyo", or the Night Parade of One Hundred Demons in the Heian Period, was said to take place on this street.
For this reason, this shopping street is embracing their Hyakki Yagyo lore, placing various ghosts or monsters statues in order to attract more customers.

The monsters create surreal atmosphere, they're standing on the side of the street, or sitting on benches, make sure not to get shocked when you find one in a random place!
At Ichijo Yokai Street, there are many things that can be enjoyed by everyone of all ages, from fashion, daily necessities, and various foods related to youkai.
There is "Hyakki Yagyo Museum" in one of the corner of the street, and there are many exhibitions related to ghosts, spirits and various articles related to youkai, so please stop by when you go to Ichijo Yokai Street ♪
Ichijo Yokai (Monster) Street
Address: Kyoto-fu, Kyoto-shi, Ukyo-ku, Ichijo-dori
Access: 5 minutes on foot from Keifuku train "Kitano-Shiraumecho Station"
Ishibe-koji Alley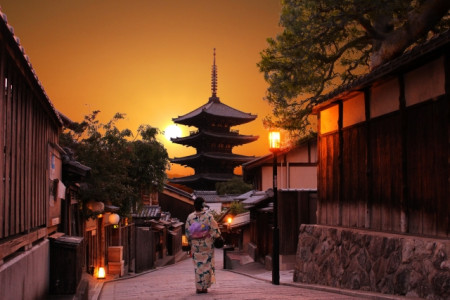 This place will make you feel relaxed with its quiet and calm environment.
From the Meiji era to the Taisho era, many teahouses were set up, and the paving stones were installed here due to the building of Kyoto City Tram.
A 100-meter-long alley with inns, restaurants, and coffee shops lined up, this is a truly Kyoto-like scene.
When you step into Ishibe-koji Alley, it feels like another world unfolds in front of you, as if you have slipped back in time, so if you go in a kimono, you will feel the atmosphere of ancient Kyoto even more.
It is recommended for those who want to take a different route of walk around Kyoto ♪
You can also view Horyu-ji Temple, from Ishibe-koji Alley, it is a very beautiful temple that will look amazing in pictures ♪
Please take a walk around this alley when you visit Kyoto!
Ishibe-koji Alley
Address: Kyōto-fu, Kyōto-shi, Higashiyama-ku, Shimokawarachō
Access:
10-minute walk from Hankyu Kawaramachi / Gion Shijo Station.
Conclusion
Kyoto has many magnificent spots that represent Japan so well, and we have introduced some of them in this column.
Please take a walk in your kimono to enjoy your time with your family, friends, or your partner.
At Kimono Rental Wargo, we have a wide variety of beautiful kimonos from children's to women's and men's.
You can enjoy the kimono of your choice at a reasonable price starting from 2,980 yen, and you can come to the store on the day without reservation.
There are 7 Kimono Rental Wargo stores in popular tourist areas around Kyoto, so please feel free to stop by whenever you visit Kyoto!
Click here for kimono rental reservation☆↓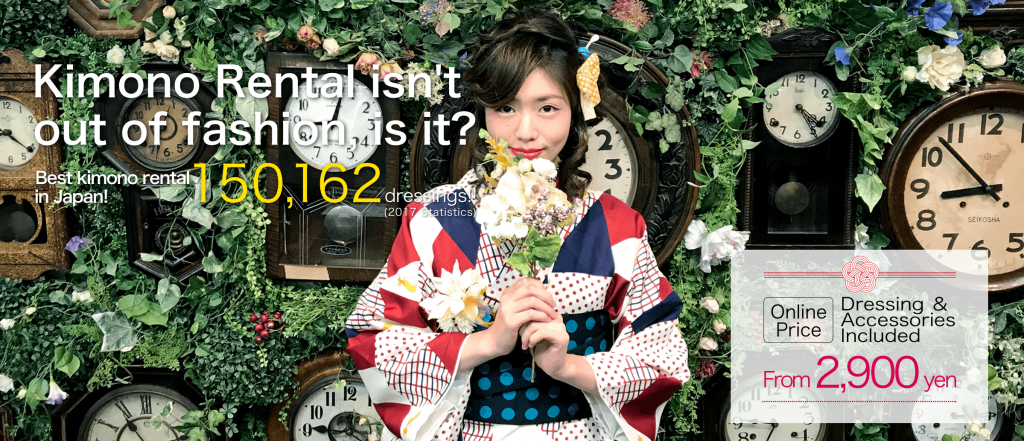 Basic Information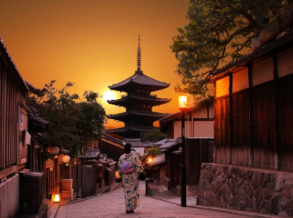 京都府京都市左京区銀閣寺町2

3~11月 8:30~17:00
12~2月 9:00~16:30

0120-42-0505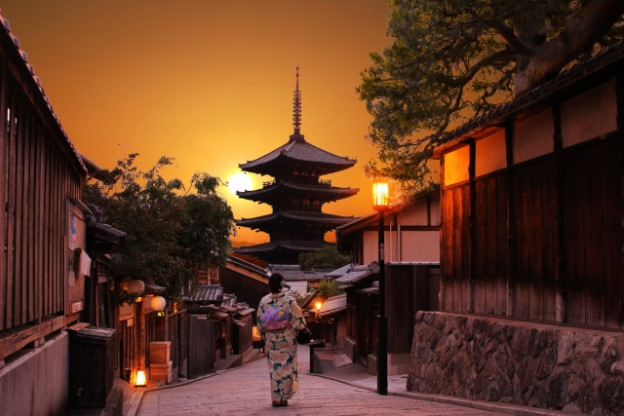 Local Hidden Spots in Kyoto That You Should Visit in a Kimono