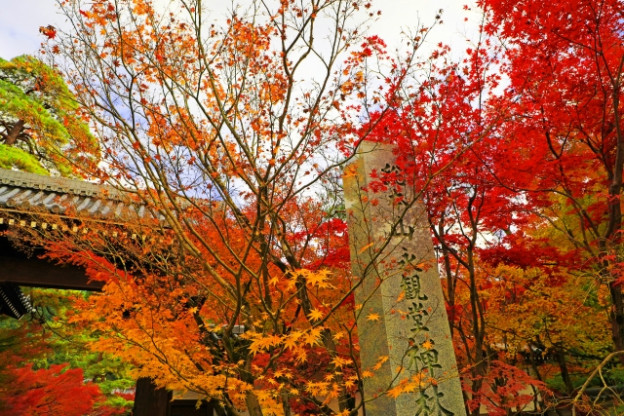 Popular Sightseeing Spots in Gion that You Want to Go in Kimono in Autumn
Hello everyone! Kimono Rental Wargo here!
It's getting cooler now, where summer is over and fall is coming.
The long-awaited autumn foliages viewing season will start from the end of October!
So, let's prepare and get some information about the sightseeing spots around Gion that you can visit in kimono in autumn!

1 – Kiyomizu Temple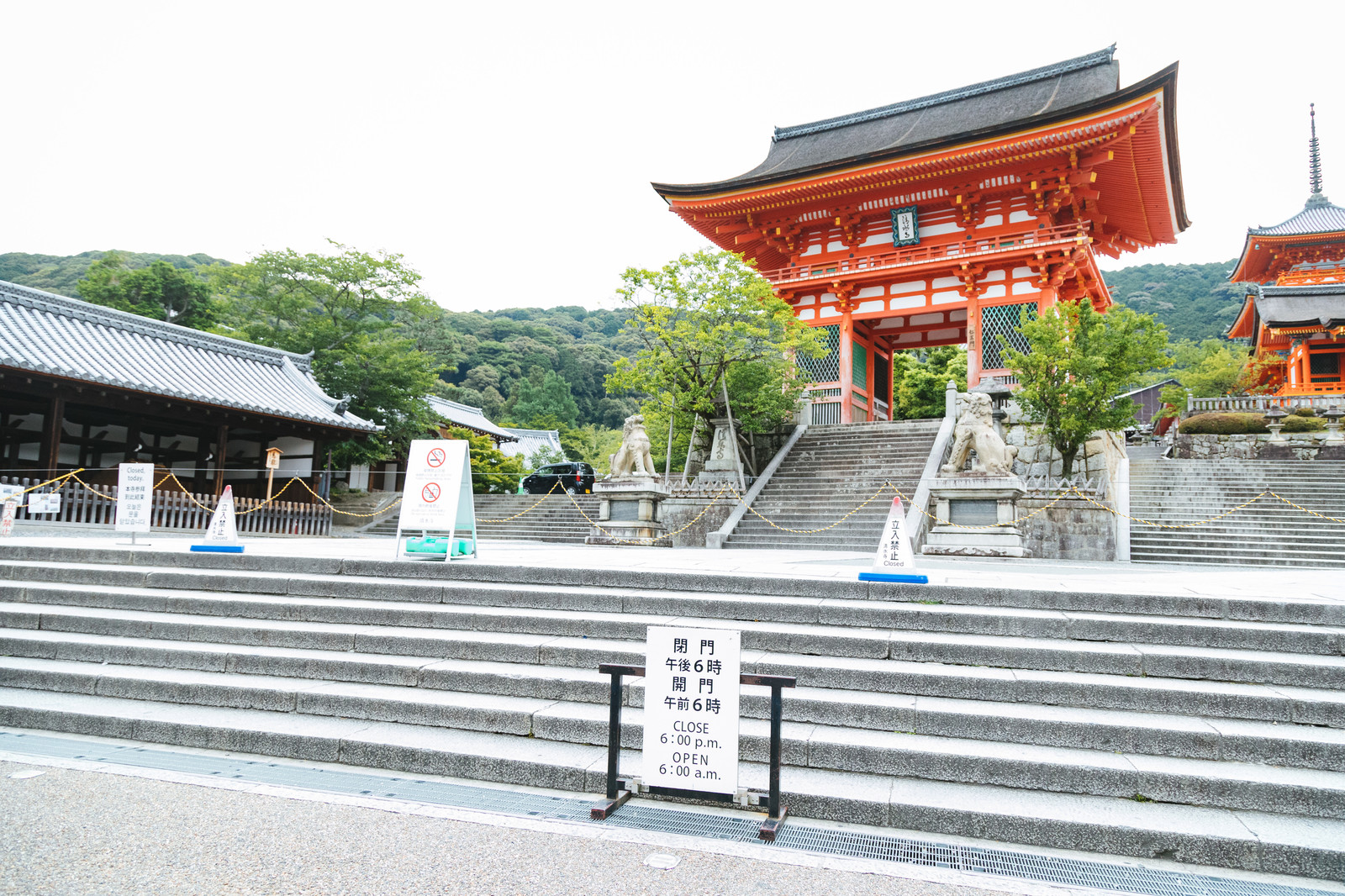 Kiyomizu Temple or Kiyomizu-dera is a famous tourism site in Kyoto, it is a historical temple that is registered as a UNESCO World Heritage Site.
Have you ever heard the phrase "Jump off the stage of Kiyomizu"?
The stage of Kiyomizu is the stage located in front of the main hall of Kiyomizu Temple!
However, the main hall is currently undergoing renovation and the building is covered.
Only the main hall is under construction, and the surrounding landscape has not changed as usual.
Actually, you can enter the main hall that is under construction, take an opportunity to see the process of the cultural asset being renovated!
During the construction period when there are fewer tourists, it may be a good opportunity to take a leisurely stroll around Kiyomizu Temple!

Sanju no to (Three-Storied Pagoda)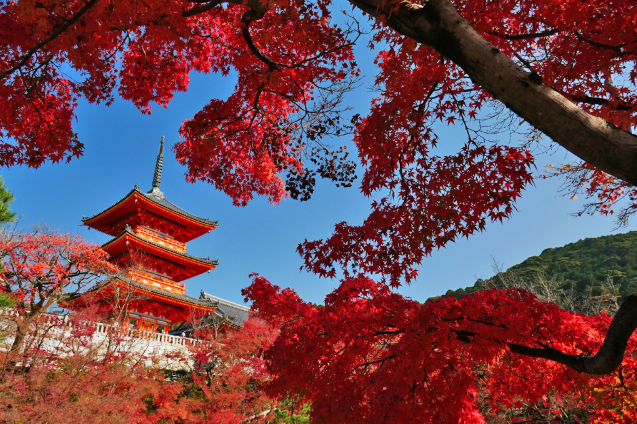 The highlight of Kiyomizu Temple is not just the main hall called The Stage of Kiyomizu!
This Three-Storied Pagoda is one of the highlights of Kiyomizu Temple as well!
The Three-Storied Pagoda is the largest in Japan and has a height of 30 meters.
During the autumn season, you can look up at the illuminated Three-Storied Pagoda at night so you can enjoy a fantastic atmosphere!

Otowa Waterfall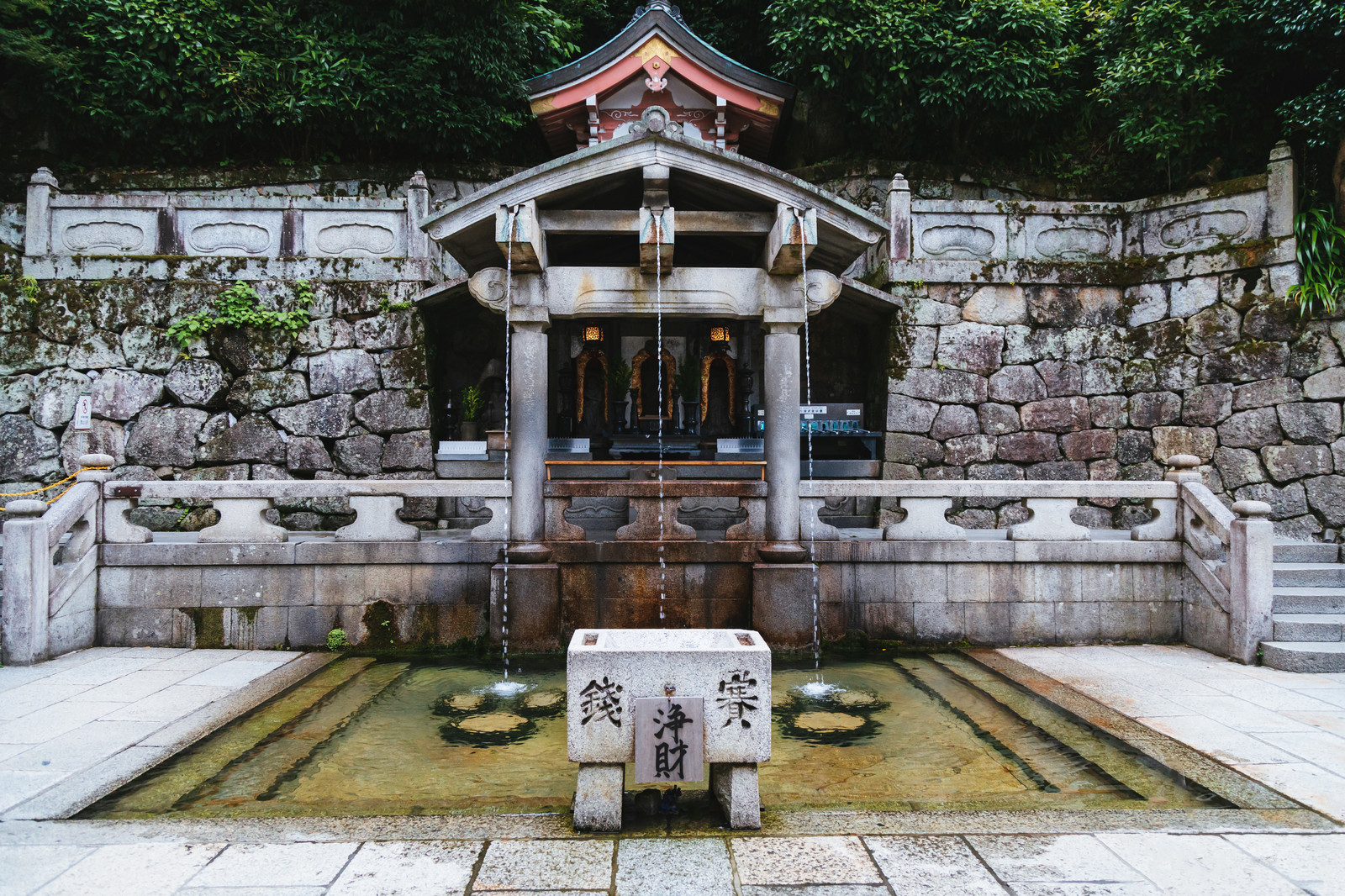 Kiyomizu Temple also has Otowa Waterfall, which is famous as a power spot!
The water that flows in three parts has its own benefit, and it is said that the wishes of "Academic", "Love" and "Longevity" will come true. if you drink these purified waters, and it has been respected by people since ancient times.

【Access】

Address: 1-294 Kiyomizu, Higashiyama-ku, Kyoto, Kyoto
– By train: 15 minutes on foot from Keihan Electric Railway "Kiyomizu Gojo Station"
– 10 minutes on foot from the bus stop "Gojozaka"

2 – Eikando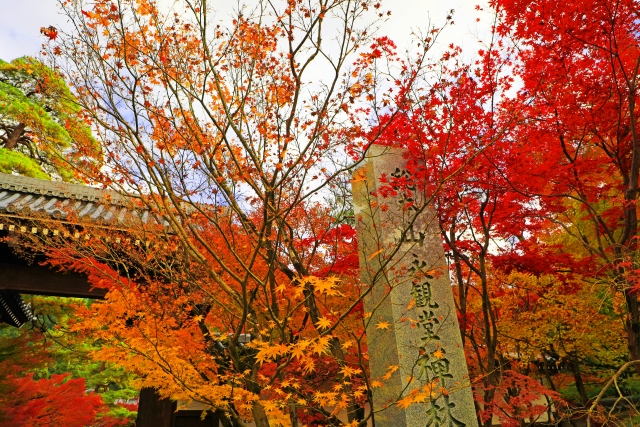 It's also known as Momiji no Eikando (Eikando's autumn leaves), definitely an autumn foliages viewing spot we can't miss!
There are about 3000 maple trees planted in the precinct, and when the season comes, the garden will be covered in red.
It is easy to access this place, it's very recommended to check this site to see the beautiful autumn leaves.

Tahoto Pagoda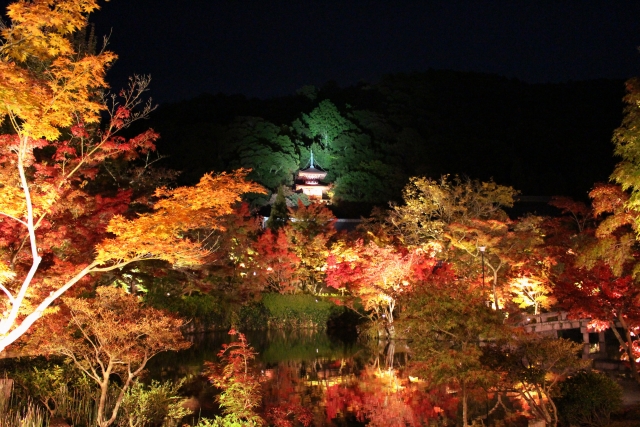 The Tahoto Pagoda standing on the Eikando grounds is worth a visit!
Looking up from the bottom, the Tahoto Pagoda stands with a strong presence while being surrounded by the autumn foliages, you can enjoy a very majestic atmosphere here.
You can also go up to the vicinity of the Tahoto Pagoda, and from there you can see the cityscape of Kyoto and Eikando site!
(Note: it's prohibited to enter the Tahoto Pagoda)

Hojo Pond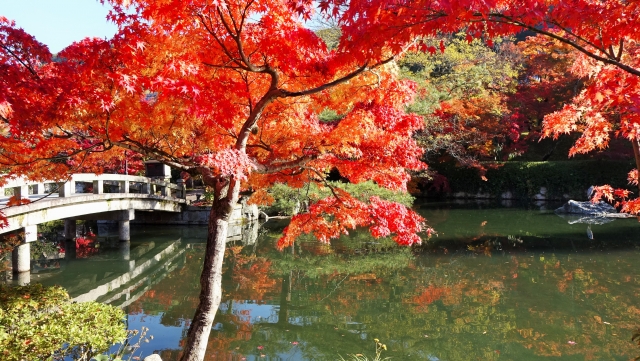 On a clear day, about 3000 maple trees foliages are reflected on the surface of the pond, how beautiful!
By the time the autumn leaves fall, the leaves fall to the surface of the water, and the whole surface of the pond will look like a red carpet!

【Access】

Address: 48 Eikando-cho, Sakyo-ku, Kyoto-shi, Kyoto
– By train: 15 minutes on foot from Kyoto Municipal Subway "Keage Station"
– By bus: 15 minutes on foot from the bus stop "Nanzenji / Eikando" or "Higashi Tennocho"

3 – Nanzen-ji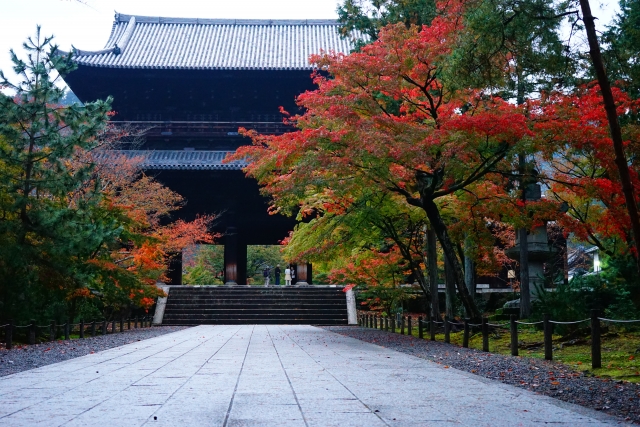 Speaking of Kyoto's autumn, this place is definitely something you can't miss! It's Nanzen-ji Temple!
Nanzen-ji Temple is the main temple of the Rinzai sect Nanzen-ji faction, and is the most prestigious of all Zen temples in Japan.
This Nanzen-ji Temple is also famous as a spot for autumn foliages viewing, and there is illumination light up during the season.

Sanmon Gate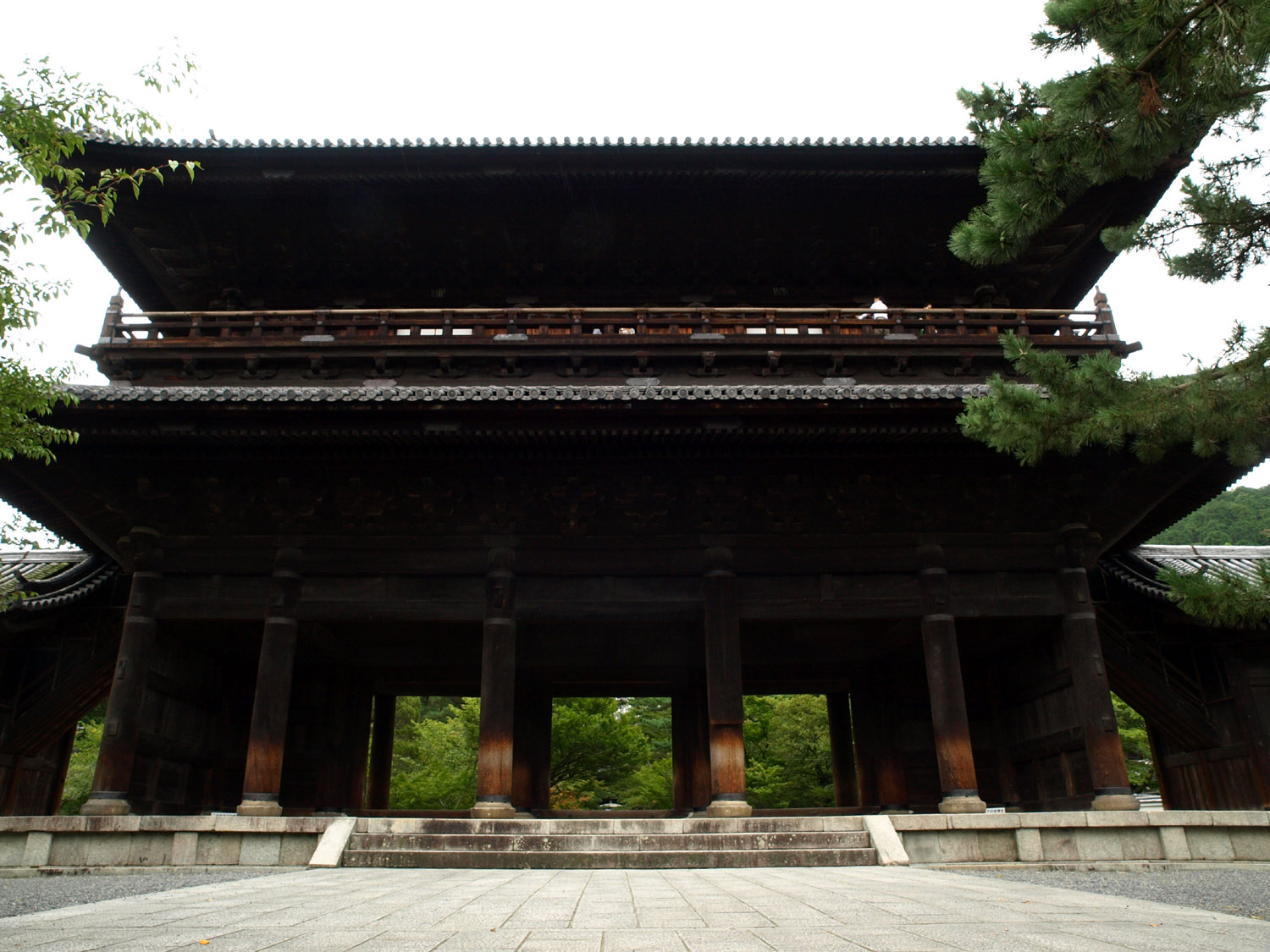 As you enter the precincts of Nanzen-ji, you will see the huge Sanmon Gate.
The height is as high as 22 meters, and the view from above is truly superb.
There is a famous saying, "It's a superb view, a superb view". This is a line that Ishikawa Goemon said when he saw the Nanzen-ji Sanmon Gate.
How about taking a look at the superb view that surprised Ishikawa Goemon? (*Ishikawa Goemon was a semi-legendary Japanese outlaw hero who stole gold and other valuables to give to the poor.)

Suirokaku Water Bridge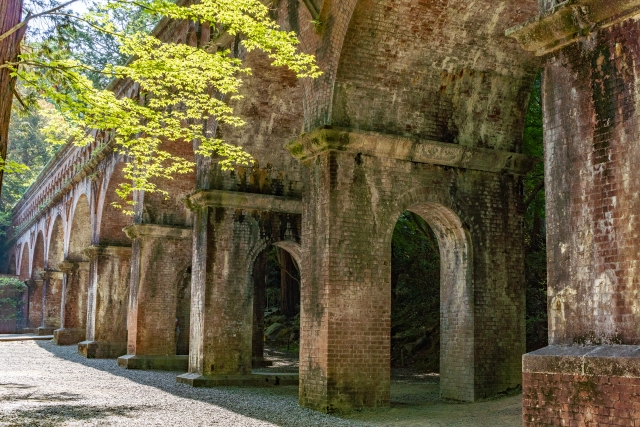 Nanzen-ji Suirokaku is a must-see if you visit Nanzen-ji Temple.
This is a brick aqueduct over the Nanzen-ji precincts.
Very retro atmosphere, often used as a location for dramas and commercials shoots.
Overlapping red brick arches are sure to make a great background for your pictures!

【Access】

Address: Fukuchi, Nanzenji, Sakyo-ku, Kyoto, Kyoto
– By train: 7 minutes on foot from Kyoto Municipal Subway "Keage Station"
– By bus: 7 minutes on foot from the bus stop "Nanzenji / Eikando" or "Higashi Tennocho"

Conclusion
How was it?
Kyoto in autumn is definitely full of charm!
This time, we tried to gather the classic spots for enjoying autumn in Kyoto, but of course there are many other wonderful sightseeing spots in Kyoto! Please take a look around!

And if you visit Kyoto, please come to Kyoto Kimono Rental Wargo and transform your look to match Kyoto's historic atmosphere!

=============================
Reservation for kimono rental is here ♪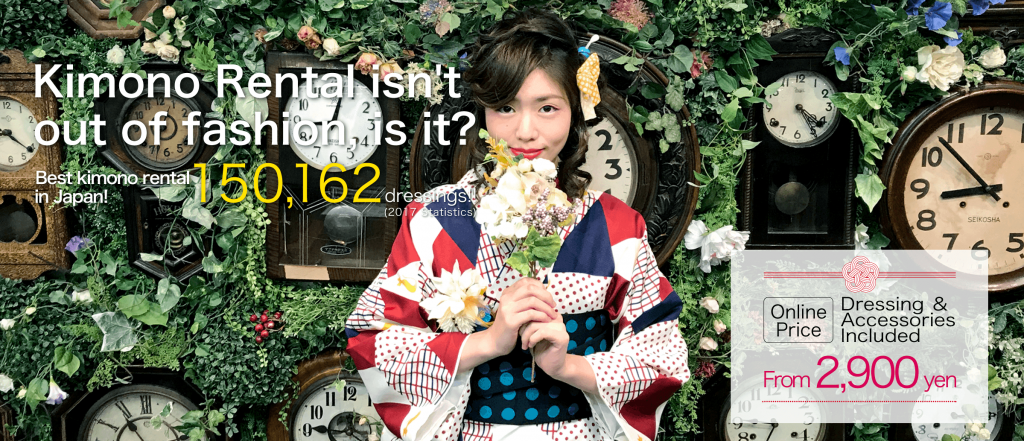 =============================
Basic Information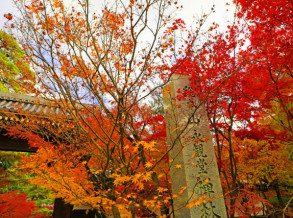 〒605-0802 Kyoto Prefecture Higashiyama-ku, Yamatocho 7 Gion Mouriya Building 3F

09:00~19:00

※Return the kimono before 18:30

075-600-2830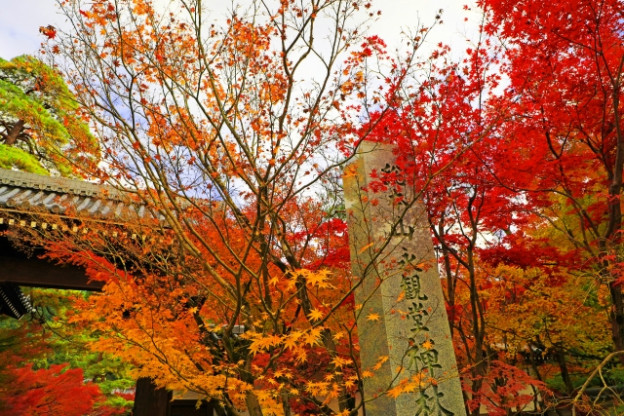 Popular Sightseeing Spots in Gion that You Want to Go in Kimono in Autumn