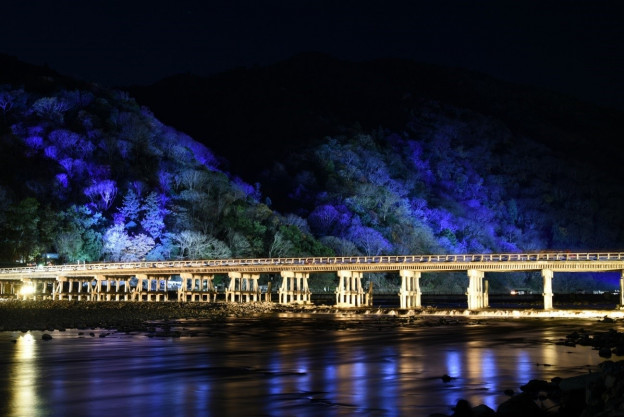 Popular Tourist Spots in Arashiyama that You Should Visit in Winter
Arashiyama is one of Kyoto's leading tourist destinations.
It is also famous spot for cherry blossoms viewing in spring and autumn leaves viewing in autumn, and is visited by many tourists throughout the year.
Such beautiful Arashiyama is also recommended for winter walks ♪
This time, we would like to introduce some sightseeing spots in Arashiyama that you should visit in winter.

Randen Train・Arashiyama Station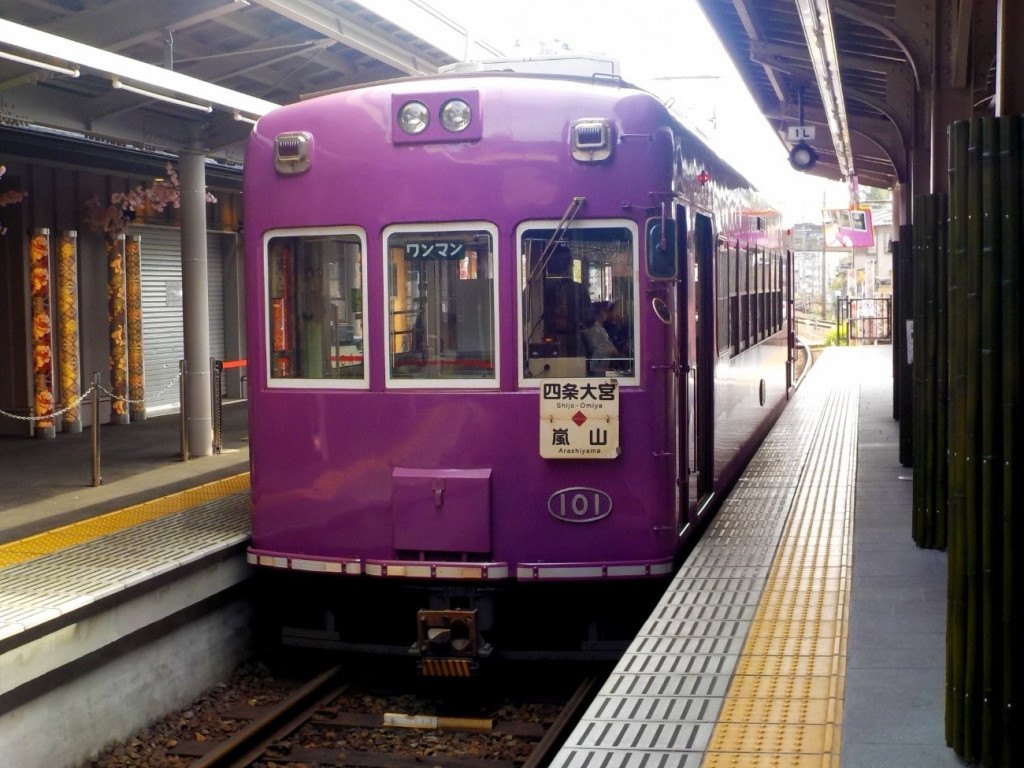 Randen is a tram line that runs in Kyoto.
Its official name is The Keifuku Electric Railway Arashiyama Main Line.
It is very cute to see a small train with only 1-2 cars runs through the city of Kyoto ♪
This line connects Kyoto's city center (Shijo-Omiya station) and scenic Arashiyama area in the western suburb (Arashiyama Station).

Arashiyama Station, the gateway to Arashiyama, was completely renewed in 2013, and has been transformed into a fusion of old-fashioned Japanese taste and modern taste.
Within the station, around 600 colorful cylinder-shaped pillars in various patterns stand in rows like a forest, this place is known as Kimono Forest.
The pillars are made with fabric dyed using the traditional Kyo-Yuzen technique, a style of dyeing and printing used to create Kimono in Kyoto.
To make the atmosphere of the Kimono Forest even more dramatic, it is illuminated at night until 9pm.

The Kimono Forest is free to enter and even have a foot spa to rest and soak your tired feet.
After enjoying the chilly winter sightseeing in Kyoto, it is recommended to relax in the foot spa space at Randen Arashiyama Station to heal your mind and body ♪

Randen Train / Arashiyama Station
Location: Ukyo-ku, Kyoto City, Kyoto Prefecture, Japan
Phone number: 075-801-2511

Arashiyama Onsen / Station foot spa space
Usage fee: 200 yen per person
Ticket office: Arashiyama station information center

Matsuo Taisha Shrine
Matsuo Taisha is located a little far from the central ​​Arashiyama area, on the west of Matsuo Taisha Station (one stop from Hankyu Arashiyama Station).
Despite located near Arashiyama, it's rarely shown in guidebooks, definitely a must-see secret spot♪

When you get off the train at Hankyu Matsuo Taisha Station, you will see a large torii gate in front of you, leading to Matsuo Taisha Shrine.
Behind the main shrine of Matsuo Taisha, there is a mountain called Mt. Matsuo, a place well known as a power spot.

This shrine is one of Japan's oldest shrines, being founded in 701.
It enshrines the deity of water, which sake-brewing families have worshipped since the Muromachi Period.
Pure spring water spews from the mouth of the "Kame-no-ido" (turtle well) statue here.
This spring water is said to have miraculous energy, rumors said that your body and mind will be purified when you drink the water.

Matsuo Taisha Shrine
Address: 3 Arashiyamamiyacho, Nishikyo-ku, Kyoto-shi, Kyoto
Opening time:
9:00-16:00 on weekdays and Saturdays
9:00-16:30 on Sundays and holidays
Admission fee:
500 yen for adults, 400 yen for students, 300 yen for children
Phone number: 075-871-50163

Arashiyama Hanatoro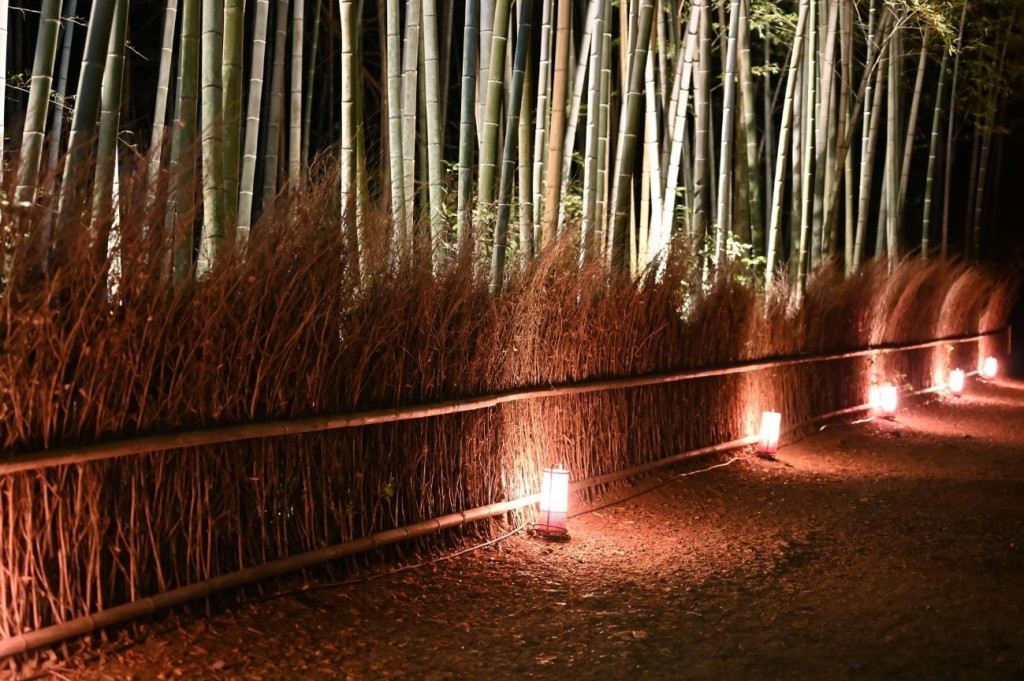 Every year in the middle of December, there is a light up event called "Arashiyama Hanatoro," meaning "the path of lights and flowers."
The light up area includes the Togetsukyo Bridge area and the bamboo forest road, which are very well-known sightseeing spots in Arashiyama.
This is a very popular event, letting you to enjoy a different sight from the view you see during the day.
Moreover, during the event, there will be nighttime special visits to the nearby shrines and temples, of course with more light ups inside the precincts.

Here are some highlights of Arashiyama Hanatoro:

Bamboo Forest
Standing in the midst of the soaring stalks of bamboo in the bamboo grove looks so beautiful like you're standing in a different world.
When being illuminated at night, the scenery is completely different from that in the daytime, creating a more fantastic space.
During the event, the bamboo forest path stretching from Nomiya Shrine to Okochi Sanso Garden will be decorated with beautiful light ups.

Togetsukyo Bridge
Togetsukyo, the symbol of Arashiyama, is lit up during the Arashiyama Hanatoro event.
To see Togetsukyo Bridge, which looks like it is floating on a river, illuminated by light, is a wonderful view that you shouldn't miss.

Ikebana Promenade
Large flower arrangements are displayed at several locations along the Arashiyama Hanatoro path.
It is a work of art that has a mysterious atmosphere, there is a total of 9 display spaces.

Arashiyama Hanatoro
Schedule For 2019:
Period: December 13 (Fri) – December 22 (Sun) Opening hours: 17:00-20:30

Kyoto Arashiyama Onsen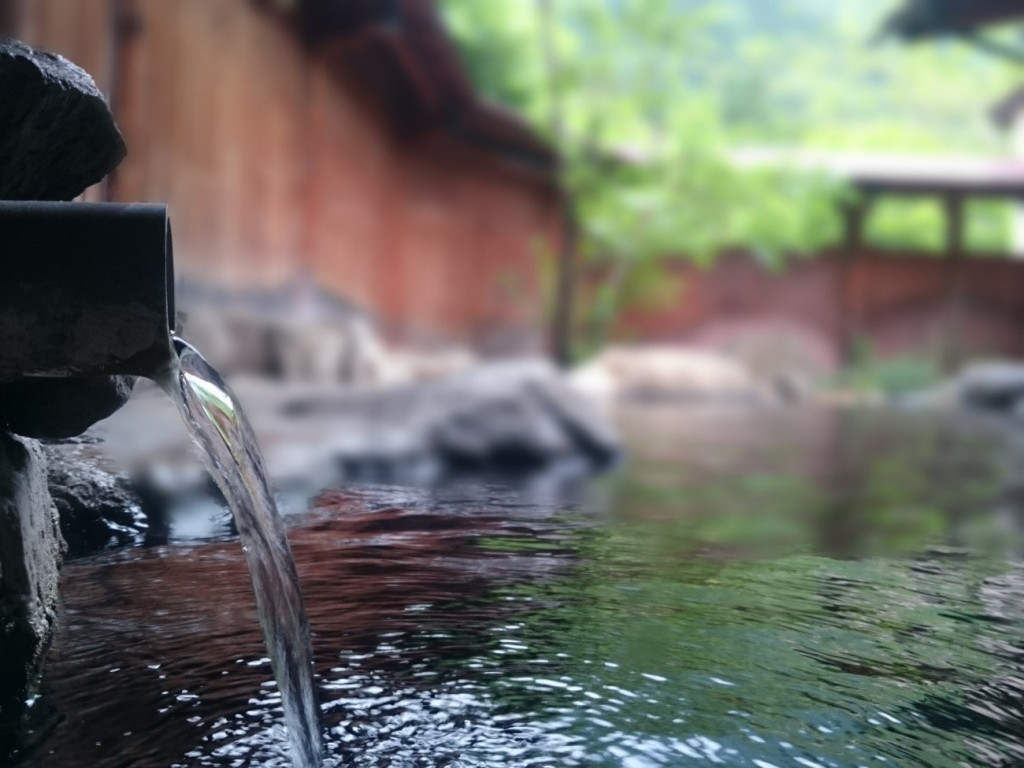 Arashiyama is place with many hot spring area.
There are several unique hot spring facilities with a very good water spring quality of Arashiyama, so no wonder that it's said to be the best place to heal yourself from the fatigue of your trip.

This time, let's talk about "Kyoto Arashiyama Onsen Togetsutei", which was founded in 1890 from among many onsen hotels ♪
It is a recommended inn where you can spend luxurious time, such as enjoying delicious Kyoto kaiseki cuisine, a large communal bath to soak with friends, and also an open-air bath in the room where you can soak slowly.

Kyoto Arashiyama Onsen Togetsu-tei
Address: 54-4 Arashiyama Nakaoshitacho, Nishikyo-ku, Kyoto
Phone number: 075-871-1310

Conclusion
Arashiyama is one of Kyoto's leading tourist attractions.
This time, we introduced some nice spots in Arashiyama that we recommend you to visit in kimono in winter.

There are plenty of things to do such as go sightseeing to the historic temples, going to the hot springs to healing the tiredness of your trip, and walk down through the illuminated snowy roads.
Also, if you take a walk in Arashiyama with a kimono, the time spent in Arashiyama will be even more meaningful and memorable ♪

Kimono Rental Wargo has several stores near popular tourist spots and train stations.
There are seven Wargo stores in Kyoto, including Wargo Kyoto Tower store in front of Kyoto Station, Wargo Arashiyama Eki-mae store, and also Wargo Arashiyama Togetsukyo store.

We have not only kimonos but also small items to complete your kimono look so that you can come to our store without having to bring many belongings.
We are waiting for you at Kimono Rental Wargo ♪

Click here for kimono rental reservation☆↓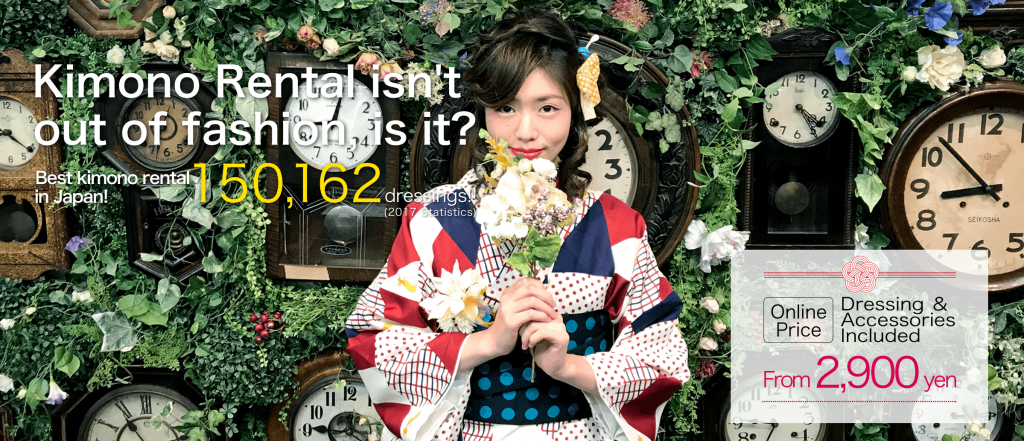 Basic Information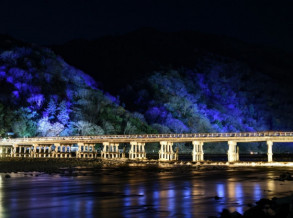 京都府京都市左京区銀閣寺町2

3~11月 8:30~17:00
12~2月 9:00~16:30

0120-42-0505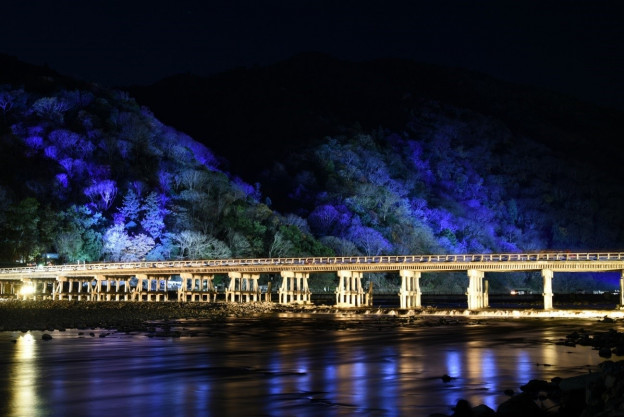 Popular Tourist Spots in Arashiyama that You Should Visit in Winter