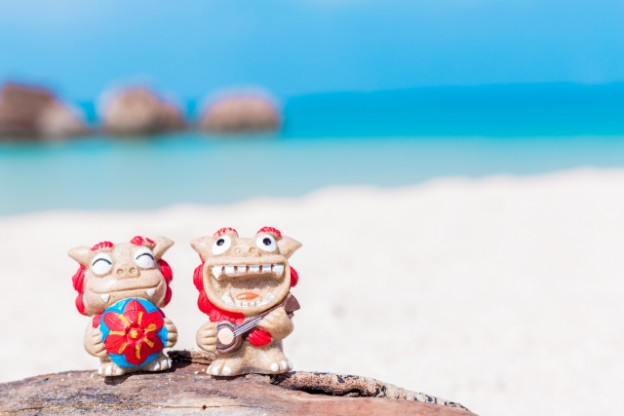 4 Wonderful Sightseeing Spots in Okinawa That You Want to Visit in Summer While Wearing Yukata
[4 Must Visit Shrines in Okinawa!]

Do you know about "Ryukyu Hassha"?

"Ryukyu Hassha," meaning the "8 shrines of the Ryukyu's", is the name of a group of 8 shrines that were assigned a special status by the Ryukyu Government before the Meiji Era came into fruition.

Ryukyu Hassha is a combination of the shrines of
Naminoue Shrine
Ameku Shrine (Ameku-gu)
Okino Shrine (Okino-gu)
Shikina Shrine
Futenma-gu
Sueyoshi Shrine
Azato Hachiman-gu
Kin Shrine (Kin-gu)

The information about Ryukyu Hassha itself is still rare in the tourist guidebook, so there are still a small number of tourists visiting the shrines.
The shrines are recommended for those who want to fully enjoy Okinawa like the locals.
This time we will pick up and introduce you to 4 shrines from Ryukyu Hassha!

Naminoue-gu / Naminoue Shrine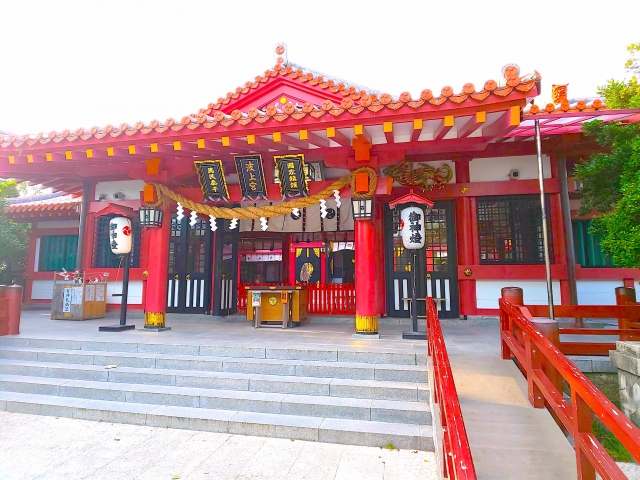 Naminoue is the shrine of Okinawan Shinto, and is located on a hill near the sea. Naminoue Shrine's founding year is not yet known, but there is a legend related to the founding of the shrine. According to legend, it was founded after a fisherman, who had come to that spot to fish everyday, caught "a mysterious stone that speaks." He began to pray to it, and began to receive better hauls in his fishing; the stone glowed, and the man treasured it.

However, there was someone who wanted to steal the stone, and the fisherman fled to a hill. The stone told him. "I'm a god. Build a shrine for me, and I'll guard this country." He submited the report to Emperor of Ryukyu, then the emperor ordered the government to build the shrine on that hill. Up until now, Naminoue shrine located at the highest level of "Ryukyu Eight Shrines" that received special treatment from the Royal Palace of the Ryukyu Kingdom!

This area has been the sacred area to offer prayers to Nirai Kanai (world of gods) since the olden days. People pray for a wide range of virtues such as "good luck, safe delivery, home safety, disease recovery, prosperous business, passing examinations, traffic safety" ☆ The big red torii on the blue sea and the white sandy beach gives a very beautiful contrast. You definitely need to see this beautiful shrine when you visit Okinawa!

Basic Information

Name: Naminoue Shrine

Address: 1-25-11 Wakasa, Naha-shi, Okinawa

Access:
・15 minute drive from Naha air port
・20 minute walk from Asahibashi monorail station

Okino-gu / Okino Shrine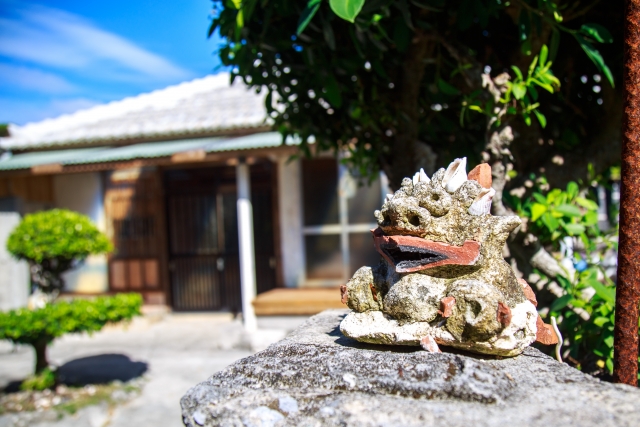 The founding of Okino-gu has a record of 1451, and according to the "Ryukyu Kingdom Origin" published by the Ryukyu Prefecture Government, there is some kind of object that radiates a mysterious light in Naha Port. The Emperor ordered to look for the object, and it turned out to be an old tree. Then, a shrine was built around that old tree, that's the beginning of Okino-gu Shrine.

Despite being burned down during the war, it was rebuilt in a very beautiful form and welcome people who come to pray. It is very famous as a power spot as well, and many people visit it on Hatsumode!

Basic Information

Name: Okino-gu Shrine

Address: 44 Onoyama, Naha, Okinawa

Access:
From Naha Airport:
1. Board the monorail to Onoyama Station (10 min.), Walk to the torii (gateway) (3 min.)
2. Take a taxi to the torii (10 min.)

From Naha Port:
1. Walk (10 min.)
2. Take a taxi (7 min)

Shikina-gu / Shikina Shrine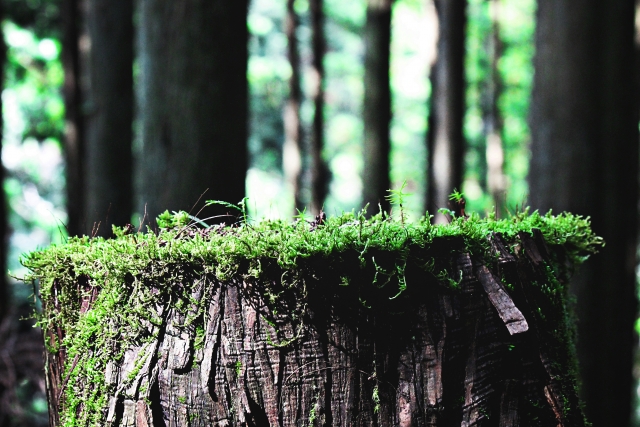 It is said that the founding of Shikina-gu begin with the worshipping of Pindola Bharadvaja Statue that was found inside a cave. It was said that the shrine was built to cure the illness of the eldest son of the former king. As a result, the eldest son's health has improved.

Until now, the cave still remains at the back of the main hall, it is usually closed with a fence, but it is open on the 1st and 15th of every month. The benefit of this shrine is "disease recovery."

Basic Information

Name: Shikina-gu

Address: 4-1-43 Hantagawa, Naha, Okinawa

Access:
Take the "Yui Rail" from Naha Airport to Shuri station. A 36-minute walk from the station.

A 1-minute walk from the Hantagawa bus stop on the No. 5 and No. 14.

Futenma-gu / Futenma Shrine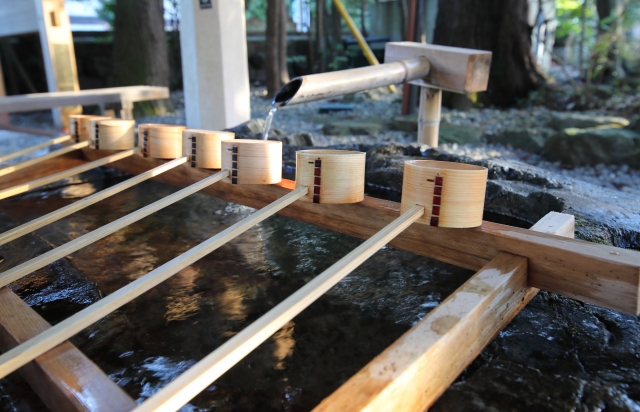 The construction of Futenman-gu is unknown, but it is reported that the founding of the shrine originated from Ryukyu's multi-god religion "Ryukyu Koshinto" being worshipped in the current Futenmangu cave during the Ryukyu Kingdom period. Later, "Kumano Gongen", The Incarnation of Buddha that was enshrined in Kumano Shrine Headquarters (Kumano shrine is located all over Japan, there are more than 3000 Kumano shrines in Japan), was worshipped alongside the Ryukyu Koshinto gods, and that was how the original form of the current shrine was found.

They also enshrine gods native to Okinawa here, such as the Ryukyu Ancient Shinto god, Niraikanai, and Futenma Goddess (Guji God). Next to Futenman-gu, there is a limestone cave named "Futenmangu Cave", and some part of it is open for public!

Basic Information

Name: Futenma-gu / Futenma Shrine

Address: 1-27-10 Futenma, Ginowan-city, Okinawa

Access:
It takes about 40 minutes from Naha airport by driving
It takes about 5 minutes from Futenma bus stop by walking

Summary
What did you think? This time, we introduced "4 Wonderful Sightseeing Spots in Okinawa That You Want to Visit in Summer While Wearing Yukata"!

There are actually 8 shrines in Ryukyu Hassha, but this time we introduced only four of them! The remaining four shrines are also wonderful, so if you have enough time, you can visit them as well.

And when you visit a historic shrine, please wear a yukata to get more memorable experience.
Basic Information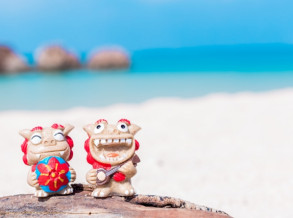 京都府京都市左京区銀閣寺町2

3~11月 8:30~17:00
12~2月 9:00~16:30

075-600-2830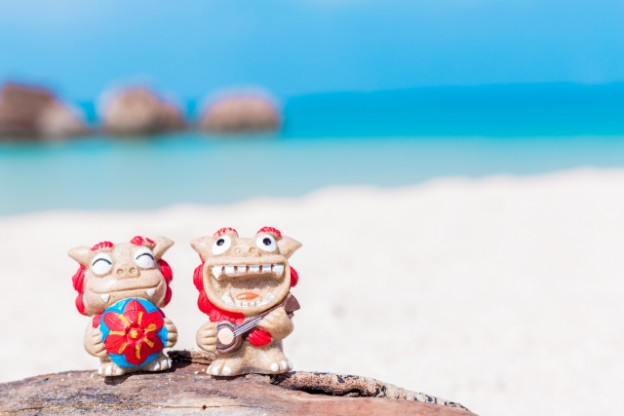 4 Wonderful Sightseeing Spots in Okinawa That You Want to Visit in Summer While Wearing Yukata