Yukata Origin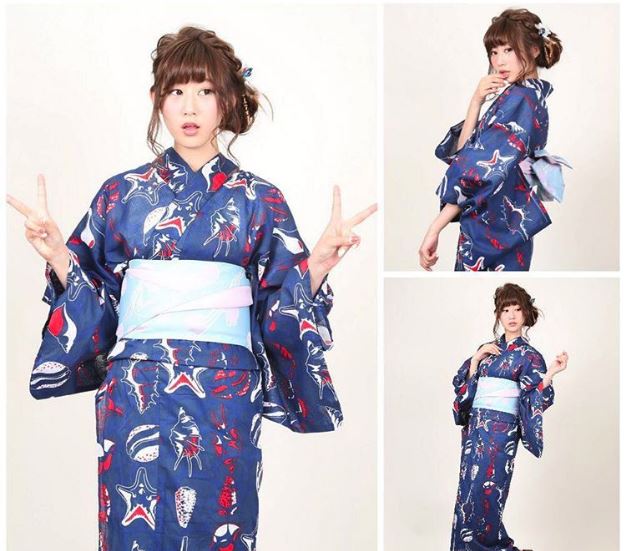 Yukata can be worn without juban and tabi(Japanese socks) as well, which makes it a very comfortable garment for summer. Yukata dates back more than 1,000 years, when noble persons wore it to and from taking a bath. The custom of wearing yukata spread to ordinary people in the 17th to 19th centuries, and has been handed down to us. There also is yukata for men, but today it is mostly women who choose to wear it. Traditionally yukata were mostly made of indigo-dyed cotton but today a wide variety of colors and designs are available. A standard yukata ensemble consists of a cotton undergarment (juban), obi, bare feet, sandals (geta), a foldable or fixed hand fan, and a carry bag (kinchaku). Yukata popular among young women for dressing up to go out to special summer events such as firework displays orbon-odori dance festivals. Yukata literally means bath(ing) clothes, although their use is not limited to after-bath wear.
Types of yukata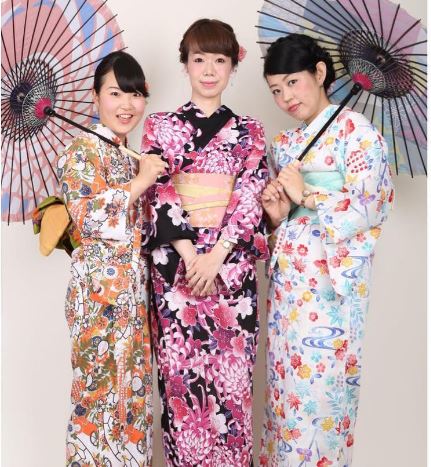 Traditional yukata usually has patterns of flowers or grasses against a white or indigo blue background. White yukata used to be worn indoors during the day to appear crisp and cool, while indigo blue yukata was worn for going out in the evenings because the scent of indigo, used to dye the fabric, repelled insects. Yukata is something the Japanese have invested a great deal of ingenuity in developing it as an ideal summer garment. As with kimono, the general rule with it is that younger people wear bright, vivid colors and bold patterns, while older people wear dark, matured colors and dull patterns. A child may wear a multicolored print and a young woman may wear a floral print, while an older woman would confine herself to a traditional dark blue with geometric patterns. Men in general may wear solid dark colors. Since the late 1990s, it have experienced a revival
Act with yukata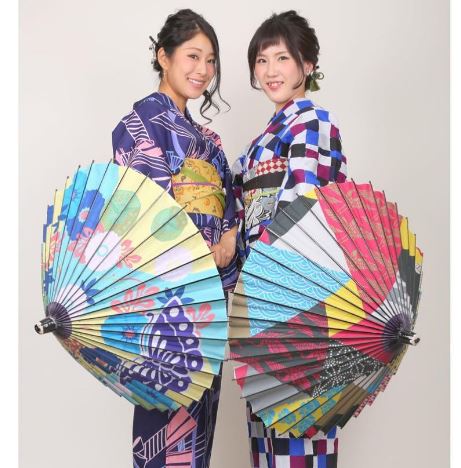 But in addition to its comfort, yukata is loved in Japan as a garment which draws out the charm of a woman to the greatest extent. Like kimono, It comes loose at the top or at the bottom if the wearer gestures extravagantly or walks with long strides. In order to appear elegant inyukata, you must pull yourself up straight, walk in small steps and refrain from making large gestures. Therefore, wearing it always makes you behave in a refined manner.
Geta and yukata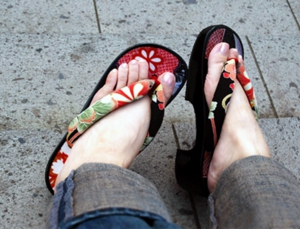 Yukata is worn with geta, or traditional Japanese wooden clogs, as it is important to dress your feet elegantly as well. Geta look like beach sandals withhanao (thongs) to slide the feet into. There are women and girls who stick accessories on hanao as accents, or wearpokkuri (geta with thick, rounded soles, originally worn by children) to show their individuality or to appear kawaii (cute)。
Style of yukata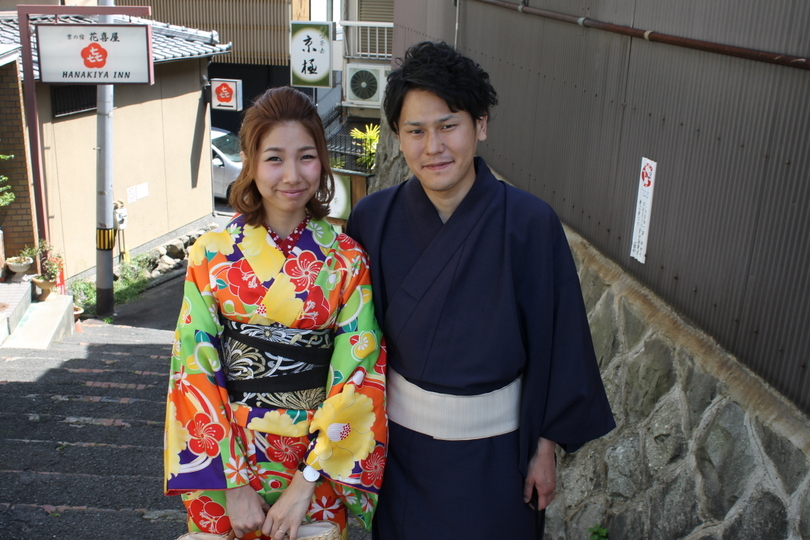 The beauty of yukata is that you can wear it in many ways and enjoy your ideas. You can put an obidome (an ornament worn at the front of an obi) which looks like a Western brooch, or arrange your hair elaborately and pin big flowers or a kanzashi (hair ornament) to it as a final flourish.
Yukata is traditional Japanese summer wear, forming an unbroken tradition among women while incorporating new designs. The sight of women casually, but elegantly, dressed up in it is a custom which adds much color to the summer in Japan. It is a common sight in Japan during the hot summer months. In recent years, yukata with modern, colorful, bold patterns has appeared, and many women enjoy coordinating it with obi(sash) and geta (wooden clogs), etc.