Traditional kimono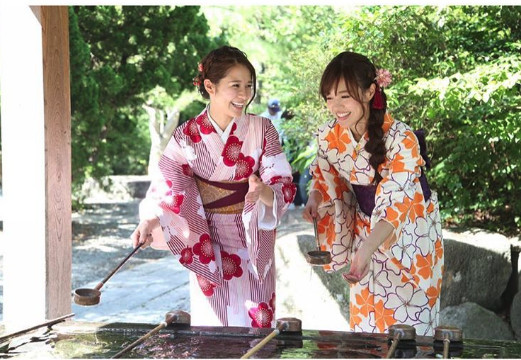 Have you ever seen someone wearing a traditional kimono? When people think of Japan, they invariably think of its traditional garment: the kimono. Worn by men, women and children alike through the ages, traditional kimono literally means a "thing to wear" (ki, "to wear," and mono, "thing"), it has come to signify something of a national costume—one that conjures up visions of feminine geisha and vivid patterns. It's a traditional Japanese outfit, once worn exclusively as a formal garment but now often used as a robe. One specific type of traditional kimono is the yukata, which is often worn during the summertime. Although kimono are the best known article of Japan's traditional dress, the Japanese people usually only wear traditional kimono on special occasions. This results from the complicated rules regarding how to wear a kimono, and the difficulty with dressing in a kimono.
Traditional summer kimono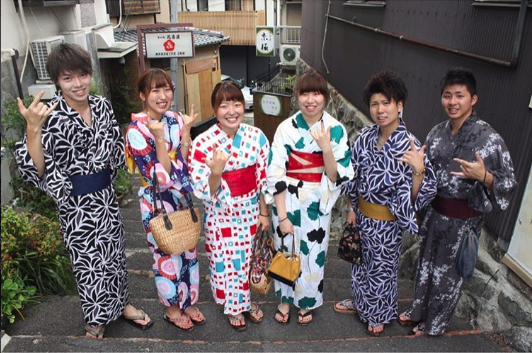 However, in the summer, Japanese often wear a simpler type of traditional kimono known as the "Yukata." Kimono and yukata are very similar but traditional kimono are made of silk while yukata are made of cotton. The yukata is the most casual type of kimono for summer use. It is easier to wear than other varieties. If we see people who are wearing Yukata, we feel like summer is here. A woman who is wearing Yukata is considered very beautiful by man because it is different than usual. Young Japanese girls long to go to a summer festival with a boyfriend. In recent years the yukata has become popular among young people, and the sight of couples wearing yukata on dates is not uncommon. Simple yukata are also prepared for use as nightgowns in the traditional Japanese inns known as "Ryokan." As there are no formal rules regarding how to wear yukata, wearing one can be enjoyed by anyone. Attaching corsages or broaches to the obi (traditional kimono sash) or wearing sandals instead of geta (wooden clogs), are just some of the things that are possible.
Traditional kimono price and services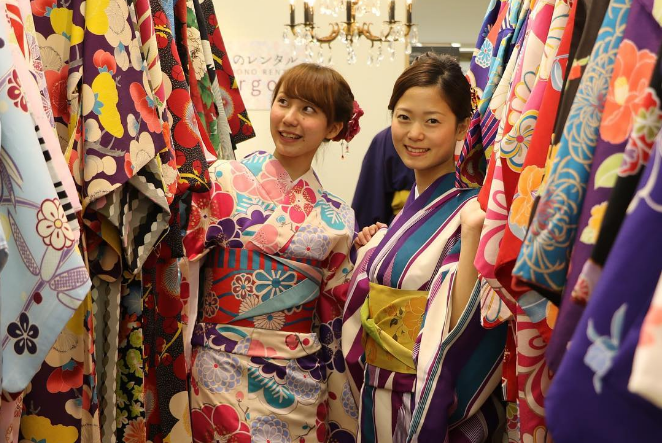 Traditional kimono are traditionally crafted from a single bolt of silk fabric and sewn by hand—which adds to their cost. While they are often rented on special occasions, this alone can cost between ¥100,000 to ¥300,000. To purchase one, the price can easily start at ¥1,000,000 and go up from there. Because of the associated cost, many foreigners don't get the chance to wear a traditional kimono when they visit Japan. These days, there are companies that can teach non-Japanese people how to wear traditional kimono and also provide dressing and rental services as well as photo shoots and city walks so visitors can experience of wearing them like wargo company. It's a huge company with over 1000 kimonos and many shops across all japan. They will give you the best services to enjoy your trip in Japan.
Trend of Kimono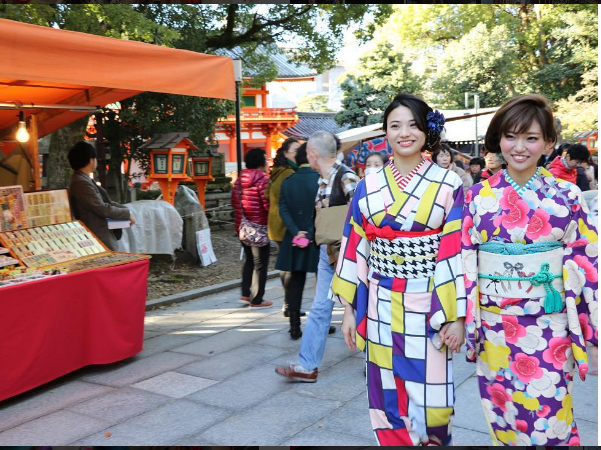 Of course traditional kimono has trendy designs. In the past, many people prefer to wear Kimono with small flower and butterfly. These Kimonos are cool. But now we prefer pop design like this.(left picture) These Kimonos are cute. This design is called "Kotengara". Design is a bit bigger than before, and the color is more bright. These colorful, T-shaped robes are still worn today, though mostly by women for special occasions such as seijin no hi (Coming of Age Day)—when they turn 20-years-old and officially become adults—graduation ceremonies and weddings. While some older women still wear traditional kimono on a daily basis, men don it most often at weddings and other very formal occasions. If you're lucky enough to attend a sumo basho (tournament) or encounter sumo wrestlers out in the city, you will see them dressed in this manner as they are required to wear traditional Japanese dress whenever appearing in public.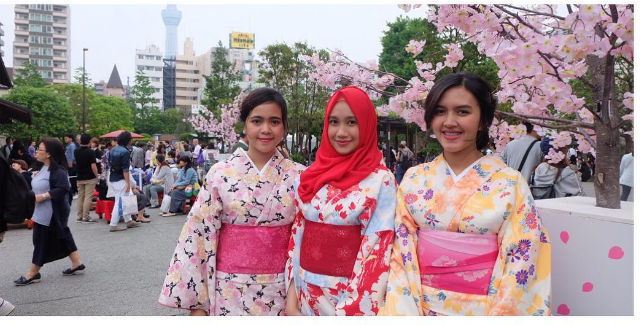 These days, although Japanese people usually wear Western clothes, traditional kimono is still loved by many people. The reason why kimono is loved by many people is not only the beauty, but also the fact that Kimono can adapt to the Japanese culture. It is said that traditional kimono fits the person who has no waist and sloping shoulder. Moreover, we can use the word kimono as an international word all over the world.