The kimono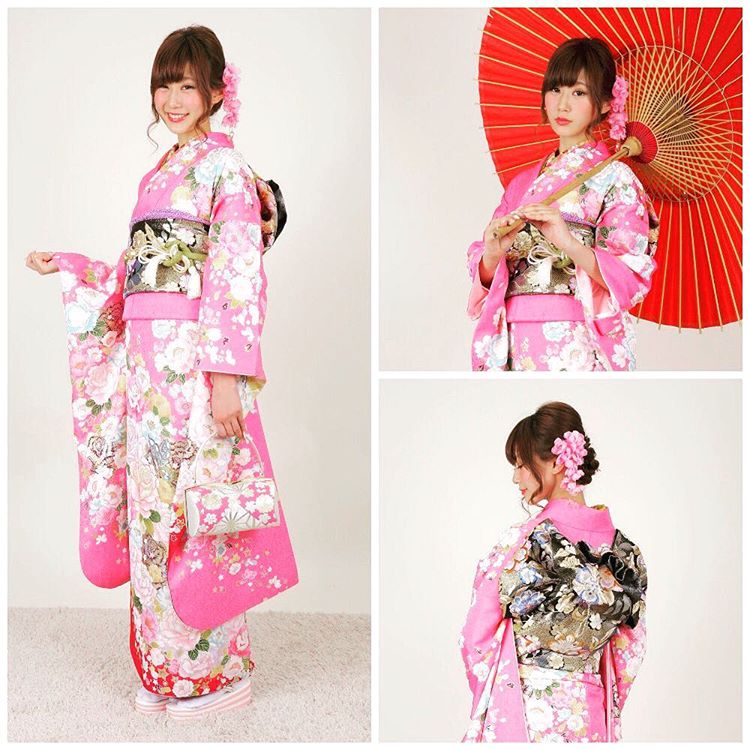 The kimono is the Japanese traditional garment. Originally the word "kimono" referred to all types of clothing, but it has come to mean specifically the full-length traditional garments. Today, kimonos are most often worn by women, and on special occasions. A few older women and even fewer men still wear kimonos on a daily basis. Kimono is worn most often at weddings, tea ceremonies, and other very special or very formal occasions. The name for traditional Japanese clothing is wafuku, ('wa' means Japanese and 'fuku' means clothing) and western or any non-Japanese style it's yofuku. Of all wafuku, the kimono is the most instantly recognized Japanese garment and considered the national costume of Japan. Since kimono are traditionally made from a single bolt of cloth, larger sizes are difficult to find and very expensive to have made, requiring special looms. Very tall or heavy people, such as sumo wrestlers, have kimono custom-made. Today, both men's and women's kimono are increasingly available in different sizes. There are many rules when wearing kimono.
Types of formal kimono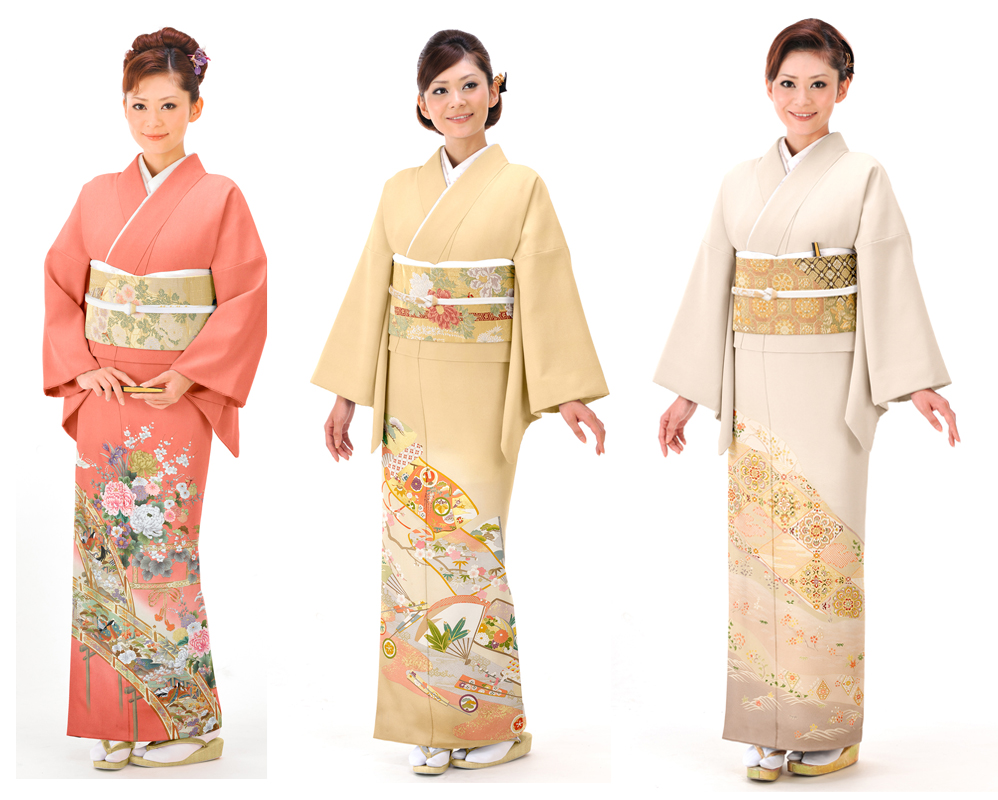 There are styles of kimono for various occasions, ranging from extremely formal to very casual. The level of formality of women's kimono is determined mostly by the pattern and fabric, and also the color. Young women's kimono have longer sleeves and tend to be more elaborate than similarly formal older women's kimono. Men's kimono are usually one basic shape and are mainly worn in subdued colors. Formality is also determined by the type and color of accessories, the fabric, and the number or absence of kamon (family crests). Silk is the most desirable, and most formal, fabric; cotton is more casual. Kimono made of modern fabrics such as polyester are also more casual than silk. Choosing a kimono by it's formality for special occasions is a very important one.
Wedding kimono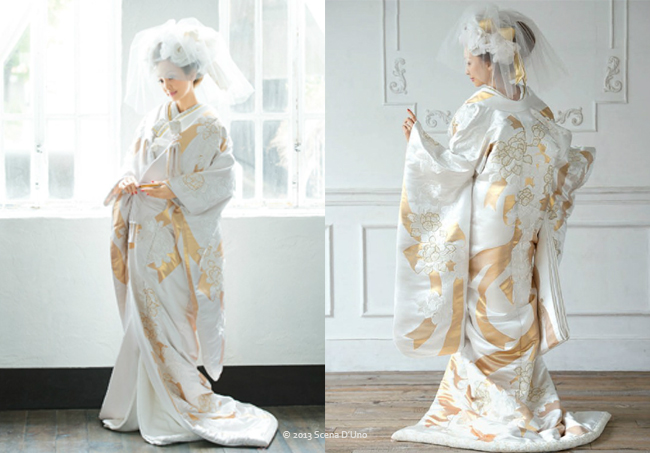 Formal kimono for the best event in your life. For the Shinto ceremony the bride is dressed in a full white ensemble: a white kakeshita kimono, a long silk kimono that is worn trailing on the floor, obi and accessories are white too. On top of this goes the elaborate uchikake, a large coat like kimono that will be worn loose and trailing. For the Buddhist ceremony she will change into an iro uchikake, a brightly coloured uchikake. Sometimes a bride will also change into a bright coloured kakeshita kimono, a formal kimono worn trailing with long furisode sleeves.
Kurotomesode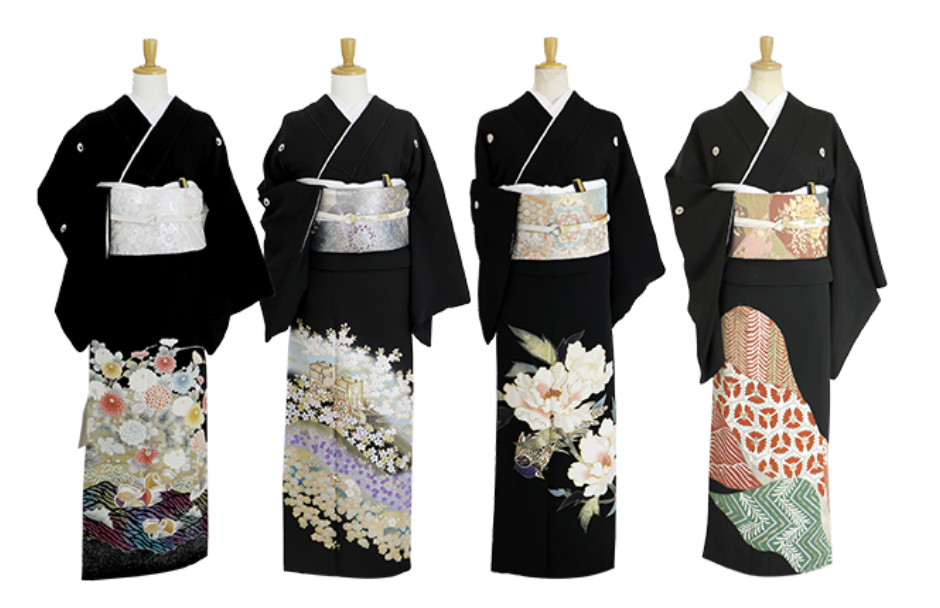 Kurotomesode: This kimono is the most formal kimono for married women. Kurotomesode can only be worn to weddings of close relatives. Mothers of the bride and groom wear kurotomesode, but also the married sisters of the bride can choose to wear this kimono. This formal kimono is always black (kuro meaning black) with 5 family crests two on the front and three in the back. The pattern is only at the hem and the older the wearer, the lower the patterns goes. The obi should be brocade with gold or silver to be chosen to fit the kimono. Accessories are always white (with gold or silver) as are the zori (shoes).
Iro-Tomesode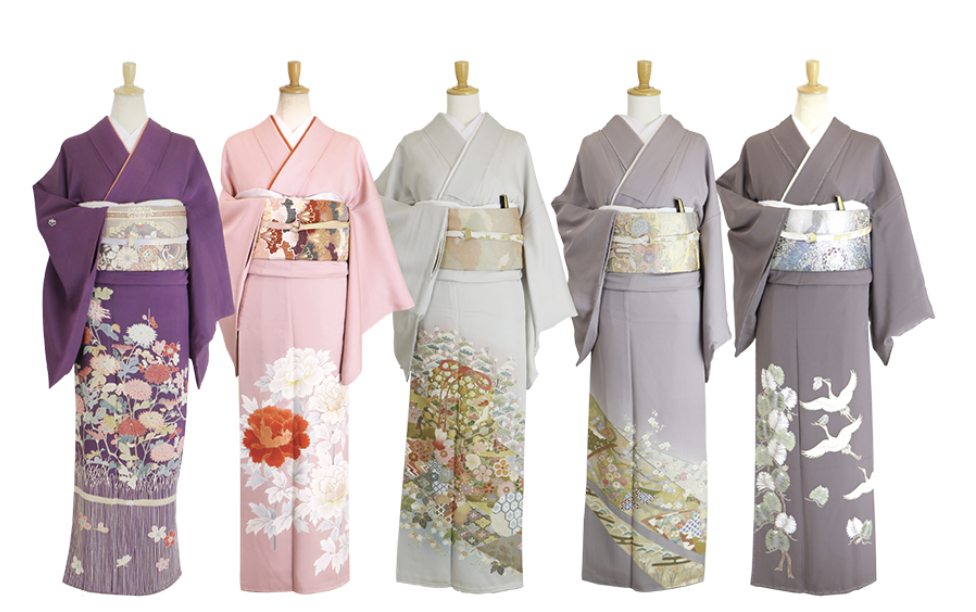 "Iro-Tomesode" is the tomesode with colors except for black. "Iro-Tomesode" with nonblack and 1 or 3 crests is suite for many situation, although one with 5 crets is the most formal kimono, less opportunity to wear. "Homongi" means "Kimono for visiting". It is a little bit simplified than Irotome, but still has gorgeous patterns on shoulders and leaves.
Furisode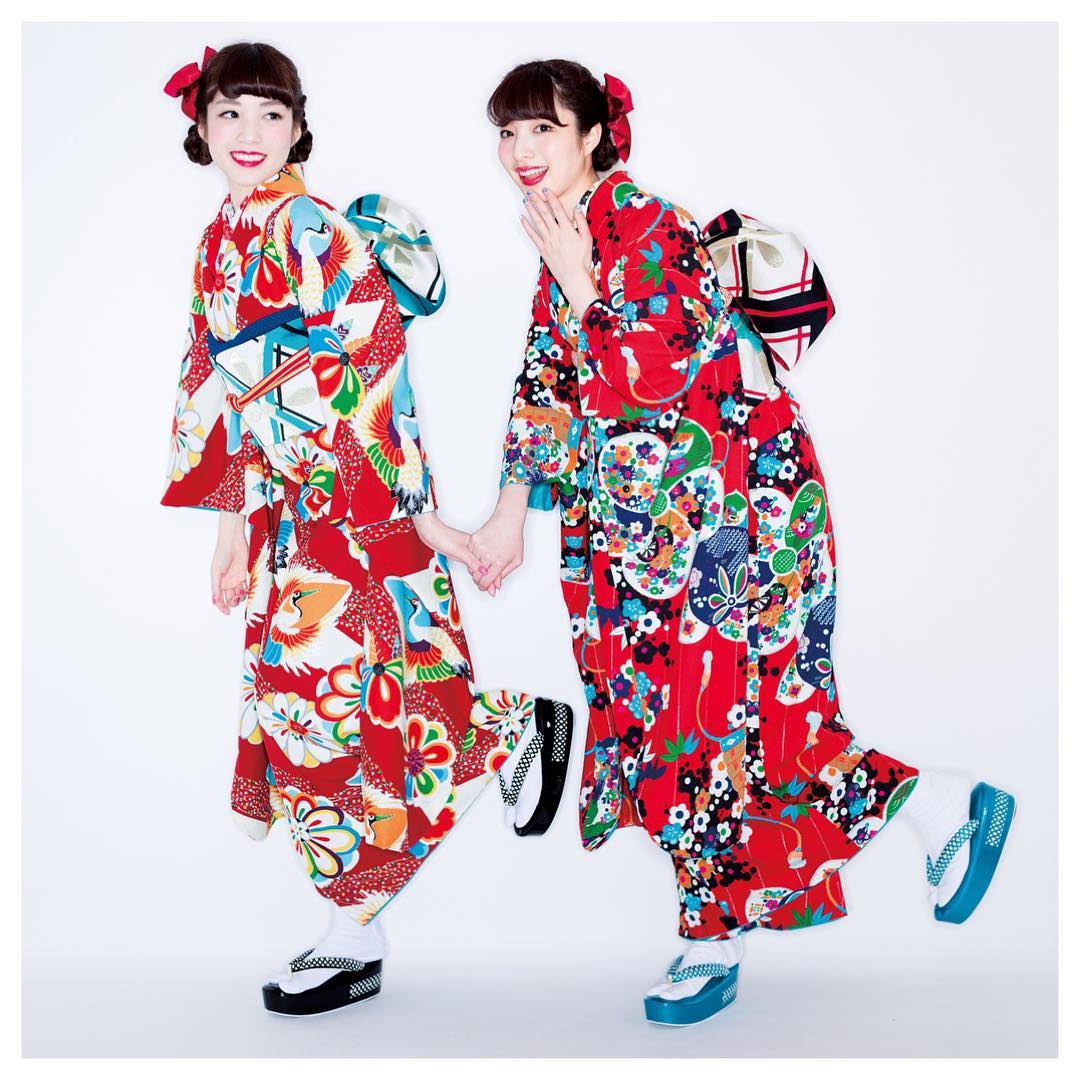 The furisode kimono is the most formal kimono for young unmarried women. The kimono is extremely brightly decorated and the sleeves are long: furi = swinging or waving and sode = sleeve. With these waving sleeves it is said ladies can attract the hart of a man, hence the kimono is for unmarried women. The furisode is usually worn to weddings, formal parties and especially to 成人の日 Seijin no Hi Coming of Age Day is a Japanese holiday held annually on the second Monday of January. It is held in order to congratulate and encourage all those who have reached the age of majority (20 years old).
Iromuji
"Iromuji" is the plain color kimono except for black. The white cloth is dyed in colors. It's the most useful because we can change the atmosphere by the ties. For example, it'll be formal when we use ties with traditional patterns, on the other hand, it'll be casual when we put modern artistic ties.
These formal kimonos are made by dying the white cloth, not using the already dyed strings, so that the touch will be soft. If the patterns are traditional, such as pine trees, plum flowers, bamboo, chrysanthemums, orchids, or something, it will be more formal.
Mofuku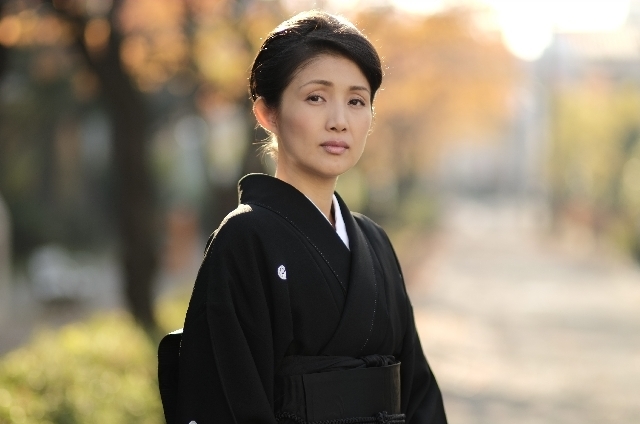 Mofuku is the formal kimono  wear to a funeral. This kimono is all black and has 5 family crest prints.The accessories have to be all black except juban (an underwear) and tabi (socks). Mofuku is only worn to the funeral of a close relative or friend.