Japanese kimono pattern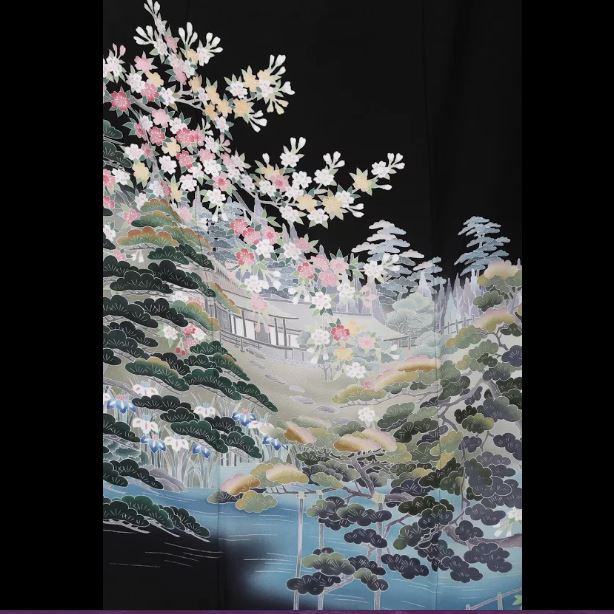 When kimonos first emerged in Japan, the japanese kimono pattern represented a person's rank in formality. Three types of kimonos were recognized: the Komon, the Tsukesage and the Homongi. The Komon demonstrated the lowest level of formality, and this category included one stenciled or painted pattern that covered the entire kimono. The Tsukesage was a higher level of formality, which displayed designs that began at the hemline, and were sewn upward to the top of the shoulders. The Homongi japanese kimono pattern was the most formal category. These showed off asymmetrical pattern that continued without a break from the seams. In order to accomplish this style, the kimonos had to be sewn, painted, taken apart, dyed, and then re-sewn.
Types of japanese kimono pattern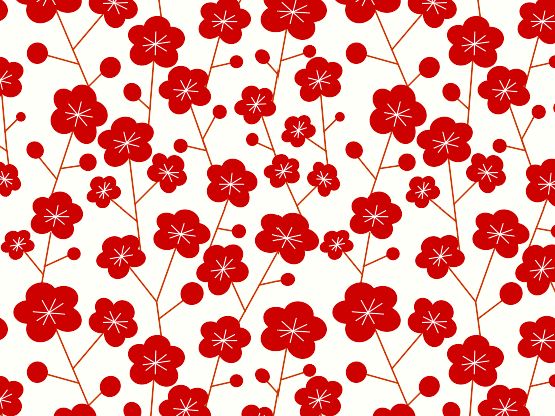 Today, repeat japanese kimono pattern are still considered informal, whereas multiple pattern of free-style colors are considered customary and accepted. A kimono includes two main strips of cloth that cover the body, two more main strips used for the arms, and smaller pieces of material used for the front panels, the collar and the belt. Because a traditional kimono uses at least five to six different japanese kimono pattern, each one of these material strips is usually a different pattern. Multi-layered kimonos used to be customary, but now a single layer is acceptable.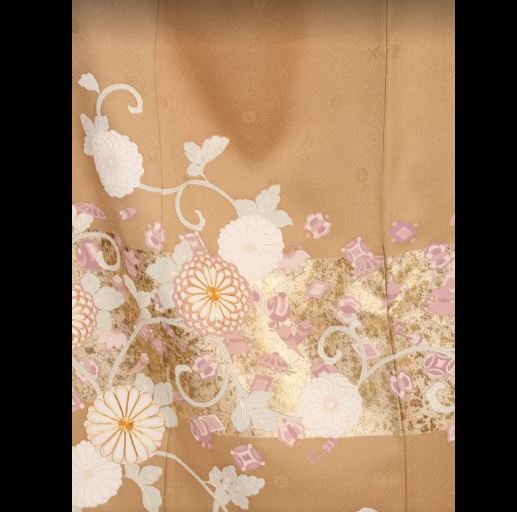 Kimonos can be made of silk, wool, cotton, linen, or synthetic fabrics. Japanese kimono pattern can be produced by weaving, hand painting, embroidery, or use of stencils. Today, weaving by machine is much more common than weaving by hand. If a kimono is dyed before the weaving process, it is categorized as a sakizome kimono. Sakizome kimonos, also known as woven kimonos, include meisen or habutae (reeled silk), omeshi (heavy crepe), tsumugi (spun silk), sha (silk gauze), and ro (leno weave gauze), kasuri (splash pattern), shima (stripe pattern), koushi (checks or lattice pattern), and joufu (linen). If a kimono is dyed after weaving, it is categorized as an atozome kimono. Atozome kimonos, also known as dyed kimonos, include garazome (dyed designs on white fabric), tegakizome (hand-painted), rouketsu (yuzen, batik), katazome (stencil), kata yuzen (hand-drawn yuzen), kata komon (small stencil designs), edo komon (small one-color crests), bingata (multicolor dyeing on stencil resist), chuugata (medium stencils for yukata), kasurizome (tie-dye), and mujizome (pattern-less, one-color dyeing).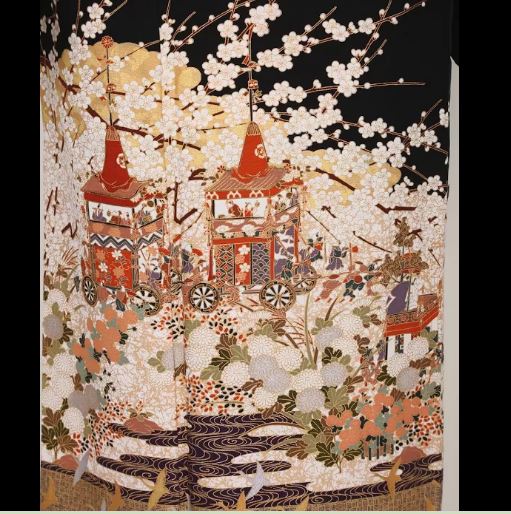 In kimono it is the pattern, rather than the cut of the garment, that is significant. Indications of social status, personal identity and cultural sensitivity are expressed through colour and decoration. Only the elite regularly wore luxurious kimono; the majority of people would only have worn silk garments on special occasions. The choice of obi and accessories, such as combs and pins worn in the hair, are also important.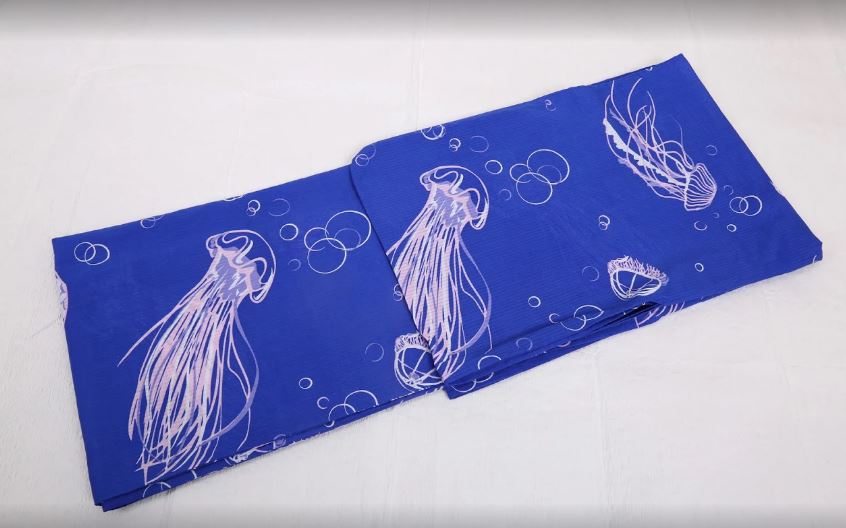 Young women show off more extravagant japanese kimono pattern and colors than older women, and single women wear sleeves that extend all the way to their wrists. The japanese kimono pattern of choice complement the season of the year, much like in U.S. clothing. Spring kimonos represent bright colors or floral pattern. Summer kimonos show off watery designs and pastel colors. Autumn kimonos display fall color pattern, such as falling leaves. Winter kimono pattern include bamboo, pine trees or plum blossoms, all of which signify wealth and luck for the New Year.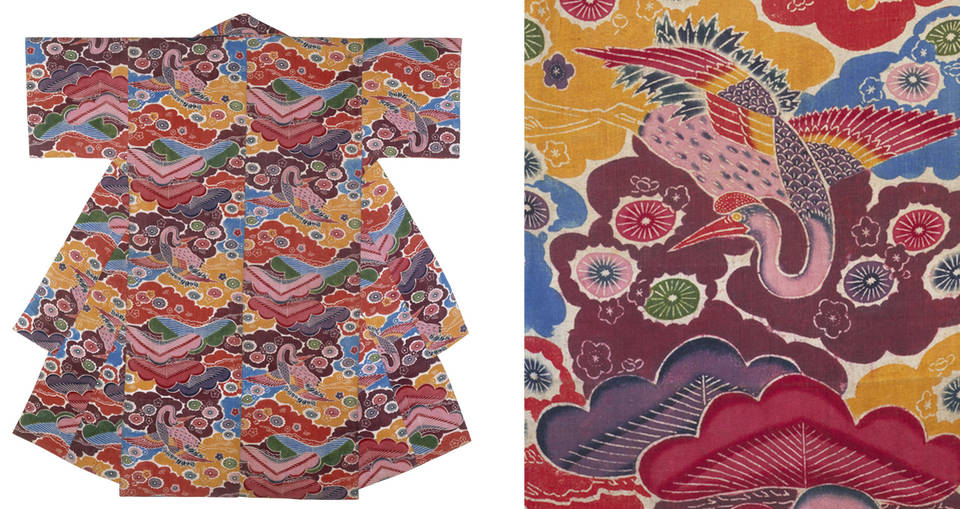 The japanese kimono pattern on kimono often have complex levels of meaning. The most popular bird depicted on kimono is the crane. Believed to live for a thousand years and to inhabit the land of the immortals, it is a symbol of longevity and good fortune.(Left) Kimono, Japan, early 19th – mid 20th century. Specific motifs were used to indicate virtues or attributes of the wearer, or relate to the season or occasion such as weddings and festivals where it bestows good fortune on the wearer.
Kimono symbolism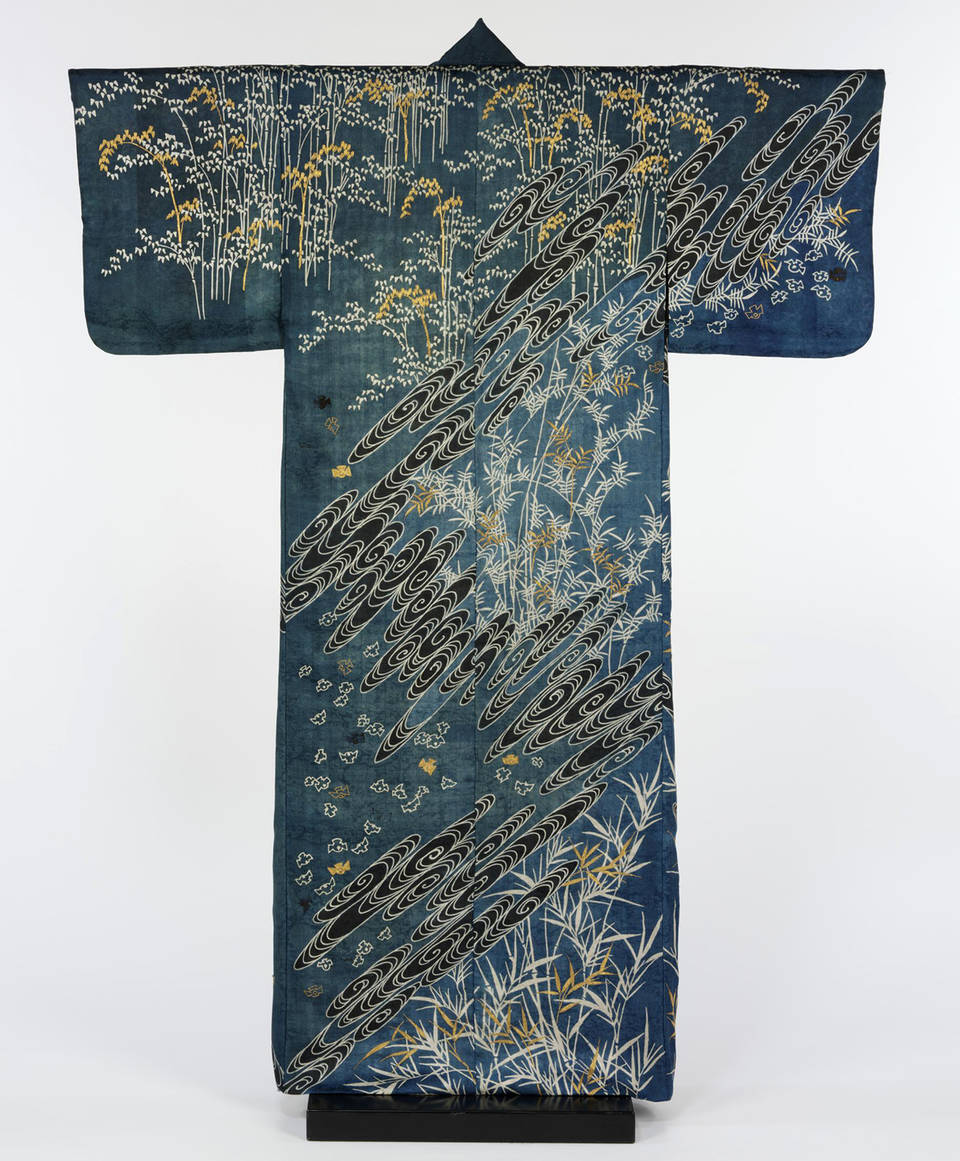 Japanese kimono pattern also have strong metaphorical and cultural meanings. Dyes are seen to embody the spirit of the plants from which they are extracted. Any medicinal property is also believed to be transferred to the coloured cloth. Blue, for example, derives from indigo (ai), which is used to treat bites and stings, so wearing blue fabric is thought to serve as a repellent to snakes and insects. The introduction of the concept of the five elements from China to Japan in the 6th century gave colours a cosmological dimension. Fire, water, earth, wood and metal are associated with particular directions, seasons, virtues and colours. Black, for example, corresponds to water, north, Winter and wisdom. Colours also have strong poetic significance. Purple, for example, is a metaphor for undying love, the imagery deriving from the fact that gromwell (murasaki), the plant used to create the dye, has very long roots. Perhaps the most popular colour for kimono is red, derived from safflower (benibana). Red signifies youthful glamour and allure, and so is suitable for the garments of young women.