Japanese traditional costume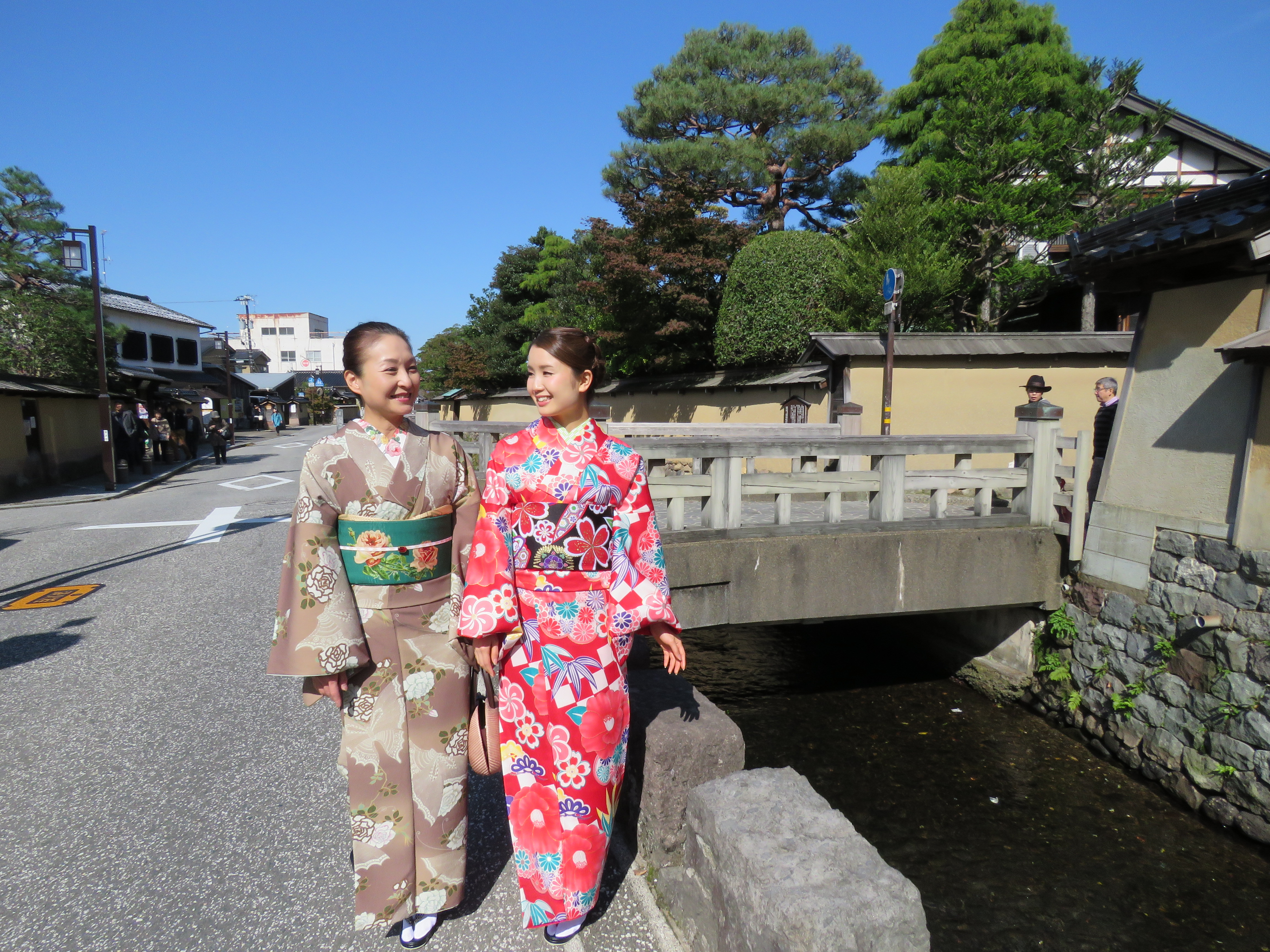 The japanese traditional costume is the symbol of the nationality. We can see many kinds of styles, admirable textiles and fabrics in their costume all around the world. The japanese traditional costume is closely linked to the custom, which has practiced in that area so that the respective dress pattern represents the nation or religion to express who they are. European traditional costume has similar dress pattern and a corset has been used to emphasize women's bodyline to appeal an 'hourglass.' On the other hands, the Japanese kimono conceals women's bodyline. This difference on both costumes shows the different approach how people and society perceive on dress and women. The 'hourglass' is a symbol of femininity in European tradition, but not in Japan. This is to say that the japanese traditional costume is not only the dress to decorate on women's body, but also to express the identity of their life and culture.
Types of japanese traditional costume
In modern times, the japanese traditional costume has inspired into many fashion designers to create new fashion. The waistline of the dress was the important scale to indicate the fashion changes before. However, the term 'Fashion' has become wider with globalization so that the discussion on the waistline is no longer the matter to define what the femininity is or not.
Furisode
The Furisode is the most formal japanese traditional costume worn by single women. Furisode are amongst the most elegant and expensive form of kimono. They typically cost over 1 million yen. They are also surprisingly expensive to rent. Many women receive a furisode from their parents for their Coming of Age ceremony when they turn 20 years of age. They may find opportunity to wear the furisode a few times to formal occasions. Modern furisode change styles every few years. They are usually light colors with flowers and other patterns associated with youth and femininity.
Komon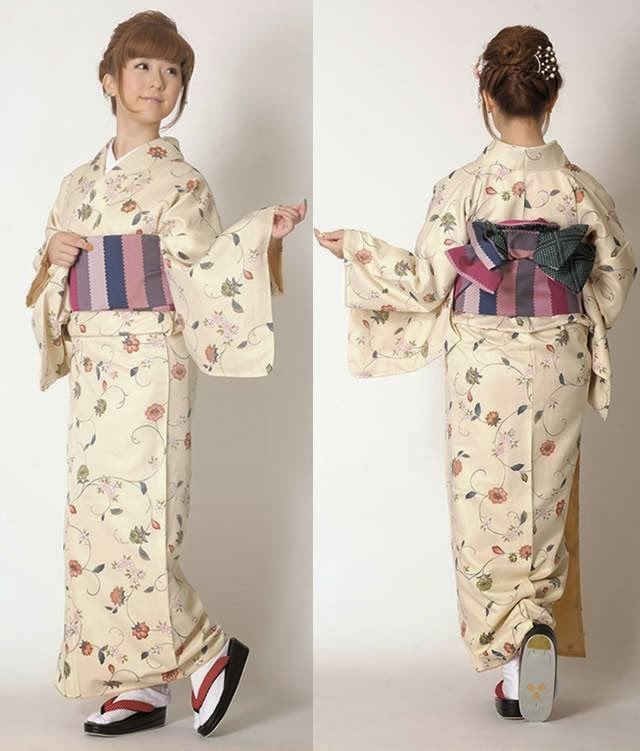 Komon is japanese traditional costume which have an all over repeat pattern and are known as townwear, that is, an everyday wear kimono. Komon kimonos and iro-muji kimonos are becoming more and more rare, as they are not made much anymore; the few kimono makers left now tend to make only very formal, ornate kimonos, which are still worn by some Japanese women on special occasions, and lightweight cotton yukata kimonos, which are often worn to Japanese summer festivals or as house and bath robes. Very few people in Japan wear kimono all the time nowadays, so almost no one buys kimonos such as komon or iro-muji anymore and kimono makers have virtually stopped making them.
Tomesode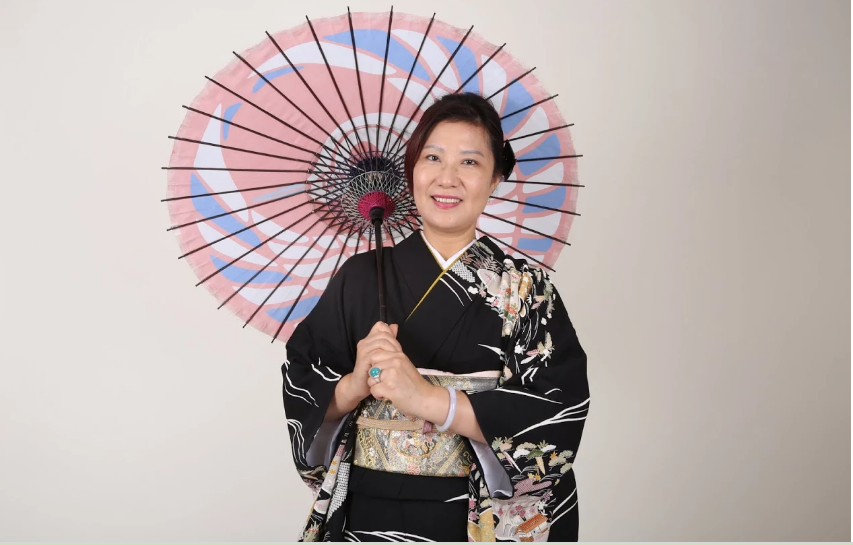 Tomesode is a traditional japanese costume with pattern only at the bottom, plus mon (crests) on the sleeves and shoulders, worn by married women at formal occasions. The more mon (one, three or five), the more formal the occasion it may be worn at. Black ones are called kuro tomesode and any colour other than black are called iro-tomesode (sometimes called irosode) but black is more often seen.
Susohiki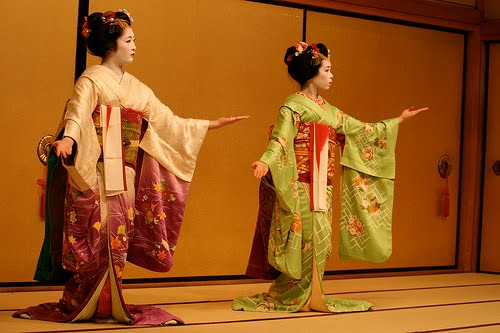 The susohiki is the japanese traditional costume which is usually worn by geisha or by stage performers of the traditional Japanese dance. It is quite long, compared to regular kimono, because the skirt is supposed to trail along the floor. Susohiki literally means "trail the skirt". Where a normal kimono for women is normally 1.5–1.6 m (4.9–5.2 ft) long, a susohiki can be up to 2 m (6.6 ft) long. This is also why geisha and maiko lift their kimono skirt when walking outside, also to show their beautiful nagajuban.
Iro-muji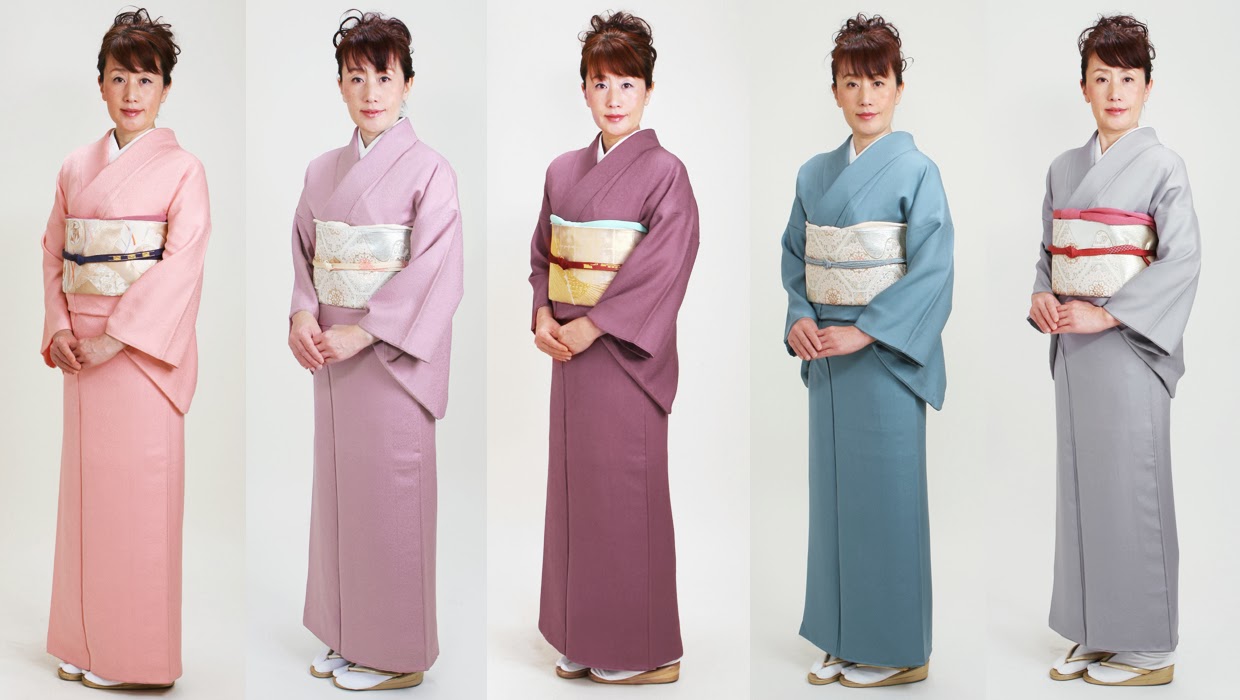 Iro-muji is a semi-formal japanese traditional costume with no-design. It has no design or pattern, except base pattern of damask."Muji" means "plain" or "solid", and "Iro" means "color".Black and plain kimono is distinguished from "Iro-muji".(Black and plain kimono is a mourning dress.)It's worn by women on parties or visits, like tea ceremonies, meetings, eating outs, and so on.
Mofuku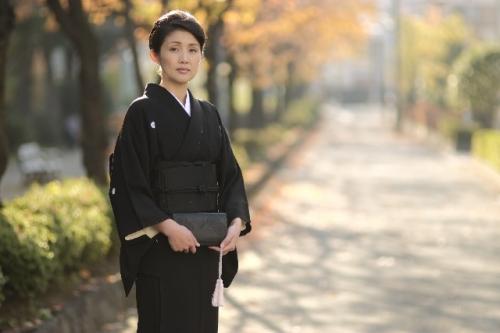 Mofuku is the mourning japanese traditional costume worn by both male and female. They wear a complete plain back silk with five crests over white undergarments and white tabi. As for women, obi and other accessories are also black. The completely black mourning clothes is for family and those who are close to the deceased.
Mofuku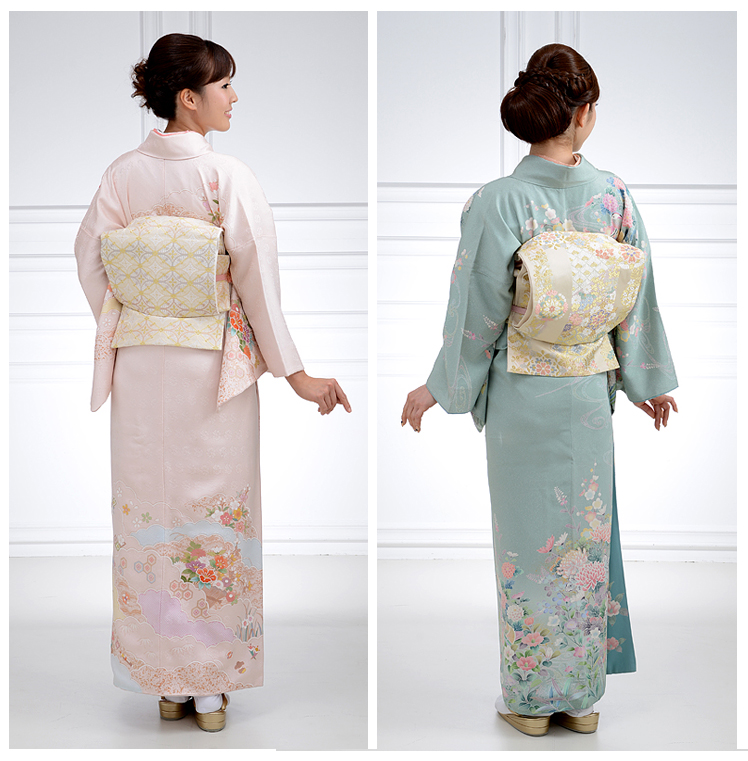 Houmongi is a semi-formal japanese traditional costume kimono that can be worn by married and unmarried women, in parties or weddings of distant relatives and friends. It has shorter sleeves than furisode, and patterns that run over the seams, making it more "flashy" – and less formal – than tomesode (which has patterns only below the waistline).
Haori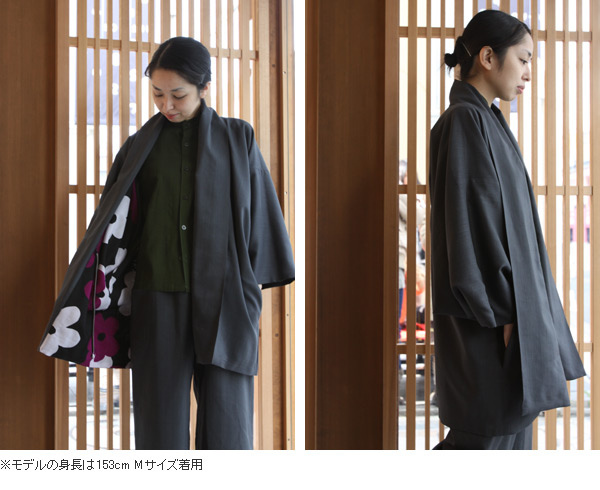 A haori is a kimono jacket, quite long, with the deep kimono sleeves, traditionally worn over the kimono and obi. A hoari is not worn with an obi or any sash around it. It can be closed edge to edge with a himo, which is a pair of front ties that are fastened to the inner edge. Women's haori, however, also look excellent when worn with western-world clothes, such as dresses or jeans, either worn open or with a belt added. Men's haori are usually plain on the outside, either with or without mon, but often have very decorative linings hidden inside.