Japanese traditional dress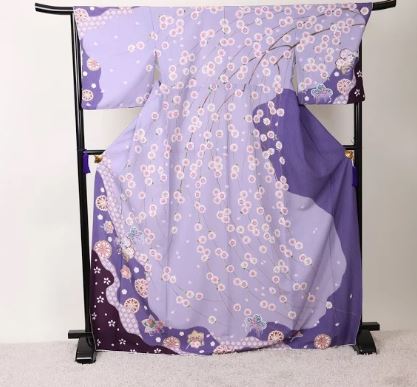 The kimono is japanese traditional dress literally `the thing worn', is the classic garment for both men and women. Traditionally, kimonos were worn layer upon layer. The number of layers related to the importance of the wearer; in the most extreme cases so many would be worn that the wearer could scarcely move. In reality, most women's kimonos are more intricate in structure than just described, having additional material on each side of the front opening and an extra neckband. Outer kimonos for formal wear often have an interlining and a lining. Traditionally, this lining was orangey-red in colour and curved up around the hemline so that it was visible on the outside. All kimonos are fastened with a sash called an obi which fits comfortably round the waist and under the hanging sleeves. The sleeves are not completely joined to the body at the armholes for this purpose.
Fabric of kimono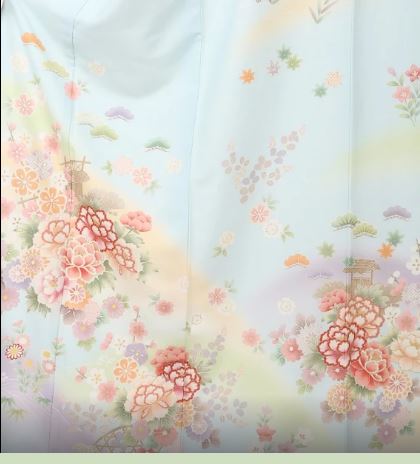 Fabric to make up a Japanese traditional dress like kimono is purchased in a set length called a tan. This is about 11.7m long and about 34cm wide and is enough for one garment. Two long pieces are cut from this to make up the front and back left and the front and back right respectively. A vertical seam at the centre back joins the two sections, and further lengths are folded over and seamed to the body to form sleeves. Sleeve depths vary from garment to garment. Many early 20th-century kimono are made from meisen, a fabric woven from silk obtained from defective cocoons. The introduction of mechanised spinning technology meant it was possible to use this lower-quality silk to create a thick, lustrous material that was both long-lasting and relatively inexpensive. Patterned with chemical dyes using an innovative direct-dyeing technique, meisen became the fabric of choice for women's fashionable, casual kimono.
Yukata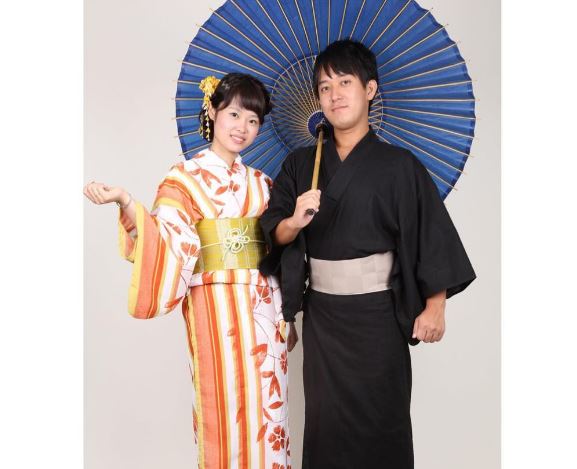 A popular japanese traditional dress which is usually made of cotton or synthetic fabric is known as Yukata. This is also worn by both men and women in summer as a light and casual garment. Compared with other types of kimonos, Yutaka kimonos are much easier to wear and maintain and are less expensive. Traditionally, yukata were mostly made of indigo-dyed cotton, but today, a wide variety of colors and designs are available. Yukata are also worn at Japanese inns ryokan.
Hakama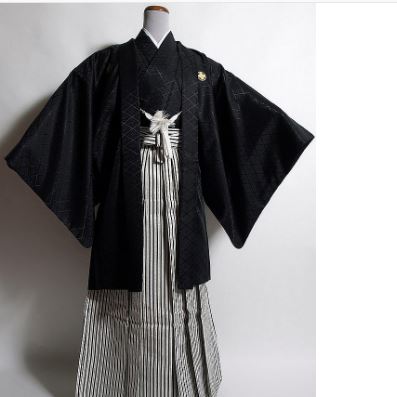 Hakama is also a japanese traditional dress particularly associated with the Japanese men. Hakama are tied at the waist and fall approximately to the ankles. Hakama are worn over a kimono. Commonly, this dress comes in black and white colored stiff, striped silk and sometimes in navy blue as well. This is a typical formal attire for the Japanese men. The Sumo wrestlers of Japan wear Hakama when they attend the public or formal ceremonies. Hakama is the cultural emblem for the Japanese men.
Happi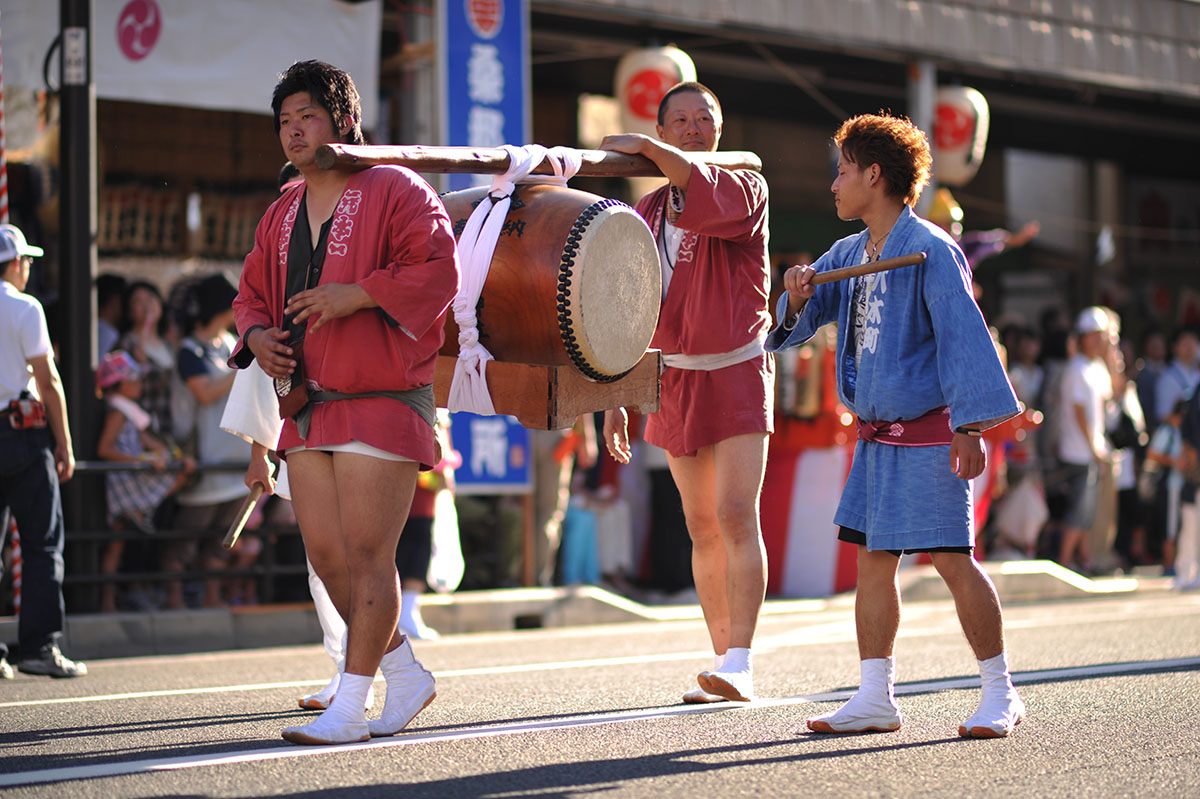 Happi is the japanese traditional dress which is worn by male performers, particularly in dances, which is actually a straight sleeved jacket. Happi is normally having an open front and it is fastened with ties. In the modern patterns, Happi are worn over clothes and tied at the waist with a belt. In the festivals, Japanese men wear Happi adorned with spectacular icons and glorious patterns. Hachimaki is the traditional Japaneseheadbands which are worn in order to keep the wearer safe from evil spirits. Hachimaki are usually made from a strip of white or red cloth approximately 8 centimeters in length. They may be worn flat against the forehead or rolled into a cylindrical shape.
Tsukesage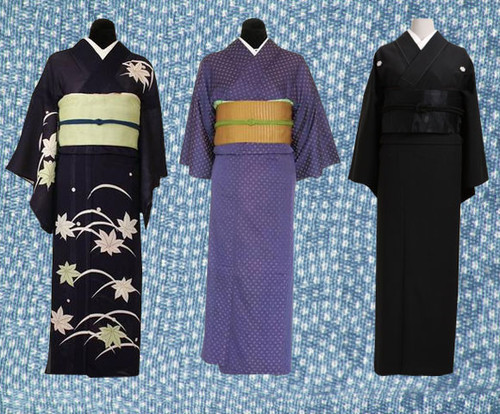 Tsukesage is a little more casual than Homongi kimono. It has more modest patterns that cover a smaller area mainly below the waist. Both Houmongi and Tsukesage are most often characterized by patterns that wrap around the lower hem of the kimono, and are displayed on the sleeves and shoulders, typically on the back of the right sleeve and shoulder, and the front of the left sleeve and shoulder. It is a party dress for Japanese women.
Susohiki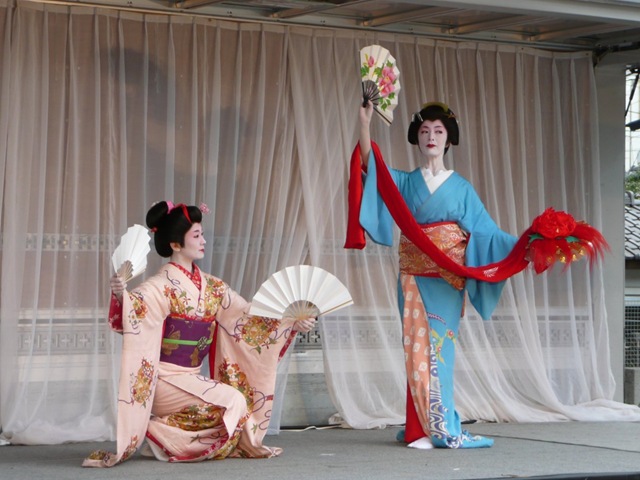 Susohiki is specially japanese traditional dress associated with Geisha girls of Japan who perform the traditional and classical Japanese art and dances. The color, pattern and style of this kimono are dependent on the season and the event the geisha is attending. It is quite long, compared to regular kimono, because the skirt is supposed to trail along the floor. A susohiki can be up to 2 m (6.6 ft) long.Susohiki Kimono is also sometimes named as Hikizuri and it is also worn by Maikowho perform songs, dances, and play the shamisen (three-stringed Japanese instrument) for visitors during feasts. One of the most important accessories of their dress is Kanzashi i-e the hair ornaments used along with the traditional Japanese hairstyle. Kanzashi are fabricated from a wide range of materials such as lacquered wood, gold and silver plated metal, tortoiseshell and silk, and recently, plastic.