Shichigosan festival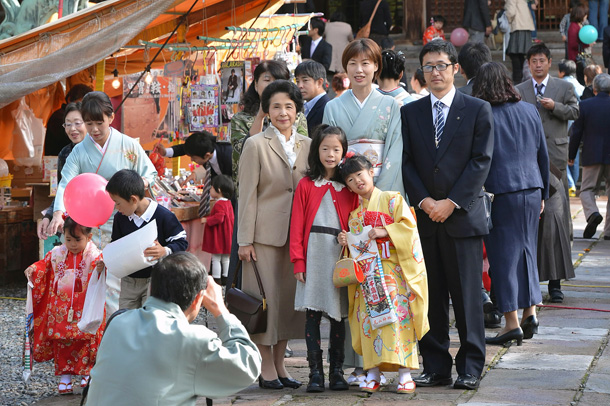 Shichigosan is a milestone event that celebrates the health and well-being of three, five, and seven year old children. Traditionally, three-year-old boys and girls, five-year-old boys, and seven-year-old girls celebrate this event, however many parents nowadays will get all their children dressed up in kimono at the same time regardless of how old they are to get family photos. The children get dressed in kimono, take photos, and visit shinto shrines. The actual date of shichigosan is November 15, but children often get dressed up and take photos in the month before this date. Shichigosan literally means seven, five and three. These ages are considered critical in a child's life. Particularly, at the age of seven, a young girl celebrates wearing her first obi, while at the age of five a young boy celebrates wearing his first hakama pants in public. The age of three marks the first time whereby both boys and girls are allowed to let their hair grow.
Shichigosan origins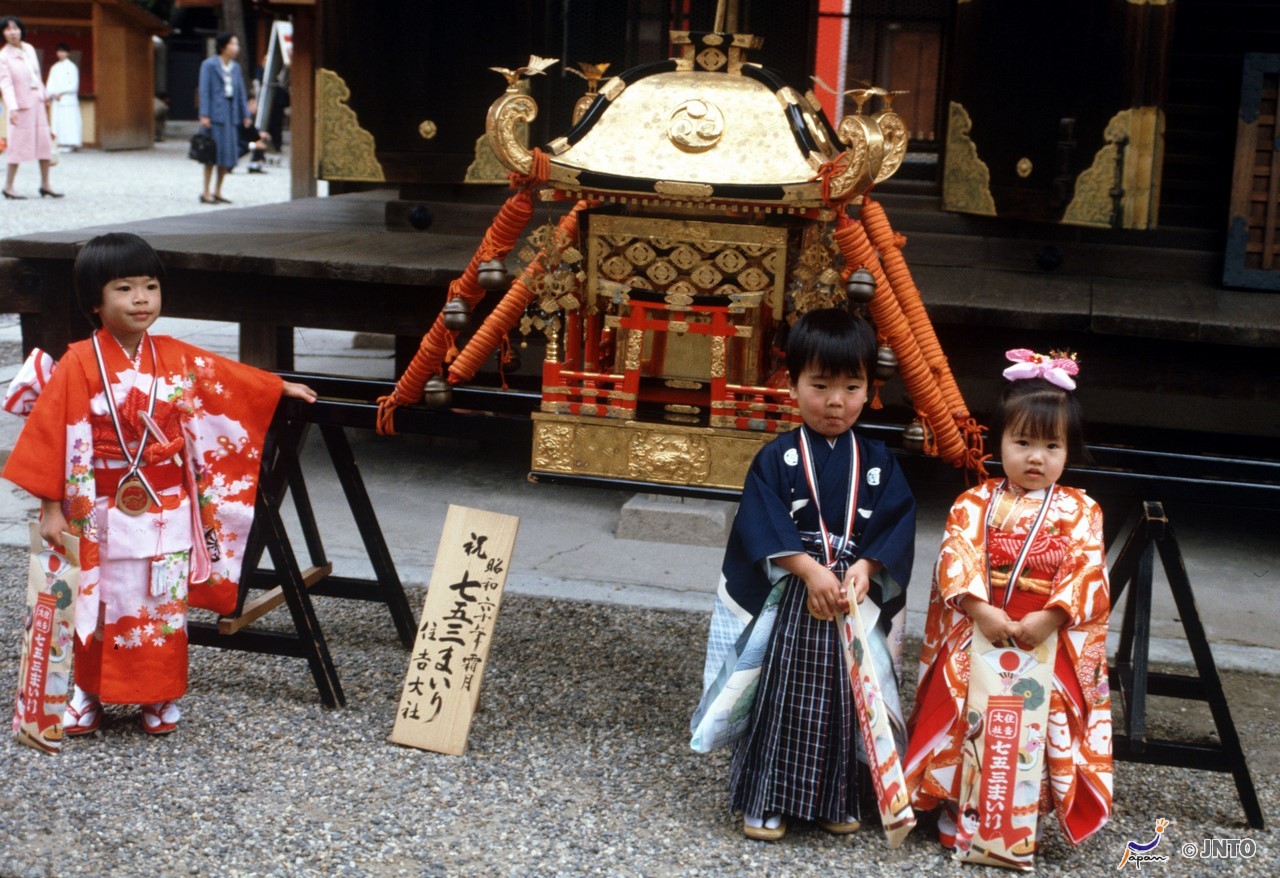 The festival shichigosan is said to have started in the Heian period (794-1185) where the nobles celebrated the growth of their children on a lucky day in November. The festival was subsequently set on the fifteenth of that month during the Kamakura period (1185-1333). Shogun Tsunayoshi Tokugawa was said to be celebrating the growth of his son, Tokumatsu, on that day. By the Edo period (1603-1868), this practice spread to commoners, who began visiting shrines to have prayers offered by priests. The shichi-go-san custom followed today evolved in the Meiji era (1868-1912). Today, parents celebrate shichigosan as their boys turn three and five years of age, and as their girls turn three and seven. The boys don on haori jackets and hakama trousers, while the girls would wear a special ceremonial kimono when making their shichi-go-san visit. In recent years though, an increasing number of children are wearing Western-style suits and dresses.
Why the ages 3,5,7?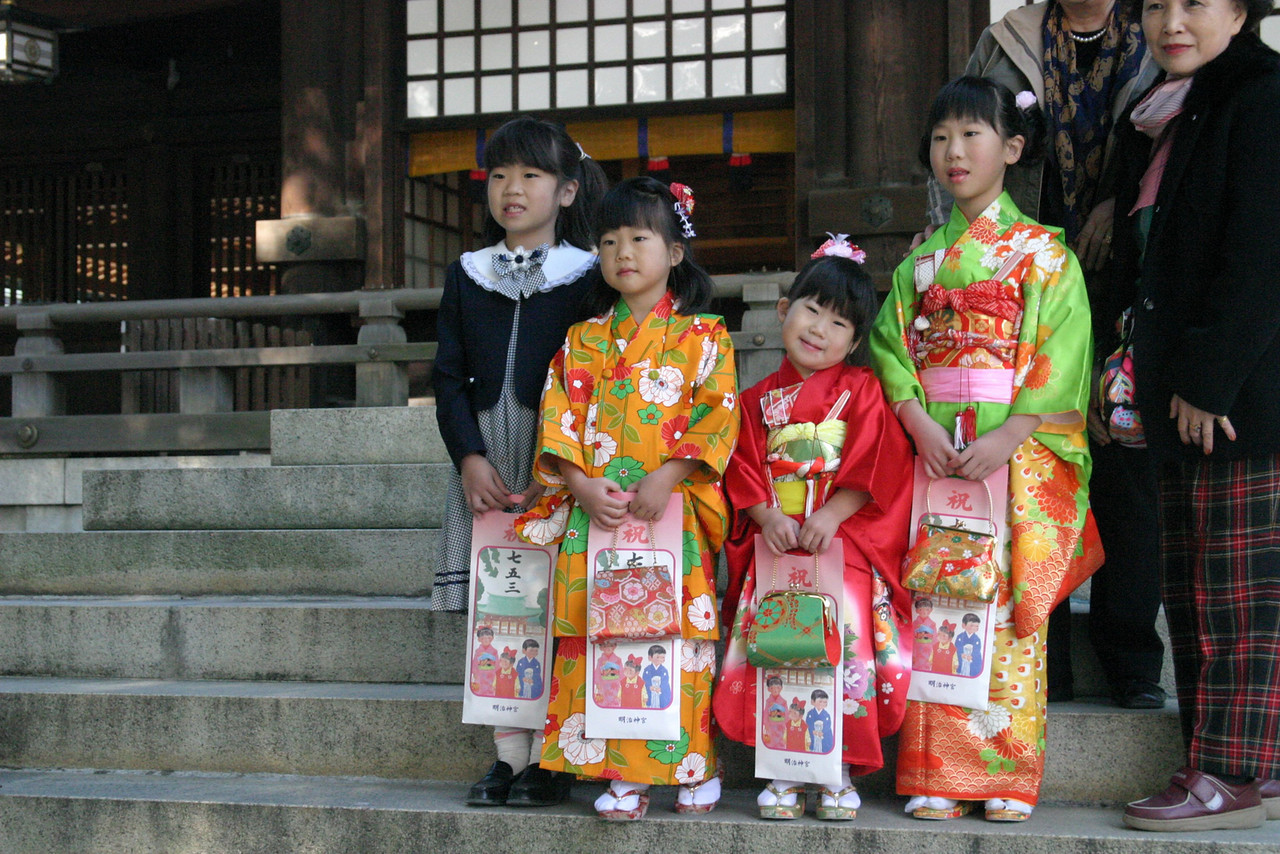 In ancient times, these were milestones when rites of passage were performed. Parents started to let their children's hair grow out when they turned 3 to celebrate their growth, according to the book "Nenju Gyoji Girei Jiten" ("Annual Events Ceremony Dictionary"). This event is known as "kamioki" (leaving hair). At age 5, boys wore their first "hakama" pleated traditional trousers, in the "hakamagi" donning celebration. When girls turned 7, parents celebrated the "obitoki" rite, in which their daughters went from using straps to secure their kimono to wearing obi. Shichigosan is thus usually celebrated by 3-year-old and 7-year-old girls and 3-year-old and 5-year-old boys. It is also believed that the odd numbers bring good luck based on the yin-yang Chinese philosophy of feminine and masculine force. Parents used to celebrate shichigosan based on the ancient Japanese counting method of "kazoedoshi," in which a baby is automatically 1 year old at birth and becomes a year older every New Year's Day. Nowadays, parents mark shichigosan based on the Western way of counting age.
The times when Shichigosan is celebrated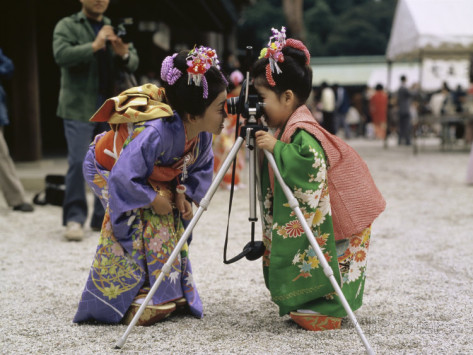 November 15 was chosen for this celebration because it was considered one of the most auspicious days of the year in the Japanese almanac. Since the day is not a national holiday, most families pay their shichi-go-san respects on the weekend just before or after the day. The official day is Nov. 15. Shogun Tokugawa Tsunayoshi, who reigned from 1680 to 1709, celebrated the health of his 3-year-old son, Tokumatsu, on that date. Some books say shichigosan is celebrated on Nov. 15 because this is the festival day for Ujigami — the day of celebrating the autumn harvest under the lunar calendar. It is also the luckiest day according to yin and yang. However, shichigosan is currently celebrated throughout October and November. Whatever the truth is, in modern times people don't celebrate the "7-5-3-Day" on November 15th anymore – unless it falls conveniently on a weekend. Everybody is busy and thus the shrine visit has to wait until the whole family has a day off – which is usually on the weekend closest to November 15th.
Prices of shichigosan kimono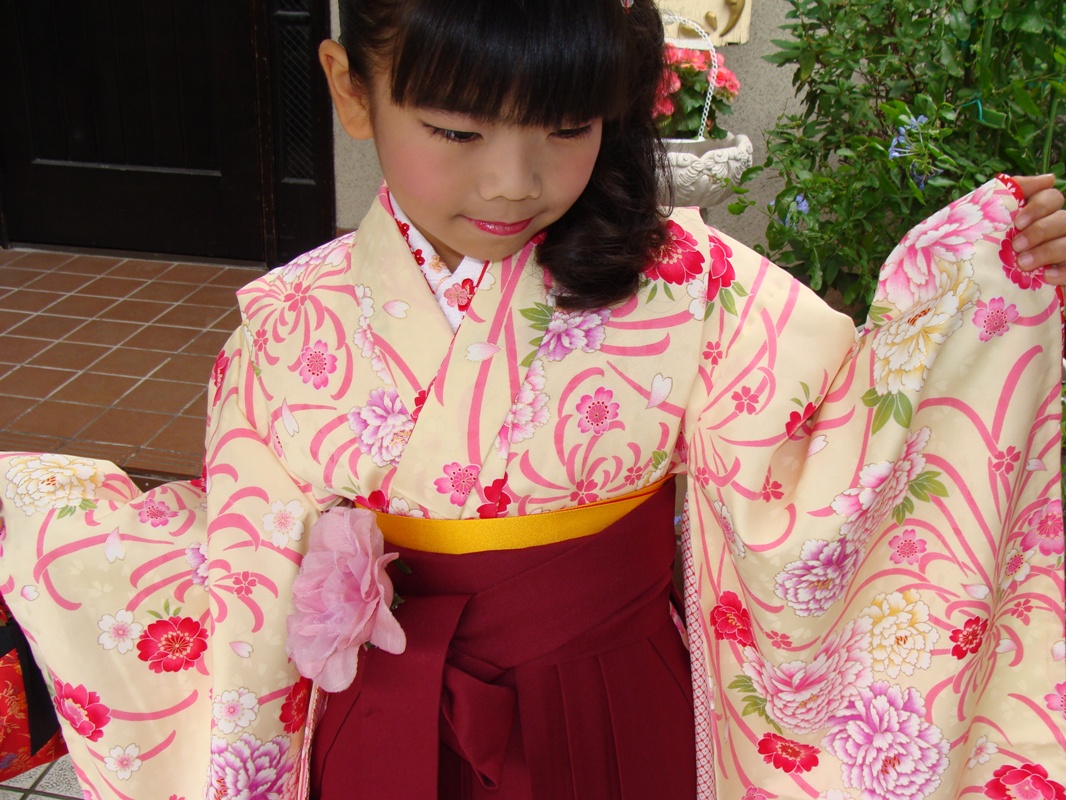 The price varies widely depending on quality. According to Kazuhiro Nasu, manager of the Shirataki Gofuku Shop in Nerima Ward, Tokyo, established in 1854, a shichigosan kimono set ranges from ¥19,800 to ¥98,000 for 3-year-old girls, ¥39,800 to ¥200,000 for 5-year-old boys, and ¥78,000 to ¥198,000 for 7-year-old girls. Renting kimono, including a fee for styling hair and applying makeup, is more reasonable, costing from ¥35,000 to ¥65,000. "Recently, more parents are renting instead of buying kimono," Nasu said.
Chitose Ame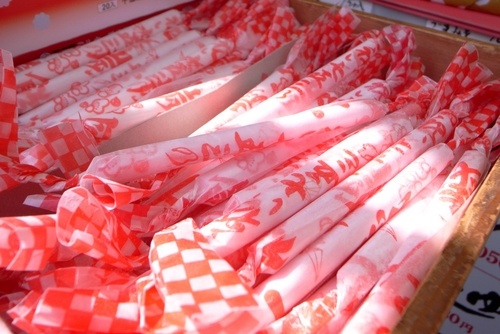 Following the visit to the shrine, parents buy chitose-ame (thousand years candy) for their children. The candy is shaped like a stick and comes in a bag that carries illustrations of cranes and turtles – two animals that traditionally symbolise longevity in Japan. The candy and the bag are both expressions of parents' wish that their children lead long and prosperous lives. "Chitose ame" is a long stick candy. The name means 1,000-year candy and it is given to children celebrating shichigosan. It usually comes as a pair of white and pink sticks, the colors of good luck, in a paper bag bearing the image of a crane and a turtle, symbols of longevity, and images of pine trees and bamboo, the symbols of good luck. Children don't only get to dress up in beautiful clothes, they also receive a special type of candy which is only handed out for the "7-5-3 Day". There's an old Japanese saying which makes this quite obvious:
"Tsuru wa sennen, kame wa mannen." (鶴は千年、亀は万年)
"Cranes live for 1,000 years, turtles for 10,000 years."
Some paper bags are also decorated with images of pine trees and bamboo, the symbols of good luck.