Traditional japanese clothing
The Kimono is the traditional japanese clothing. There are many differents kimono style we don't know it. So today we will find out how many types of kimono in japan.
Mofuku kimono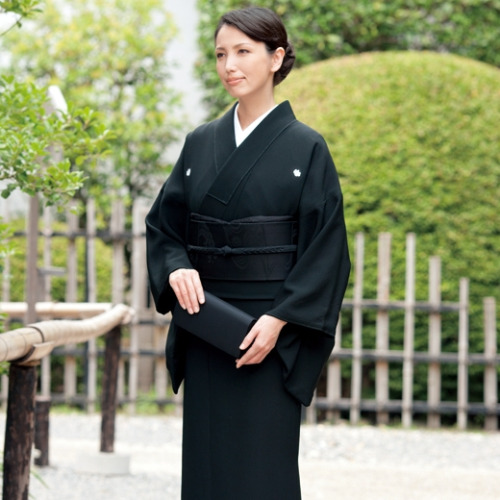 Mofuku (喪服, mofuku) can refer to any women's kimono or kimono item that is black in its entirety. There are exceptions to this rule. These traditional japanese clothing are worn for mourning of various degrees. The wearing of mofuku items is controversial outside their intended use such as the death of a family member.
Shiromuku kimono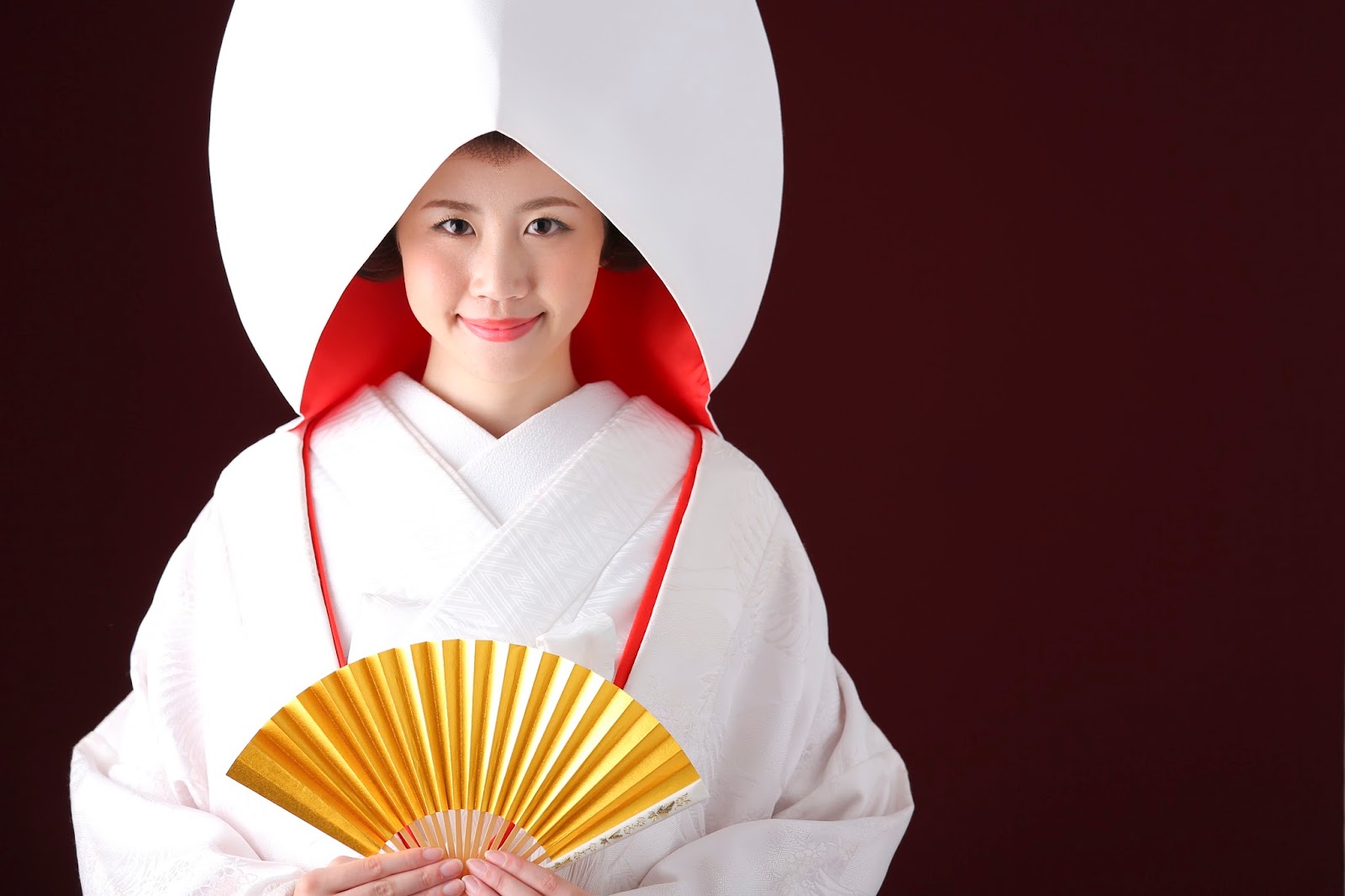 This is the typical Japanese women's style called shiromuku. It is traditional japanese clothing for wedding ceremony . Currently, this pure white kimono is the symbol of the traditional Shinto style wedding ceremony. Shiromuku and the entire ensemble the bride wears with this kimono is white, from her outer robe, uchikake, to the kimono worn beneath the robe, kakeshita, which are created in rich fabric, such as silk or satin, and often includes elaborate embroideries
Iromuji kimono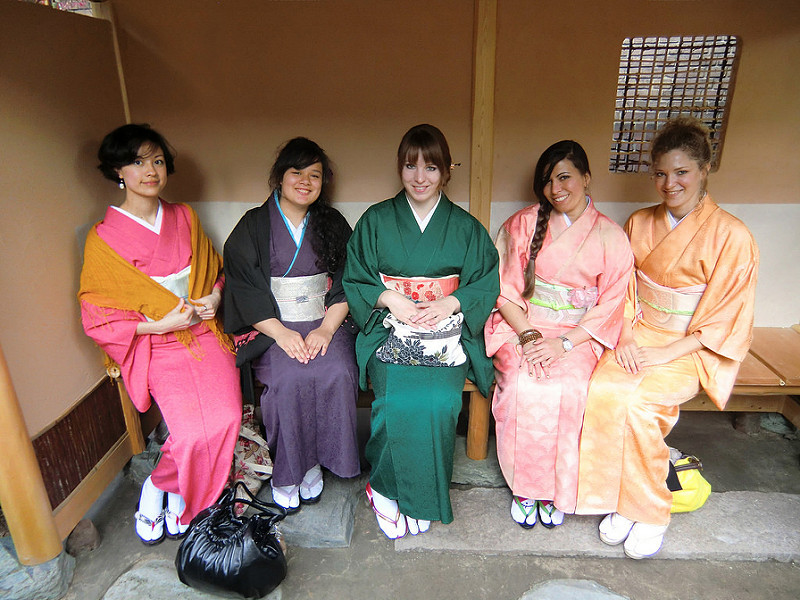 Iromuji (approximately "plain color") is a traditional japanese clothing with single color kimono with no dyed patterns, or generally monochrome patterns. Alternatively, it may well have woven patterns It can be actually plain or have discrete damasque-like patterns (in a fabric called rinzu), but no colorful motifs. From a distance, iromuji will always look solid. It's worn by married and unmarried women, and can have any color except for white or black – since plain white or black kimono have other connotation。Iromuji also can be found with a variate number of family crests (kamon), another important element in kimono formality. A kimono with no crests is very informal, while a kimono with 5 crests shows the higher level of formality. Iromuji can go from no crests up to one, three or full five crests, but usually have one crest (ideal for tea ceremony) or quite formal 3 crests.
Furisode kimono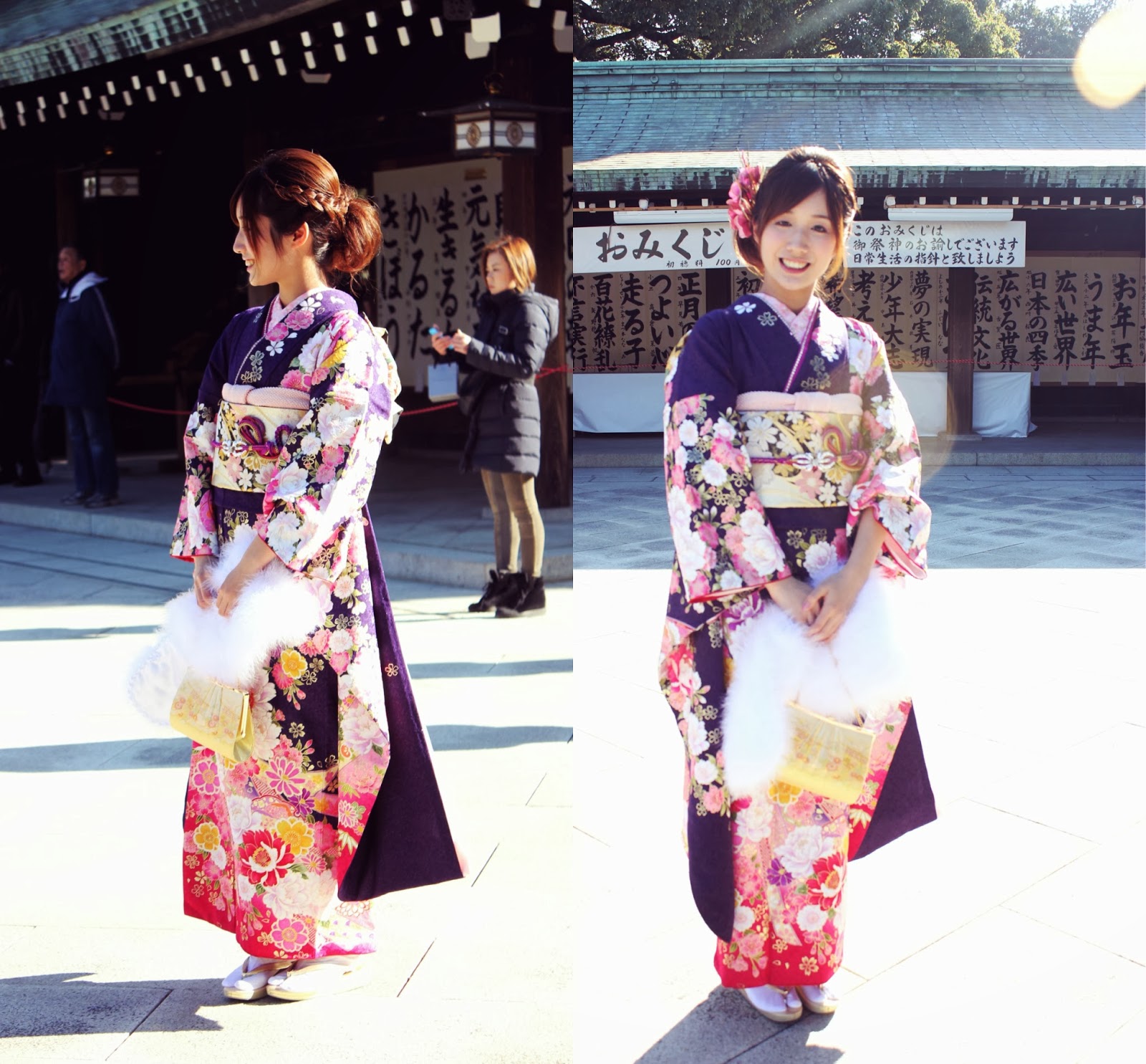 Furisode is one of the traditional japanese clothing and is very most dressy kimono for young women, generally worn to Coming of Age parties or specific festivals where girls get to show off. The only reason this one isn't classed with the ceremonials is because, in both Japan and the US, girls can dress to the nines for even semi-formal occasions and that's cute, rather than inappropriate the way it would be for an older woman. Has long, sweeping sleeves and elaborate patterns that run, unbroken, across the back and onto the backs of the sleeves; around the whole body; and across the front and onto the fronts of the sleeves. Generally all-season in their designs, as is only reasonable after such an investment in design and materials. The furisode is made of very fine, brightly colored silk, and is commonly rented or bought by parents for their daughters to wear when celebrating Coming of Age Day the year they turn 20. By wearing a furisode, a young woman signifies that she is both single and a legal adult, and thus available for marriage. In this sense, a furisode might be likened to the formal gowns worn by debutantes in the West.
Houmongi kimono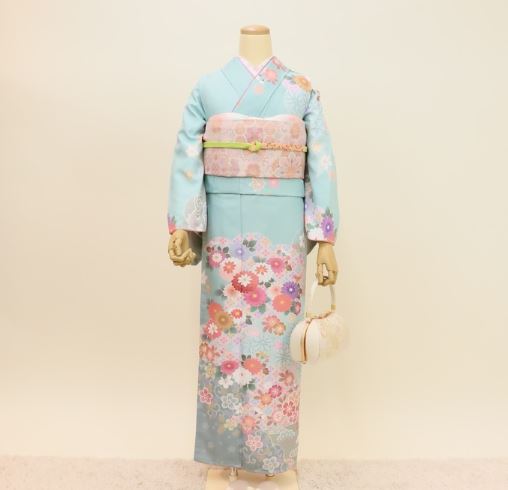 Houmongi is a very dressy kimono worn to formal parties, formal concerts, etc. Base may be any color, and may have woven patterns all over. Patterned around both sides or the left half of the hem, and on the front of one sleeve and back of the other. Identifying point is that the pattern will travel across the seams of hem and shoulders without breaking, having been dyed or painted in a consecutive design that is then sewn together with the edges matched up. Sleeves may be long or short. The background can be any color (including black and white), and the design is dyed in such a way that it extends smoothly across the seams when the kimono is sewn together, creating an unbroken design. It is traditionally considered a 'visiting kimono'. Its level of formality makes it suited to parties and receptions, going to tea, attending a graduation ceremony, theater or a concert, or a museum exhibit. It may be considered too formal for going out to lunch in some cases, and is considered too fancy for more mundane tasks such as shopping, traveling, or practice of traditional arts like ikebana and dance.
Tsukesage kimono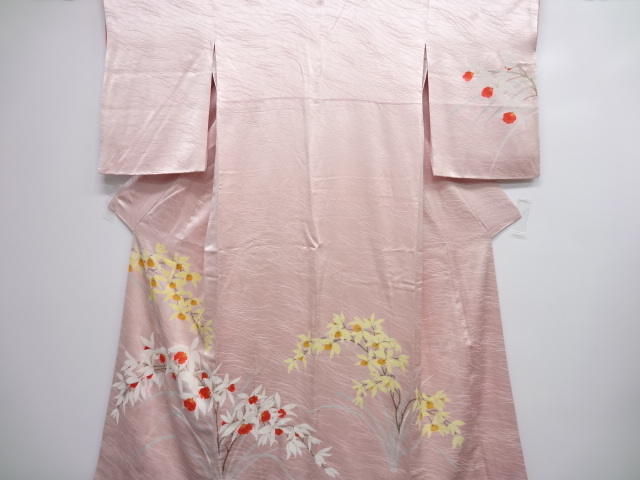 Tsukesage are visually quite similar to Houmongi, but rather than displaying flowing patterns, a Tsukesage's designs are dyed in such a way that they do not cross the seams. The only exception to this is that the pattern is allowed to cross the seam of the okumi (front overlap panel). Like Tsukesage, the background can be any color, including black and white.
While the level of formality of the Tsukesage is similar to the Houmongi, it is not considered as formal as its smooth-patterned sister. The Tsukesage is the traditional japanese clotihing may also rarely display kamon, but not more than three, meaning it cannot be worn for ceremonial occassions. Tsukesage is worn to parties, out to nice restaraunts, etc. Base may be any color, and may have woven patterns all over. Patterned around both sides or the left half of the hem, and on the front of one sleeve and back of the other. Identifying point is that the pattern will not cross the seams. Tsukesage patterns tend to be more modular than Houmongi, with a contained motif repeating in clusters. Sleeves may be long or short.
Komon kimono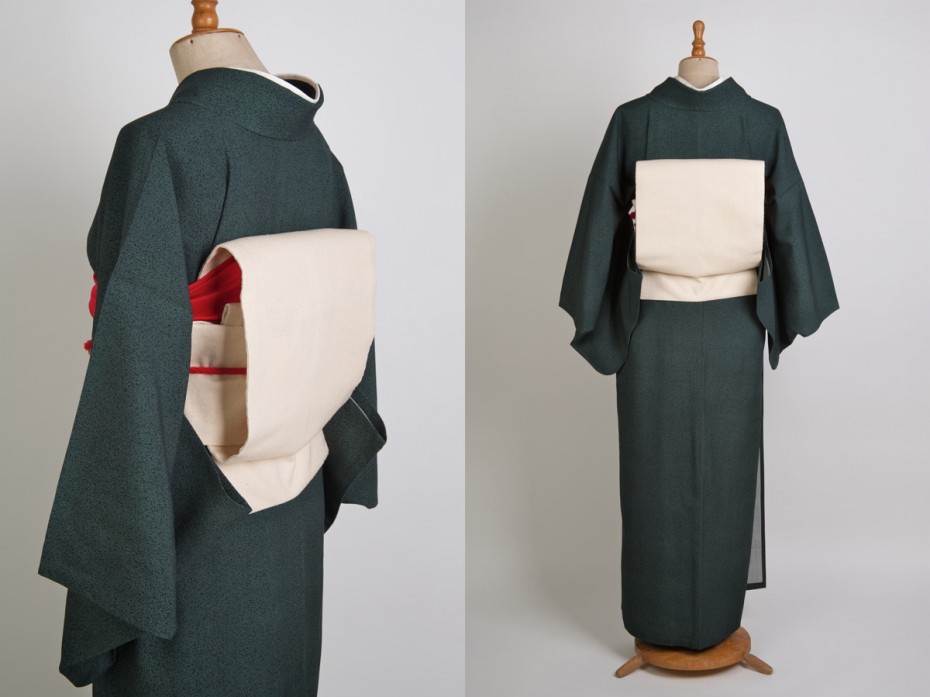 Komon is a everyday traditional japanse clothing, suitable for streetwear, shopping, casual parties, etc. Komon is a Kimono with a small, repeated pattern throughout the garment. May be any color, and may have either woven or printed patterns. Patterns are simple and repeating, all over the kimono, with no effort made to match up at the seams. Sleeves may be long or short. This style is more casual and may be worn around town, or dressed up with a formal obi for a restaurant. Both married and unmarried women may wear komon.
Yukata kimono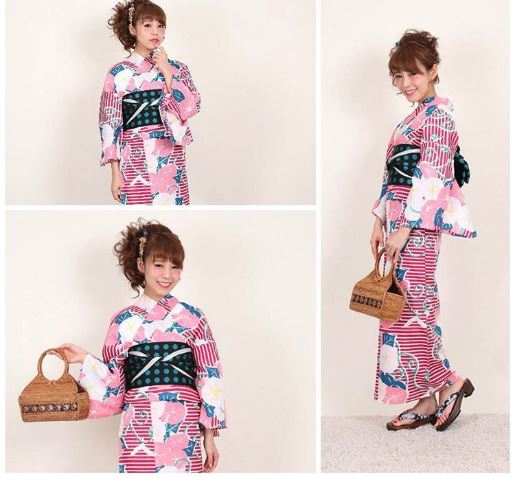 The Yukata is one of the least formal kimono. They are basically summer kimono meant to be worn during festivals or even just going out. Because they are meant to be worn during the warmer weather they are unlined and are normally made of linen or cotton, so they can easily breath. They are also often used by spas, hot springs, or bath houses for the guests to wear. Normally every household has a few yukata because they are the cheapest, unlike other kimono which are normally rented. Yukata is very casual kimono, suitable for street festivals, hanging around the house, etc. Identifying point is that these are unlined cotton or synthetic with a flat, non-silky weave. They usually have repeating patterns over the whole kimono and no effort made to match up at the seams, though some yukata are patterned in the houmongi or tsukesage style. Patterns are often brighter than on komon. Sleeves may be long or short, but are most commonly short.