Last year we had the chance to welcome two special guests from Jakarta! Many of you might be familiar with the Japanese idol groups such as AKB48, but did you knew that Indonesia had also their own version of the group; JKT48!! Wargo had the privilege to meet and dress up two of their members: Shania & Shani!! (人'∀ `)
.
.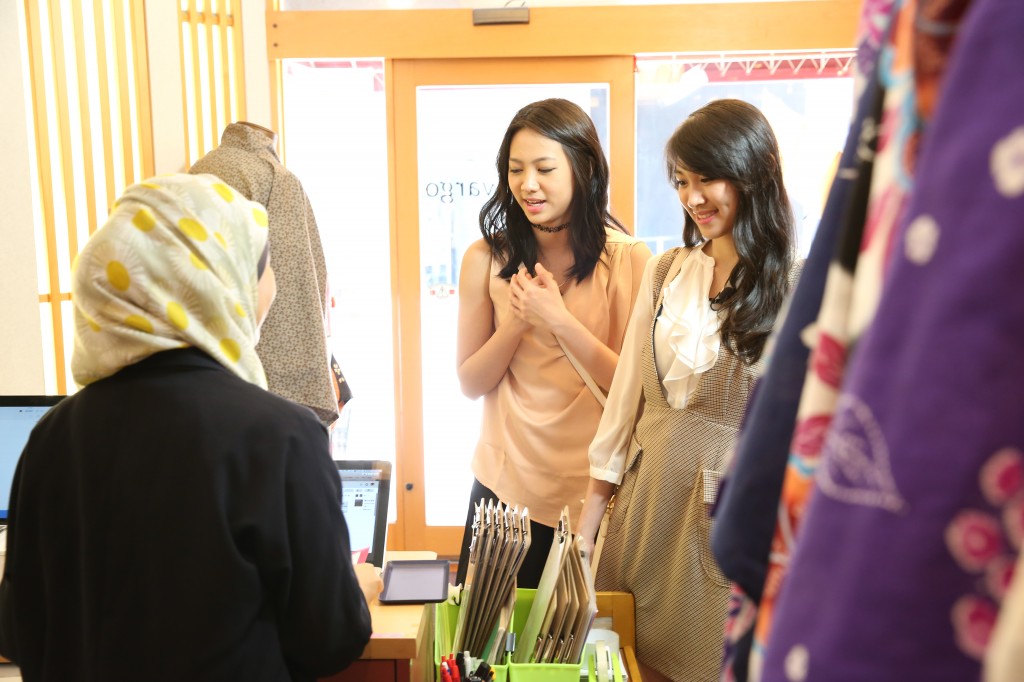 .
.
They came to introduce sightseeing spots and exciting things to do in Japan, such as renting a kimono, for a TV show aired in Indonesia called ~ Tokyo Trip: Luxury or Ordinary ~ ! They inquired first about the service and introduced Indonesian public to the basics of kimono rental. As they were proceeding this activity for the first time, they let the staff guide them through the choice of kimono, obi and hairdo. In no time they found the perfect match; no surprise thinking about the famous fashion sense of those two idols!!
.
.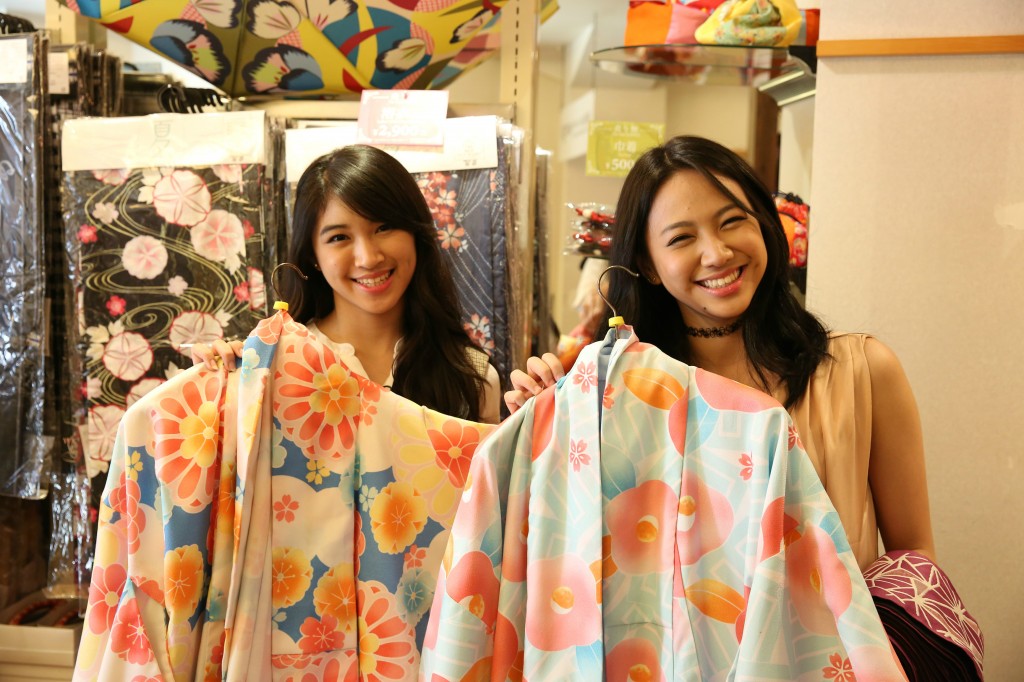 .
.
Shania chooses a pink and light blue tsubaki flower print that fits perfectly with the sunny weather of that day. Shani chooses a soft pastel color flower print that matches perfectly with Shania's choice. Such a lovely coordinate!! ('ʃƪ`ʃƪ) ♡
Then the dressing started. The girls ask a lot of question about the dressing process and the staff answered all of them in Japanese and English, ending even with an adorable "thank you" in Indonesian and by taking a bunch of pictures together!
.
.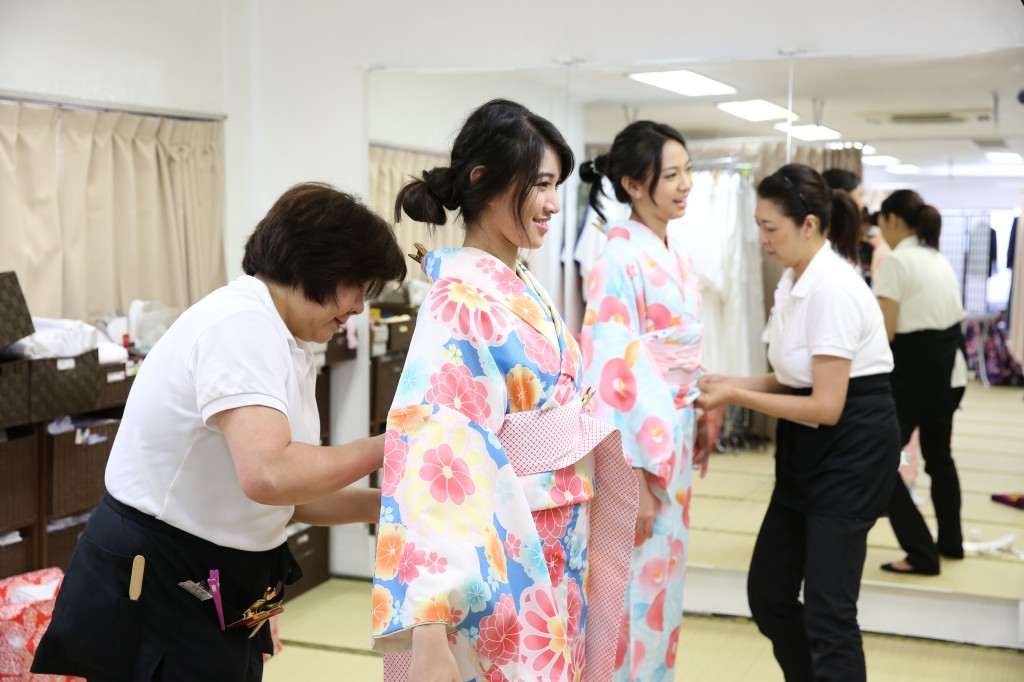 .
.
After the dressing came the hairstyling time!! Wargo's professional hairstylists crown both of them with a traditional Japanese style hairdo and allowed them to choose a kanzashi to decorate it. The choice mutually ended by the picking of tsumami zaiku shaped ones (flower shape) made according to a very antique and distinctive Japanese handicraft style. Good choice!!  ヾ (∇ ≦ ≦) ゞ
The kanzashi Wargo offer are issued by the sister brand of the shop "Kanzashiya Wargo".  This brand also produces other original products such as obidome, umbrella, and yukata!! We invite the curious to check this link for more information: http://www.wargo.jp/
.
.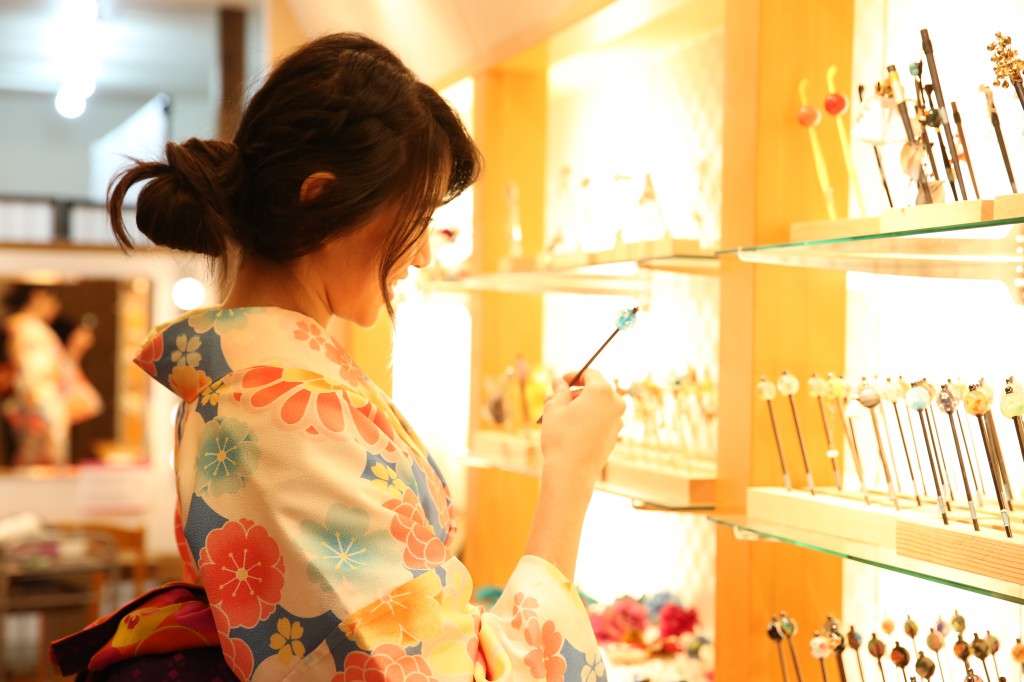 .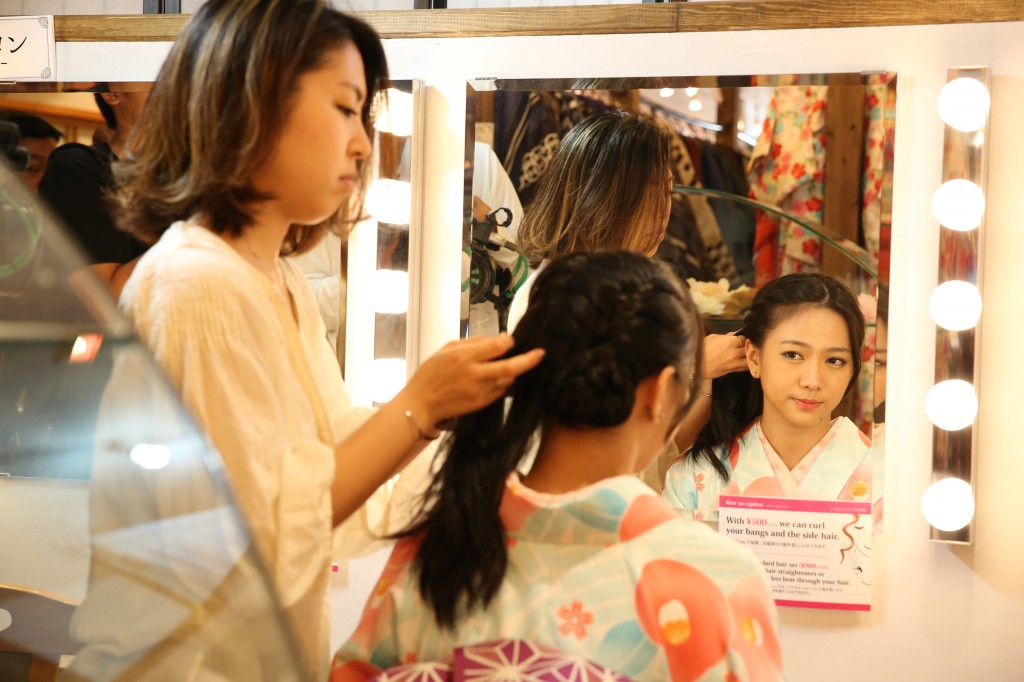 .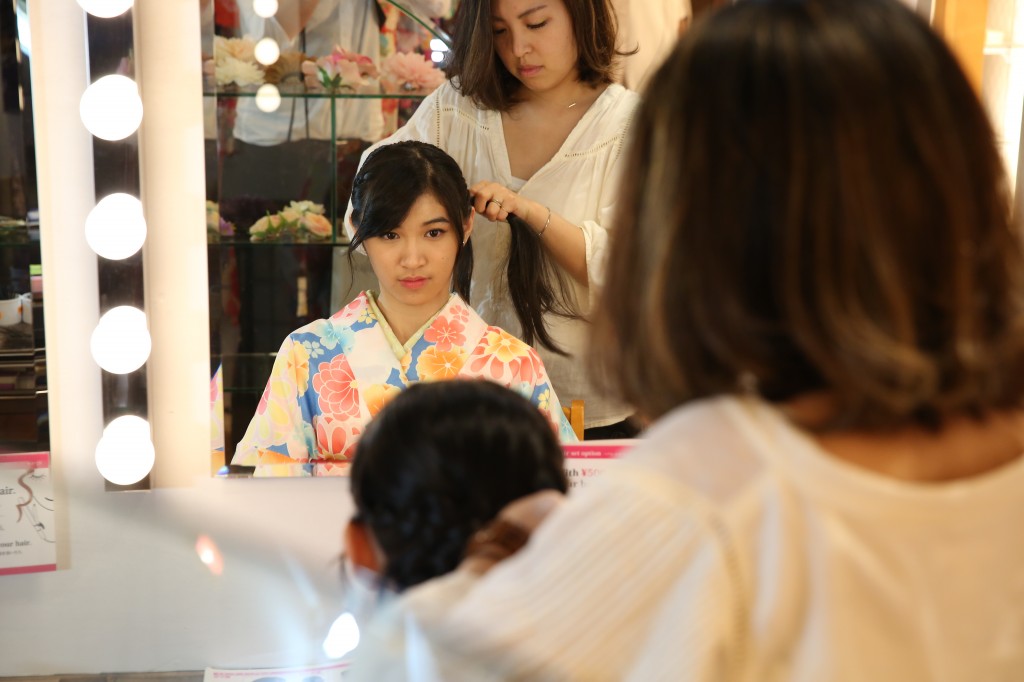 .
.
.
Finish!! Two lovely Indonesian idols entered and two cute Japanese girls went out!!.
.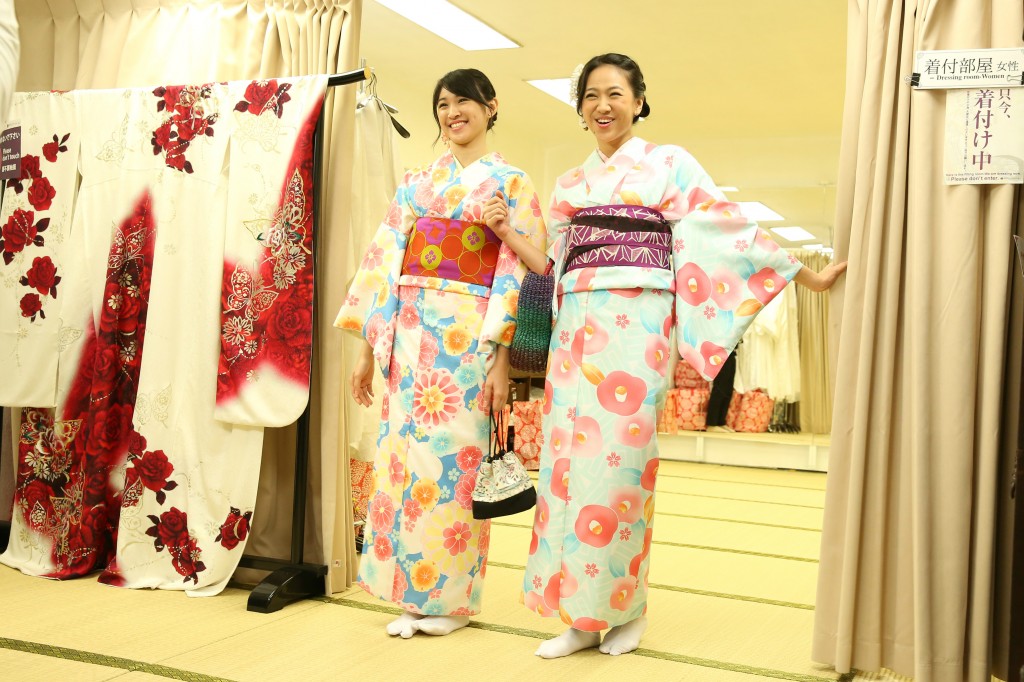 .
.
They bring the cherry to the cake by choosing bags and zori and went out exploring Asakusa all-day. Before leaving the shop, they took a minute to take a picture with colorful maiko umbrellas.★
They wandered around Rokku Street and Sensoji Temple drawing a lot of attention towards both tourists and Japanese people with their beauty and pretty coordinates. The crowd were unanimous: the girls were adorable! Many thought they were Japanese artists because not familiar with Indonesian celebrity circles.
.
.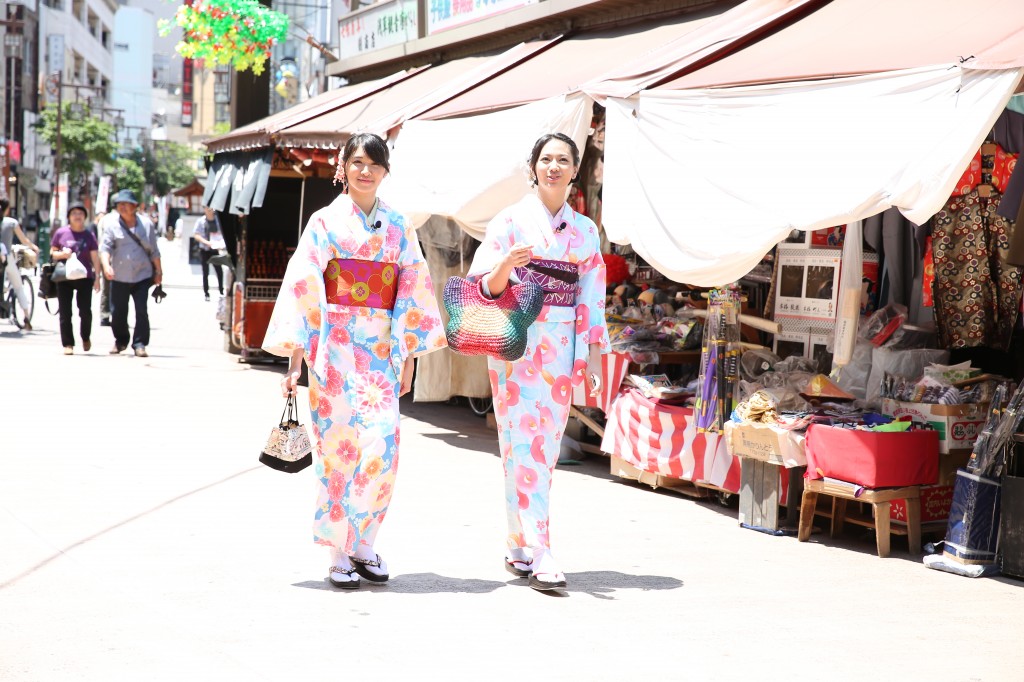 .
.
They finally decided to ride a rickshaw. The puller was young and smiling; he carried the girls all-around town with passion!! The great thing of rickshaw is that the puller can also be your tour guide and bring you to infamous amazing hidden places!!
.
.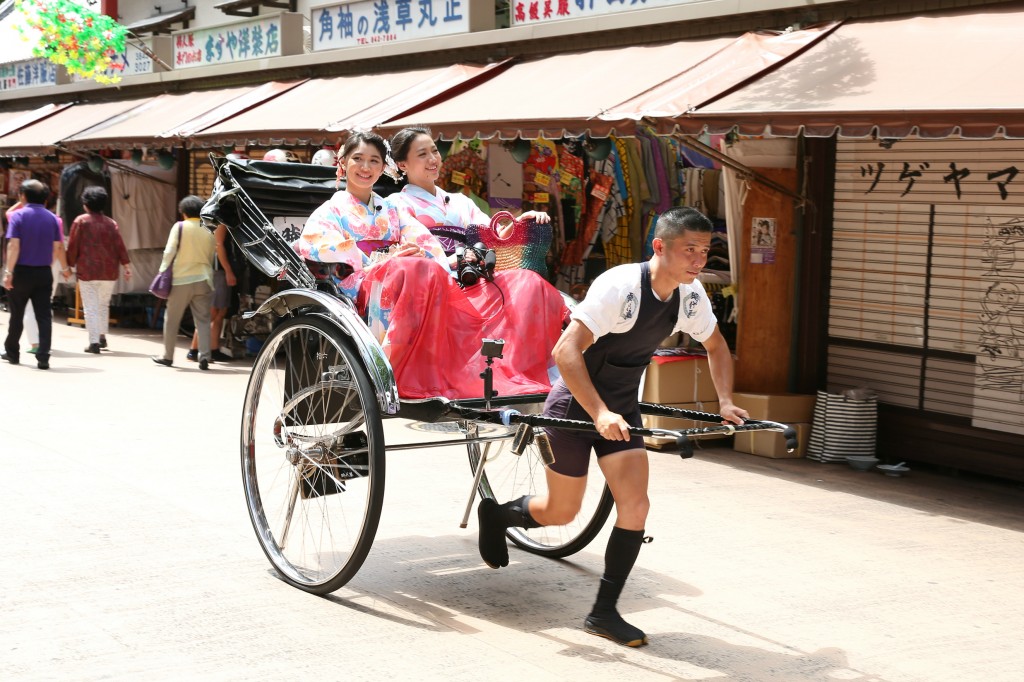 .
.
The two idols enjoyed their journey. Following Indonesian good manners, they were very friendly and enjoy greeting other travelers passing close to them.
The dventure finally ended on foot through Nakamise; a long shopping street rich in interesting shops and delicious small Japanese food stall. After eating like queens they return the kimono and accessories they rented at Wargo. Glad that they manage to spend that precious time sightseeing besides their very busy schedule to visit us!!
You can see a video resuming the adventure here!!
JKT48 Shani & Shania; thank you very much for coming to Wargo!!  ^^